Venus Williams has been a participant in one of the titanic chapters of tennis history so there was something entirely natural about her wishful thinking. "We're still playing at a high level," she said, wanting to hold on to what she and her sister once shared, when only one of them seems still to possess it.
She was exaggerating – or imagining – her own contribution to a Centre Court occasion which, frankly, did not hold a candle to those days when the two of them went hell for leather, sibling rivalry in the raw, on this turf. Serena offered the more honest assessment, implying that their battles might not ensue for much longer now. "I don't know how many more times we'll play," she said after leaving the court where she had dispatched her elder sister 6-4, 6-3 in eight minutes more than an hour.
Study the images of some of those old days – the aftermath of the 2008 Wimbledon final, for example, which was the last time Venus emerged successful from a Grand Slam meeting with her sister – and you will see the changes time has wrought. It was a more muscular and physical Venus then, four years before she was struck with Sjögren's syndrome, the condition which affects the body's moisture-producing glands and has left her short of energy, in muscular pain, wondering if there will actually be a way back.
She has found one, though the rhythms of their match here revealed that her encouraging first Wimbledon week, not losing a set, and a rare victory over her sister in the Rogers Cup semi-final at Montreal last winter must be viewed in their proper context. This match began with the spectacle of the 35-year-old's serve being broken to love, with polite applause being offered in sympathy when she won a first point in the third game and with the most  significant points sacrificed  so meekly.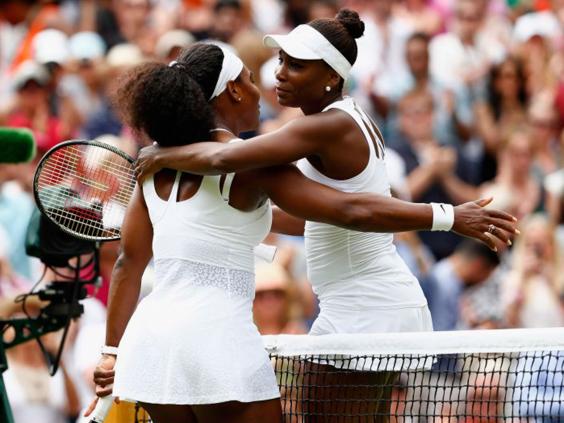 One example was at 3-3, 15-30 against her serve in the second set: the type of moment on which a player's entire professional preparation is predicated in a Grand Slam second week. Her  sister's imperfect forehand was comfortably within reach as she ventured to the net, but Venus let it pass by. She saved the ensuing break points but lost the game noiselessly, with a double-fault. Another of those gave her sister three match points. She needed no invitation to take one. It didn't used to be like this.
No contest, then, and all the more so because of what we have seen between these two women when they have stood face to face on a court down the years. It was visceral determination bordering on fury we got from the younger sister against Britain's Heather Watson here on Friday evening. Here, it was as much as she could do to issue her first line-call challenge in the match's last game when a Venus service had sailed way out.
"I went like this," the No 1 seed said, pulling a face. "And he [the umpire] yells automatically: 'Challenge'. I said: 'I didn't even ask for a challenge.' [But] I thought the ball was really far out. I was whining and complaining…."
It was the only court drama available to talk to her about and a manufactured one at that. The sisters chose not to walk out side by side – Serena led the way – but the edge was blunt. The meeting looked as joyless to them as it was unwelcome. You rejoiced at the brief beauty of the Venus touch after the drop shot which rescued the second of two break points she offered in the second set's second game. She spun back to her service position regimentally, hand-across-face gesture for a towel.
The real fascination lay in the way the Venus post-match press conference sealed up the flank Serena had initially opened by questioning their future contests. Venus would be back next year, they insisted. "I think so," the  35-year-old said to that question. "I guess I'll not come back when I don't want to be. [That's] pretty much what it should be."
Serena could not have failed to understand the question when asked her hopes for the future possibilities of playing Venus on a stage such as this. "Well, what do you mean, what do I hope?" she replied, fending the question off. "She's playing really well," Serena insisted. "She probably could have played a lot better, as well. I've been there watching her practise every day and train. And she's practising well and she's putting in time and she's feeling better. Boy, she has a game to just knock anyone's socks off. So you just have to be ready."
The game the elder sister produced was manifest in fleeting glimpses. A searing forehand pass beyond her sister's despairing backhand side in the fourth game. A service returned with such interest in the eighth game that Serena did not venture to move for it. Yet shot-for-shot struggles were few, outright Venus winners numbered a mere 15 and her second serve reduced her to the realm of mortals. She won a mere 33 per cent of points on it. Watson, displaying a physical challenge well above this and causing Serena problems because of it, won 54 per cent of hers, four days ago.
Before Venus strode off into the future, she was even asked to consider what her career might be remembered for. "I don't give much thought to that," she said. "When I wake up in the morning I'm not like 'Shoot, I wonder what people will remember me by. If I can look in the mirror at myself in the morning and wake up with no regrets, this is enough."
She will be remembered for the almighty clashes with a  sister who has seized with both hands the opportunities  presented by her sibling's diminished powers. Women's tennis still waits in forlorn hope for someone to arrive and offer Serena anything like the competitive challenge that Venus did in her pomp.
Reuse content