Time is a tyrant, unforgiving and ultimately irresistible. Roger Federer has transformed it into a compassionate mistress, prepared to postpone the reckoning which afflicts even the greatest athletes.
He will utilise the same seductive powers today, when he seeks to defy the accelerated life-cycle of modern sport and become Wimbledon's oldest champion of the Open era. The Centre Court will doubtlessly fall at his feet.
Statistics may frame the occasion – his 40th match against Novak Djokovic will be his 26th Grand Slam final and his 10th on the All England lawns – but they fail to offer a glimpse into his soul.  There lies the secret of his longevity. 
Wimbledon is Federer's ode to joy. It is where he comes to terms with his mortality. The buzz it gives him neutralises the natural fear of decline, justifies the onerous levels of commitment required when all his ambitions have, logically, been fulfilled.
Wimbledon 2015 - in pictures
Wimbledon 2015 - in pictures
1/74 Day 13

Novak Djokovic celebrates with the Wimbledon title alongside beaten finalist Roger Federer

GETTY IMAGES

2/74 Day 13

As per usual, Djokovic eats a bit of the SW19 grass in celebration

GETTY IMAGES

3/74 Day 13

Novak Djokovic celebrates winning Wimbledon

GETTY IMAGES

4/74 Day 13

Novak Djokovic wins a point

GETTY IMAGES

5/74 Day 13

A downbeat Roger Federer reacts in the final

GETTY IMAGES

6/74 Day 13

Novak Djokovic plays a strong return

GETTY IMAGES

7/74 Day 12

Williams and Muguruza show off their respective winner and runner-up trophies

Getty Images

8/74 Day 12

Serena Williams with the Wimbledon title

Getty Images

9/74 Day 12

Muguruza and Williams embrace after their Wimbledon final

Getty Images

10/74 Day 12

Serena Williams celebrates winning a point against Garbine Muguruza in the Wimbledon final

Getty Images

11/74 Day 12

Serena Williams celebrates winning a point against Garbine Muguruza in the Wimbledon final

Getty Images

12/74 Day 11

Roger Federer rolled back the years to produce a brilliant display to set up a final against Novak Djokovic

Getty Images

13/74 Day 11

Andy Murray reacts after losing a point to Roger Federer

Getty Images

14/74 Day 11

Novak Djokovic celebrates after easing into the final with a win over Richard Gasquet

Getty Images

15/74 Day 11

Richard Gasquet rarely troubled Djokovic in a straight sets defeat

Getty Images

16/74 Day 10

Serena Williams celebrates victory over Maria Sharapova in the semi-finals

GETTY IMAGES

17/74 Day 10

Garbine Muguruza clinches semi-final victory

GETTY IMAGES

18/74 Day 9

Roger Federer celebrates his win over Gilles Simon

GETTY IMAGES

19/74 Day 9

The players embrace after the match

GETTY IMAGES

20/74 Day 9

Andy Murray celebrates his win over Vasek Pospisil

GETTY IMAGES

21/74 Day 9

The Dutchess and Duke of Cambridge look on

GETTY IMAGES

22/74 Day 9

David Beckham and son Romeo watch Andy Murray

GETTY IMAGES

23/74 Day 9

The roof over Centre Court closes during Murray's quarter-final match

GETTY IMAGES

24/74 Day 8

Jamie Murray on his way to the men's doubles semi-finals

GETTY IMAGES

25/74 Day 8

Madison Keys pictured in her defeat to Agnieszka Radwanska

GETTY IMAGES

26/74 Day 8

Maria Sharapova celebrates after coming through her tough quarter-final match against Coco Vandeweghe

GETTY IMAGES

27/74 Day 8

Garbine Muguruza celebrates her quarter-final victory

GETTY IMAGES

28/74 Day 8

Novak Djokovic on his way to victory against Kevin Anderson after their fourth round match resumed

GETTY IMAGES

29/74 Day 7

Roger Federer was in complete control throughout his three-set victory over Bautista Agut

Getty

30/74 Day 7

Caroline Wozniacki on her way to defeat against Garbine Muguruza

Getty

31/74 Day 7

Andy Murray in action against Ivo Karlovic

GETTY IMAGES

32/74 Day 7

Ivo Karlovic in action against Murray

GETTY IMAGES

33/74 Day 7

Murray in action in his fourth round tie on Centre Court

GETTY IMAGES

34/74 Day 7

Andy Murray in action against Ivo Karlovic

GETTY IMAGES

35/74 Day 7

Nick Kyrgios clashes with the umpire during his defeat to Gasquet

GETTY IMAGES

36/74 Day 7

Maria Sharapova during her fourth round win

GETTY IMAGES

37/74 Day 7

Serena is congratulated by sister Venus after their fourth round contest

GETTY IMAGES

38/74 Day Six

Andy Murray was in real trouble for a short time against Andreas Seppi and needed a medical timeout to work on his shoulder

Getty Images

39/74 Day Six

But the Scot rallied and won six games in a row to march into the fourth round

Getty Images

40/74 Day Six

James Ward is cheered off by the home support after losing an epic battle with Vasek Pospisil

Getty Images

41/74 Day Six

Defending champion Petra Kvitova leaves the court in tears after shock defeat to Jelena Jankovic

Getty Images

42/74 Day Six

Angelique Kerber was upset by Garbine Muguruza, who was seeded 10 places below the German

Getty Images

43/74 Day Six

No 5 seed Caroline Wozniacki made quick work of Camila Giorgi

Getty Images

44/74 Day Six

Marin Cilic needed five sets and a 12-10 tie-break to beat American John Isner

Getty Images

45/74 Day Six

Roger Federer Eased to a win over Sam Groth

Getty Images

46/74 Day Six

Wimbledon darling Dustin Brown packs up after defeat to Viktor Troicki

Getty Images

47/74 Day Five

Serena Williams celebrates her triumph over Heather Watson

GETTY IMAGES

48/74 Day Five

Heather Watson wins a point in the third set

GETTY IMAGES

49/74 Day Five

Serena Williams reacts to losing a point

GETTY IMAGES

50/74 Day Five

Grigor Dimitrov was knocked out after losing to Richard Gasquet

GETTY IMAGES

51/74 Day Five

Maria Sharapova celebrates her win over Irina-Camelia Begu

52/74 Day Four

Tennis world number 102 Dustin Brown has shaken Wimbledon by knocking out two-time champion Rafael Nadal

53/74 Day Four

Roger Federer plays a cheeky shot during his second round win over Sam Querrey

GETTY IMAGES

54/74 Day Four

Petra Kvitova celebrates her second round win

GETTY IMAGES

55/74 Day Four

The Duchess of Cornwall meets Rafa Nadal

GETTY IMAGES

56/74 Day Four

Adam Lallana of Liverpool at Wimbledon with Game of Thrones star Kit Harington

GETTY IMAGES

57/74 Day Four

Andy Murray in second round action where he beat Robin Haase in straight sets

GETTY IMAGES

58/74 Day Four

Wimbledon fans feel the heat

GETTY IMAGES

59/74 Day Three

Milos Raonic of Canada serves to Tommy Haas of Germany during their singles match

AP

60/74 Day Three

Grigor Dimitrov of Bulgaria reaches for the ball trying to return to Steve Johnson

AP

61/74 Day Three

Heather Watson impressed to beat Daniela Hanutchova in straight sets

Getty Images

62/74 Day Three

Novak Djokovic eased into the third round with a win against Jarkko Nieminen, who played his last game at the tournament

GETTY IMAGES

63/74 Day Two

Defending champion Petra Kvitova made light work of Kiki Bertens, dropping just one set

Getty Images

64/74 Day Two

Heather Watson booked her place in the second round but upsetting No 32 seed Caroline Garcia

Getty Images

65/74 Day Two

Laura Robson played her first Grand Slam match in 17 months but lost to Evgeniya Rodina

Getty Images

66/74 Day Two

No 10 seed Rafa Nadal was given some problems by Tomaz Bellucci but prevailed

Getty Images

67/74 Day Two

Roger Federer was excellent as he beat Damir Dzumhur in straight sets

Getty Images

68/74 Day Two

Getty Images

69/74 Day One

A blue tit stole the show early on the first day of the tournament

BBC

70/74 Day One

Serena Williams made hard work over her victory over Margarita Gasparyan

Getty Images

71/74 Day One

Novak Djokovic boked his place in the second round with a 6-4 6-4 6-4 win over Philipp Kohlschreiber

Getty Images

72/74 Day One

Liam Broady produced a brilliant fightback from two sets down to beat Marinko Matosevic - a man ranked 43 places above him

Getty Images

73/74 Day One

Maria Sharapova was impressive in beating Britain's Johanna Konta

Getty Images

74/74 Day One

Kei Nishikori reacts after the No 5 seed struggled to a five-set win

Getty Images
He plays smart, rationalising and refreshing his schedule. He understands the emotional attraction of his rivalry with Djokovic, especially after last year's stellar final between the pair, but does not allow himself to be distracted by its drama.
His gifts are rooted in the grass. His uncannily accurate serve is a silken chord with the strength of steel; it allows him to restrain his opponent and apply incessant pressure before, as in the case of Andy Murray in Friday's semi-final, suffocating him with a velvet pillow.
Federer is a king with an upstart's mentality; he is dismissive of custom and practice. Champions are regarded as impermanent commodities, despite the distinctive sense of immortality offered by their achievements.
The Swiss, on the verge of his 34th birthday, defies the culture of impatience which demands new stars and expects players like him to succumb to built-in obsolescence with the predictability of an industry-compliant refrigerator.  
He pleases himself to a large degree. As a result, he uses the Centre Court as his personal gallery. He derives visible pleasure from performances which resemble works of art, featuring light and shade, nuance, perspective.
They draw the viewer in, captivate with fine detail and limitless horizons. Much has been made of his comfort with a new racket, with a bigger head, but that merely enables him to make broader brush strokes, in more vivid colours.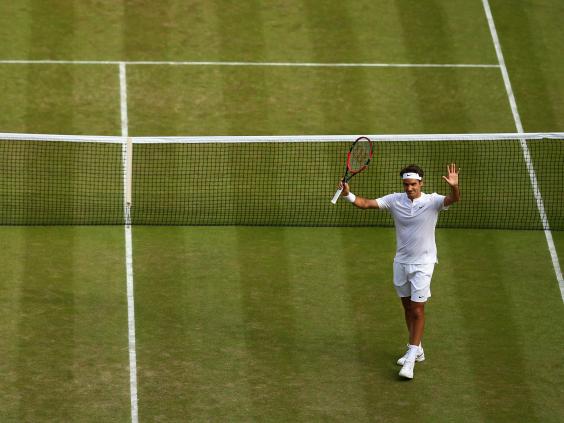 His game is inherently creative since it is based upon an awareness of angles and a variation of pace and mood. He has a lightness of being.
In that context, comparisons with other artistic athletes are valid, as another sign of his broader importance. His impact beyond tennis, yet another sport in danger of surrendering subtlety to speed and strength, is the subtext to the final.
Federer has the hair-trigger reflexes of Sugar Ray Leonard, the improvisational skills of Zinedine Zidane. He floats across the court with the grace which defined Sebastian Coe as the best middle-distance runner of his generation, and possesses Sachin Tendulkar's quiet resolve. 
In another sense, he avoids the desperation and introspection which characterises Tiger Woods' latest comeback. Defeat is no longer a private death; though he has a considerable ego, he has come to terms with the inner struggle. His powers might be waning – only four of his 17 major titles have come in the last seven years – but his hunger is constant.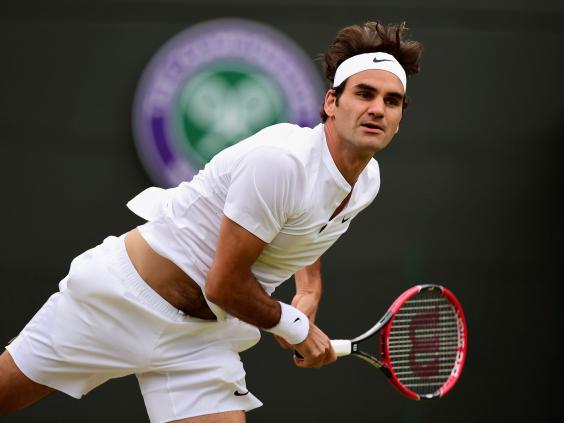 He is sufficiently self-aware to understand his attractions. "People might not know how many more opportunities I'm going to have," he said, thoughtfully, after Murray had been despatched. He drew a telling comparison with the response to Andre Agassi in his dotage.
Federer will be on his own once the formality of today's coin toss is complete, but he will not be alone. Djokovic will probably endure, wear him down and out-last him. But should Federer surf the flood tide of popular support and eke out an early lead, he will be a force of nature.
The clock is ticking, but tomorrow will take care of itself. Prepare to bear witness to greatness, for days such as these are gifts from the Gods.
Tour de force
The Tour de France cherishes its courtly conventions of cruelty, so that suffering is somehow ennobling.  Sometimes, the sacrifice justifies suspension of disbelief.
It might still be enmeshed in institutionalised suspicion and tainted by the expulsion of Italian rider Luca Paolini following a positive test for cocaine, but taken on its own terms this year's race is stunning.
The first week has, more than any in recent memory, been emotionally draining and physically devastating. The Pyrenees lie in wait after the sanctuary of tomorrow's rest day.
This tour will be decided in the mountains, most probably on the penultimate day, when the survivors will climb, agonisingly, to the Alpine summit of Alpe D'Huez.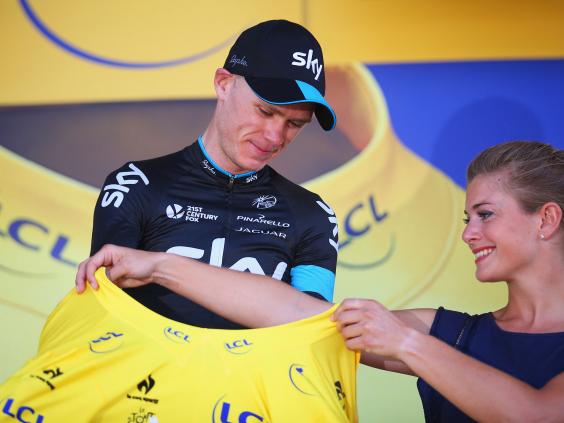 Modern sport is so sanitised that images of the peleton being punished on rain-lashed cobbles were stark and strangely shocking. Faces were taut, grimy and pierced by pain; in another era they would have been captured on a convicts' chain gang.
The resilience shown was astonishing. Fabian Cancellara rode on with a broken spine before retiring to hospital; Tony Martin calmly gave post-stage interviews with shards from a shattered collarbone protruding from his left shoulder before doing likewise.
Chris Froome paid him traditional respect, and refused to wear his yellow jersey until Friday's stage was complete. He may be favoured to win, but he knows he is just another prisoner of fate.
Hereford bullish again
At Edgar Street, in a world far removed from the cesspit in which Raheem Sterling and his acquisitive agent do their business, football's air is clear and the ambition is authentic.
Hereford marked their return to the ground yesterday afternoon, when a capacity crowd watched a wonderfully symbolic pre-season friendly against FC United of Manchester.
The rite of renewal, for a reformed club which will begin life in the Midland League, the ninth tier of the English game, rewarded the faith and fortitude of fans who refused to allow a dream to die.  Their example is inspiring and invaluable.
Reuse content