Laura Robson is poised to make her long-awaited return to competition this weekend before reappearing on the Grand Slam stage at Wimbledon, which starts in 12 days' time.
The former British No 1, who has not played for 17 months following wrist surgery, is expected to enter the qualifying tournament for next week's Aegon International at Eastbourne.
The two rounds of qualifying for Eastbourne begin on Saturday. The tournament would almost certainly have granted Robson a wild card, but playing in the qualifying event would enable her to make a lower-profile return against lesser opposition than she could meet in the main draw, which has a very strong field.
Wimbledon, meanwhile, is due to announce its first batch of wild cards and Robson looks sure to be on the list. Having been out of action for so long, the  21-year-old Briton does not have a world ranking but can use a "protected" ranking to play in tournaments. However, Robson is not on the official Wimbledon entry list and is therefore expected to need a wild card. There are limits on the number of tournaments players can enter with a protected ranking and Robson is likely to save those opportunities to use in North America and Asia later this year.
Robson last played competitively in January 2014 at the Australian Open, when she was already having problems with her left wrist. She had an operation more than a year ago but has repeatedly had to delay her return.
The former Wimbledon junior champion had hoped to play at the French Open last month, only to have her plans thwarted by a hamstring injury picked up in practice.
Having done most of her training this year at Nick Bollettieri's academy in Florida, she returned to Britain three weeks ago and has been practising at the National Tennis Centre at Roehampton.
Sources close to Robson say that she has recovered from the hamstring problem and her wrist has also healed well. However, she faces a huge challenge to make up the ground she has lost during her absence. Robson reached her career-high position of  No 27 in the world rankings after reaching the fourth round at Wimbledon two summers ago.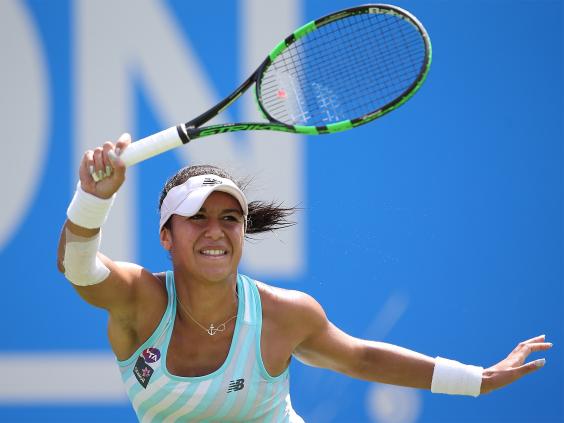 Heather Watson, the current British No 1, has also had her problems of late, having been troubled by an elbow injury at the French Open. She pulled out of last week's tournament in Nottingham and lost first time out in the Aegon Classic at Edgbaston 7-6, 6-4 to Serbia's Aleksandra Krunic, the world No 87.
Watson went on court wearing heavy strapping but said afterwards that she did not expect the injury to disrupt her preparations for either Eastbourne or Wimbledon.
"I don't think it's why I lost," she said. "I'm still looking after it. I lost because I played poorly. I made way too many unforced errors, I was very inconsistent. I couldn't relax, couldn't find my rhythm and I just didn't feel comfortable.
"I'll always go out with some butterflies and within a game or two they're gone and I feel good. But I felt it throughout the whole match, from beginning until the end, and it got worse as the match went on."
Britain's Naomi Broady was unable to follow up her first-round victory and was beaten 6-4, 6-2 by Simona Halep, the top seed. "I had a few chances," Broady said. "I'm disappointed I didn't manage to get the first set at least, if not the match. But she's ranked No 3 in the world for a reason, so I obviously can't be too disappointed that I lost the match."