After reaching the third round of the French Open this year, tennis enthusiasts have been waxing lyrical about the latest American sensation on court. But it's been far from an easy ride for 18-year-old Taylor Townsend.
The buzz that has surrounded Taylor Townsend since she upset the odds to beat World No.21 Alize Cornet was justified. The scrutiny on her condition and fitness was not.
Hailing from Chicago, Townsend has faced more than her fair share of obstacles in her short career. At 5ft 10 and weighing just over 12st, Townsend is an extremely powerful player, and perhaps moulds her game on Serena Williams.
Controversy has never been far away, and first erupted when the USTA tried to prevent her from attending the 2012 US Open because of issues concerning her weight. The US Tennis Federation and the 18-year-old have since resolved their issues, and in her first major event, emerged as one of the brightest talents in the world of tennis.
Townsend, in 2012, became the first American to hold the year-end No. 1 junior ranking since 1982. After winning titles at the Australian Open, US Open and Wimbledon, she turned professional at the end of the year aged 16.
She already has two titles to her name - both came at Indian Wells - after beating No. 57 Lucie Hradecka last year and No. 49 Karin Knapp this year. Overall, despite being outside the top 200, she has six wins over top-125 opponents. She's now doubled that count to four, after beating No. 65 Vania King in the first round at Roland Garros.
And after playing in her first Grand Slam, the teenager overcame Cornet with a magnificent 6-4, 4-6, 6-4 victory to become the youngest American to advance to the third round of the French Open since 2003. She is now desperate to make an impression at Wimbledon.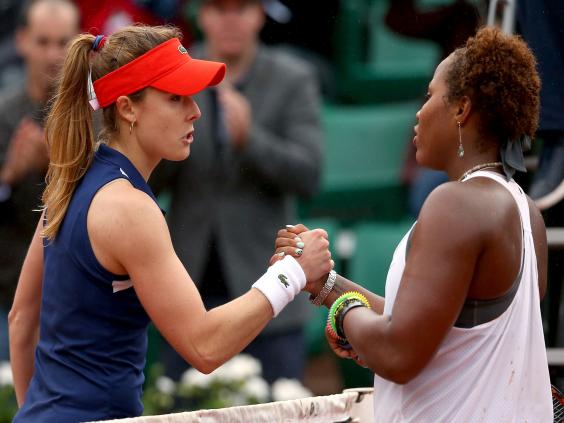 But it's not just her habits on the court that is making the headlines.
Townsend is always keen to improve, and while many tennis players tend to tuck into a banana during game breaks, she takes out her book of notes in a bid to find a way to gain the upper hand.
"Basically they're just notes from practice," she said at the French Open. "I use them in every match, I use them in practice, as well. They get me back into a state of mind where [I'm] keeping things simple. I have been doing it for so long it's kind of a habit now, so if I don't read it, it's weird. It's more of a habit."
She has already drawn admiration from some of tennis' most renowned figures, including Wimbledon champion Andy Murray, who said earlier this year: "I love the way she plays. This is a player who has a lot of talent. A talent that is rarely seen, either in men or in women."
She certainly doesn't lack ambition, saying that she eventually wants to conquer the whole of women's tennis and become a household name like her idol Martina Navratilova.
And if her performances so far are anything to go by, there is nothing and no one that can stop her doing just that.
Reuse content