Andy Murray has enjoyed his best first week in his nine Wimbledons but knows that the biggest challenges are only just beginning. The 27-year-old Scot faces his tallest order yet when he meets the 6ft 8in Kevin Anderson in the fourth round on Monday. Thereafter he could have to beat Grigor Dimitrov, the champion of Queen's Club, Novak Djokovic, the top seed, and Rafael Nadal, the world No 1, if he is to retain his Wimbledon title next weekend.
Murray has dropped only 19 games in his first three matches. His previous best performance in the first week was when he dropped 26 games in 2010. There are those who believe it can help to be stretched early in the tournament, but Murray is quite happy to have won each of those three matches in straight sets.
From a physical point of view the world No 5 believes the long matches he played at the recent French Open were all he needed in terms of maintaining his powers of endurance. On a mental level he is well aware that from Monday his task will get considerably more difficult.
"The only way there could be a problem is if you are not mentally prepared for the matches to get more challenging," Murray said. "If you just think everything will be the same as it was in the first week and you are playing well enough, then you will have problems because you are complacent.
"I'm aware against Kevin things will be a lot tougher. There are going to be harder moments in the second week. Of course I know that."
He added: "Sometimes I've had tough first weeks and gone on to do well and sometimes I've had easy first weeks and had equally good tournaments. I don't think it makes a huge difference.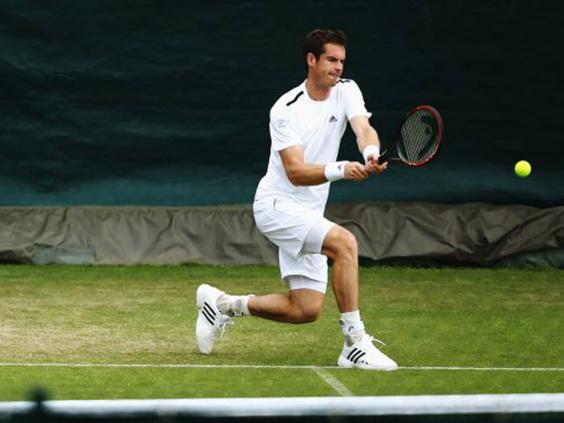 "Last year I was coming to the tournament having not played at the French Open and missed quite a bit of tennis. Because of the grass it was important for me to get a good start because maybe physically I wasn't in my best shape. This year I don't see that being a problem."
Considering Anderson's height, it is perhaps no surprise that other players look up to the world No 18. The softly-spoken 28-year-old, who is the first South African to reach the fourth round here since Wayne Ferreira 14 years ago, is one of the sport's nice guys, and a player who has made the most of his ability through hard work and dedication.
Anderson has taken his time to reach his current career-high position in the world rankings, but with his big serve and bold groundstrokes he can trouble the best. He is one of a group of players, including John Isner and Ivo Karlovic, who use their height to good effect, though Murray believes that the South African's game is far from one-dimensional.
"He doesn't serve as big [as Isner and Karlovic] but he is probably better from the back of the court," Murray said. "He has a better return game than Isner and Karlovic.
"There might be more chances to break, but equally he will return better and make more balls when you are serving. There are obviously some similarities because of the size of them, but he has a pretty much different game to those guys. I would say he is more mobile than Karlovic. It depends on the surface. I haven't played him on grass before so I don't know how he moves on the grass."
Anderson is based in Delray Beach, Florida, and knows Murray's former coach Ivan Lendl, who lives nearby. "I got to know Ivan a little bit more last year and actually practised with him a couple of months ago," Anderson said. "I've been down to Miami to practise with Andy a couple of times. Obviously there's a huge difference from a practice set in Miami to Wimbledon."
Murray did not appear to be concerned that his former coach had been practising with his next opponent. "That doesn't surprise me in the slightest," he said. "Ivan loves playing tennis. He hits balls all the time when he is over in Miami. But you can't compare practising with Ivan to playing against me. It's completely different."
Although Murray knows the pressure will build this week, he is ready for it. "The nerves and the pressure here are different to other tournaments for me," he said. "It's probably greater here than it is at the other Grand Slams. But I enjoy pressure. I like feeling nervous. I'm not scared of that feeling. I felt like I played my best tennis when I've been under pressure."
Tale of the tape
Andy Murray/Kevin Anderson
27 Age 28
Dunblane Born Johannesburg
5 World ranking 18
6ft 3in Height 6ft 8in
13st 3lb Weight 14st 1lb
$31.5m Career earnings $4m
28 Titles 2
Champion (2013) Wimbledon best 4th round (2014)
Previous Meetings
2010 Australian Open 1st round: Murray won 6-1 6-1 6-2
2011 Canadian Masters 2nd round: Anderson won 6-3 6-1