Andy Murray is a happy man after becoming the first of the big guns to reach the Wimbledon quarter-finals, but one of his main rivals attacked All England Club officials for their scheduling of matches. "They don't listen to the player," Stanislas Wawrinka, the Australian Open champion, protested.
Murray secured a place in the last eight for the seventh year in succession by winning his fourth-round match against South Africa's Kevin Anderson 6-4, 6-3, 7-6. He will have a day's rest before his quarter-final on Wednesday against Grigor Dimitrov, who beat Leonardo Mayer in straight sets.
The Scot's schedule is looking much more favourable than that of Wawrinka or Feliciano Lopez, who won their delayed third-round matches on Monday. The Swiss and the Spaniard will meet in the fourth round on Tuesday knowing that the winner will have to play again on Wednesday, for the third day in a row, against Roger Federer or Tommy Robredo.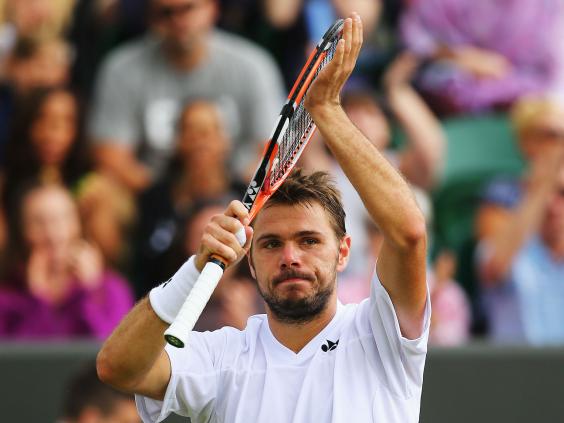 Wawrinka was unhappy that his third-round match never got on court on Saturday, when rain interrupted the programme for more than four hours. The world No 3 was scheduled to play the last match on Court One but had expected tournament officials to move some junior or doubles matches to enable third-round singles matches to be completed. Instead his match was called off for the day just as play resumed on all courts late in the afternoon.
The best pictures from Wimbledon 2014
The best pictures from Wimbledon 2014
1/55 Day 13

Novak Djokovic and Roger Federer pose with their trophies after the final

GETTY IMAGES

2/55 Day 13

Novak Djokovic celebrates his victory over Roger Federer

GETTY IMAGES

3/55 Day 13

Samuel L Jackson and Sofia Davis in the Royal Box on Centre Court before the Gentlemen's Singles Final

Getty Images

4/55 Day 13

Prince William Duke of Cambridge talks with Chris Hoy in the Royal Box on Centre Court before the Gentlemen's Singles Final

Getty Images

5/55 Day 13

Catherine, Duchess of Cambridge and Gill Brook wife of AELTC Chairman Philip Brook in the Royal Box on Centre Court before the Gentlemen's Singles Final

Getty Images

6/55 Day 13

Roger Federer celebrates clinching the first set of the men's singles final on a tie-break

Getty Images

7/55 Day 12

Petra Kvitova kisses the winner's Venus Rosewater Dish during the presentation after beating Eugenie Bouchard

GETTY IMAGES

8/55 Day 12

The moment Petra Kvitova won the final against Eugenie Bouchard

GETTY IMAGES

9/55 Day 12

Petra Kvitova and Eugenie Bouchard after their Wimbledon final

GETTY IMAGES

10/55 Day 12

Petra Kvitova celebrates winning a point during the Wimbledon final

Getty Images

11/55 Day 11

Maria Sharapova watches boyfriend Grigor Dimitrov during his semi-final with Novak Djokovic

Getty Images

12/55 Day 11

Serbia's Novak Djokovic receives a ball before serving during his men's singles semi-final match against Bulgaria's Grigor Dimitrov

GETTY IMAGES

13/55 Day 11

Grigor Dimitrov pictured during his semi-final defeat to Novak Djokovic

GETTY IMAGES

14/55 Day 11

Grigor Dimitrov pictured during his semi-final defeat to Novak Djokovic

GETTY IMAGES

15/55 Day 10

Novak Djokovic of Serbia during a practice session as fans watch the action on day ten of the Wimbledon Lawn Tennis Championships at the All England Lawn Tennis Club

Getty Images

16/55 Day 10

Petra Kvitova of Czech Republic celebrates after winning her Ladies' Singles semi-final match against Lucie Safarova of Czech Republic on day ten of Wimbledon

Getty Images

17/55 Day 9

Novak Djokovic of Serbia celebrates after winning his Gentlemen's Singles quarter-final match against Marin Cilic

GETTY IMAGES

18/55 Day 9

The Duke and Duchess of Cambridge watch Andy Murray lose at Wimbledon

GETTY IMAGES

19/55 Day 9

Andy Murray pictured during his defeat to Gregor Dimitrov

GETTY IMAGES

20/55 Day 9

Andy Murray pictured during his defeat to Gregor Dimitrov

GETTY IMAGES

21/55 Day 9

Gregor Dimitrov celebrates his win over Andy Murray

GETTY IMAGES

22/55 Day 9

Canada's Eugenie Bouchard celebrates winning her women's singles quarter-final match against Germany's Angelique Kerber

GETTY IMAGES

23/55 Day 9

Romania's Simona Halep celebrates winning her women's singles quarter-final match against Germany's Sabine Lisicki

GETTY IMAGES

24/55 Day 9

Sabine Lisicki during her defeat to Simona Halep of Romania

GETTY IMAGES

25/55 Day 8

Australia's Nick Kyrgios celebrates winning a game against Spain's Rafael Nadal

GETTY IMAGES

26/55 Day 8

Nadal pictured during his defeat to Nick Kyrgios

GETTY IMAGES

27/55 Day 8

Rafael Nadal of Spain during his fourth round defeat against Nick Kyrgios

GETTY IMAGES

28/55 Day 8

Serena Williams receives treatment during the warm up before her second round doubles match with sister Venus before retiring

GETTY IMAGES

29/55 Day 8

Maria Sharapova of Russia stands dejected during her Ladies' Singles fourth round defeat against Angelique Kerber

GETTY IMAGES

30/55 Day 8

John Peers of Australia (l) and Jamie Murray of Great Britain (r) during their Gentlemen's Doubles third round defeat

GETTY IMAGES

31/55 Day 8

Roger Federer during his Gentlemen's Singles fourth round victory over Tommy Robredo

GETTY IMAGES

32/55 Day 7

Novak Djokovic celebrates his win over Jo-Wilfried Tsonga

GETTY IMAGES

33/55 Day 7

Andy Murray after his victory over Kevin Anderson

GETTY IMAGES

34/55 Day 7

Sir Alex Ferguson watches Andy Murray in action

GETTY IMAGES

35/55 Day 7

Support for Andy Murray on Centre Court

GETTY IMAGES

36/55 Day 7

Grigor Dimitrov of Bulgaria celebrates after winning his Gentlemen's Singles fourth round match against Leonardo Mayer

GETTY IMAGES

37/55 Day 7

Eugenie Bouchard of Canada celebrates after winning her Ladies' Singles fourth round match against Alize Cornet

GETTY IMAGES

38/55 Day 7

Eugenie Bouchard receives support on Centre Court

GETTY IMAGES

39/55 Day 7

Japan's Kei Nishikori signs autographs after winning his men's singles third round match against Italy's Simon Bolelli

GETTY IMAGES

40/55 Day 6

Kazakhstan's Yaroslava Shvedova (L) and US player Madison Keys (R) switch sides during their women's singles third round match on day six of 2014 Wimbledon

Getty Images

41/55 Day 6

Serena Williams fails to find the answers as she crashes out of Wimbledon

GETTY IMAGES

42/55 Day 6

Six hours of play were lost on Saturday

GETTY IMAGES

43/55 Day 6

Maria Sharapova started slowly against the American Alison Riske but ran out a 6-3, 6-0 winner

AFP

44/55 Day 5

Andy Murray in action during his victory over Roberto Bautista

GETTY IMAGES

45/55 Day 5

Kim Sears watches Andy Murray in action during his victory over Roberto Bautista

GETTY IMAGES

46/55 Day 5

Ricky Gervais watches Andy Murray in action during his victory over Roberto Bautista

GETTY IMAGES

47/55 Day 5

Novak Djokovic tumbles during his victory over Gilles Simon

GETTY IMAGES

48/55 Day 5

Novak Djokovic in action against Gilles Simon

GETTY IMAGES

49/55 Day 4

The roof is closed for the first time of the 2014 Wimbledon championships

GETTY IMAGES

50/55 Day 4

Roger Federer heads off Centre Court to await the roof to come over during his win over Gilles Muller

GETTY IMAGES

51/55 Day 4

Britain's Heather Watson (R) looks on during her women's singles second round defeat to Germany's Angelique Kerber

GETTY IMAGES

52/55 Day 4

Maria Sharapova of Russia in action during her Ladies' Singles second round victory against Timea Bacsinszky

GETTY IMAGES

53/55 Day 4

Andy Murray walks out to start a practice session on day four of the Wimbledon Lawn Tennis Championships

GETTY IMAGES

54/55 Day 4

Ana Ivanovic of Serbia celebrates after winning her Ladies' Singles second round match against Jie Zheng

GETTY IMAGES

55/55 Day 4

Rafael Nadal shows his relief after coming from behind to beat Lukas Rosol

GETTY IMAGES
If either Wawrinka or Lopez reach the final they will have played five matches in seven days. Magnus Norman, Wawrinka's coach, described such a schedule as "not really human". Wawrinka said: "Playing five-set matches is never easy. If you look at this week, [Lopez or myself] will have to play three five-set matches in three days. It's terrible for the body." As for the attitude of tournament officials, he said: "I'm used to it here. They just do what they think is good for them and that's it."
Murray said that sometimes the scheduling worked in a player's favour and on other occasions it did not. "You just have to get on with it," he said. "I think we shouldn't really worry about it. You're going into possibly playing best-of-five-set matches three days  in a row."
Reuse content