Andy Murray's next opponent, Blaž Rola, is not exactly talking himself up ahead of their second round meeting Wednesday.
"Hopefully I don't poop my pants and not play well," the tall Slovenian left-hander said, moments after it was confirmed that his next assignment would be against the reigning champion.
Rola had always expected that reward, of course, if he could beat Pablo Andujar, which he did 6-3, 6-1, 6-4 despite lying 12 places behind the Spaniard as world No 92. "Although I missed a couple of very, very easy shots, my forehand basically in big moments was especially working well," he said of that performance in only his third tournament on grass. "When I saw that potentially I can play the second round against Andy, my motivation was off the charts."  
After appearing at Queen's and Eastbourne this year, Rola, 23, is having to learn fast about the game on turf, but has shown in the past a determination to come to terms with a troublesome surface. Four years ago he accepted a place at Ohio State University, where majoring in international business management seems to have come second to learning how to play on hard courts.   
"I never knew how to," he said in immaculate American-English. "Basically when I finished high school, I had a couple months to play on professional level, [and] I never got one point on hard courts. So I saw there was a big problem. I thought college was a good thing. I loved it from the first day till the last day, and I would do it all over again."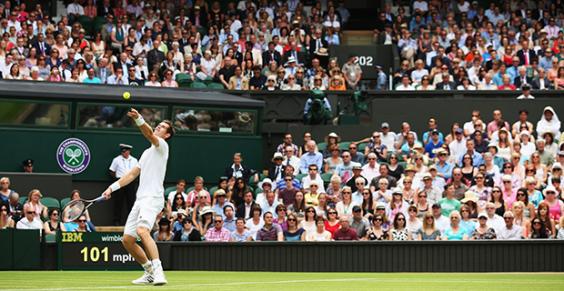 Uncertain yet whether he will meet Murray on Centre Court or not, he intends going into the stands to feel the atmosphere just in case. Even on Court One, he can be in no doubt it will be the biggest occasion yet of a short career. "Not a lot," he said when asked about his chances.
"We know that he's probably the greatest sportsman here in the country. His record speaks for himself. Just go out there, have fun, play as best as I can."
Hoping to avoid unfortunate accidents of any sort.
Reuse content