The Centre Court can be one of the most reserved crowds in international sport, but yesterday the cheers and applause rang around the old stadium with a warmth and a passion reserved for only the most special occasions. And that was even before a ball had been struck.
Andy Murray had been asked repeatedly what he thought it would feel like to walk out on Centre Court as the defending champion and usually replied that he had no idea. Now he knows. When he emerged for his opening match against David Goffin, the 27-year-old Scot was greeted by huge cheers and a prolonged standing ovation. The stadium was at least 80 per cent full, which was a major compliment given that for many spectators lunch rather than tennis can be the priority at 1pm.
This was, after all, the first time in 78 years that the Centre Court crowd had had the chance to welcome back their own defending champion. Fred Perry, who won the last of his three successive Wimbledon titles in 1936, did not return the following year because he had turned professional.
"I was pretty nervous before the match," Murray admitted later, having completed an emphatic 6-1, 6-4 7-5 victory. "To come to the court and get that reception, it was very nice to come out. I think the crowd was pretty much full from the start. It was great. I enjoyed the walk to the chair. Then when I sat down, it was time to get on with business."
Brits at Wimbledon
Brits at Wimbledon
1/7 Andy Murray

Andy Murray was convincing in wrapping up a 6-1 6-4 7-5 victory in two hours and two minutes over David Goffin

Charlie Forgham-Bailey

2/7 Naomi Broady

Naomi Broady outlasted the hard-grunting Hungarian Timea Babos to win 2-6, 7-6, 6-0

Getty

3/7 Johanna Konta

Johanna Konta was left to rue missed opportunities after losing in three long sets to Peng Shuai of China, 6-4, 3-6, 6-4

Getty

4/7 James Ward

Londoner James Ward won only five games in a straight sets defeat to Mikhail Youzhny

Getty

5/7 Dan Cox

Dan Cox made a better fist of things in taking the third set off France's Jeremy Chardy on a tie-break before going out 6-2, 7-6, 6-7, 6-3

Getty

6/7 Kyle Edmund

Kyle Edmund, coached by Greg Rusedski, started well against Austria's Andreas Haider-Maurer before conceding the first two sets and was then broken twice in the third for a 6-3, 7-6, 6-2 defeat

PA

7/7 Dan Evans

British No 2 Dan Evans went out to Russia's Andrey Kuznetsov 6-1, 7-5, 3-6, 7-6

Getty
Murray said that he had talked about what the experience might be like with Amélie Mauresmo, his new coach, who returned here in 2007 after winning the title the previous year.
"I asked her how she dealt with it," Murray said. "One of the things she said was that she tried to take in the atmosphere and the experience of walking out on the court as the defending champion. You never know if you'll get the chance to do it again."
If it took time for the Centre Court crowd to embrace Murray, his feats of the last two years have won a place in their hearts. In 2012 he followed up his run to the final, in which he lost to Roger Federer, by beating the Swiss to claim Olympic gold. Twelve months later he won the biggest prize in his sport, defeating Novak Djokovic in the final.
Murray, who has reached the semi-finals or better on his last five appearances here, has never lost in the first round. He never looked in danger of spoiling that record or of joining the small group of defending champions who have lost first time out here. Manuel Santana, who lost to Charlie Pasarell in 1967, Lleyton Hewitt, who went out to Ivo Karlovic in 2003, and Steffi Graf, who was beaten by Lori McNeil in 1994, are the only players to have suffered that fate in Wimbledon's 137-year history.
Goffin is a talented performer, but the world No 105 does not have the weight of shot to trouble the best. The fresh-faced 23-year-old Belgian looks much younger than his years and in the early stages, in particular, the occasion seemed to get to him.
When he came on court Goffin looked like a nervous schoolboy who had bunked off lessons and was worried that someone might report him to his headmaster. He has more guile and touch than many players, but at 5ft 11in tall and weighing less than 11st he lacks a physical presence.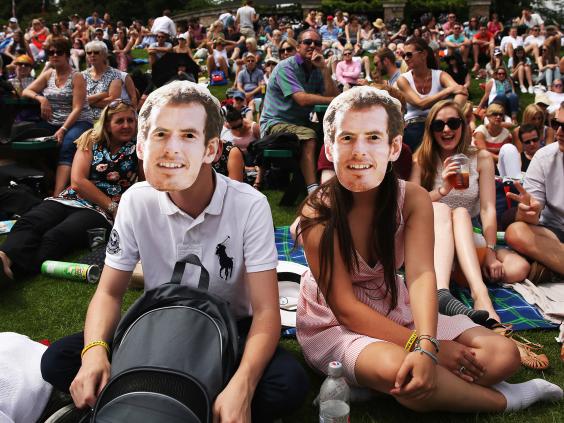 Murray, in contrast, seemed in good shape from the start and broke serve at the first attempt. When Goffin won his first game, after Murray had taken a 3-0 lead, the crowd broke into prolonged and sympathetic applause for the Belgian. Goffin's game picked up in the second and third sets, but delaying the inevitable was all he was ever going to achieve.
For the most part Murray played within himself, particularly in the early stages, but when he needed to the world No 5 went through the gears. There were some memorable moments, including a splendid lob to break serve in the sixth game of the first set which even brought applause from Mauresmo, who  normally watches matches impassively.
"I played very well," Murray said. "I hit the ball very well. I hit the ball clean from the beginning of the match. There weren't any moments where I felt like I was mistiming balls. I hit the ball clean. I thought the second and third sets were a very high level. I thought he played very well. He was aggressive. He goes for his shots. He moves extremely well. He's very quick around the court. He has great hands up at the net, as well."
Murray's relaxed mood after the match changed only when he was asked whether he felt a responsibility to give the British public something to cheer about after England's World Cup failure.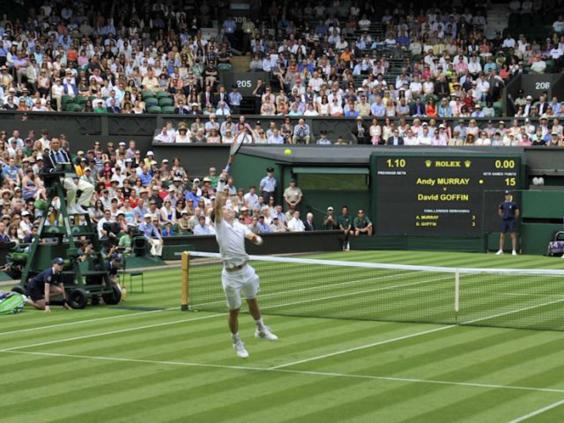 Murray said he was here simply "to do my thing" and added: "I don't think that the English football team get asked about me in their press conferences, so I'd appreciate it if that wasn't brought up when I was playing. I'm yet to hear Wayne Rooney talk about my matches at Wimbledon. I don't think it's fair."
The Scot now plays Blaz Rola, a 23-year-old Slovene who sounds as though he might be just as nervous as Goffin. "Hopefully, I don't poop my pants and not play well," the world No 92 said as he looked ahead to his first meeting with Murray. Rola, a tall left-hander who is playing in only his second Grand Slam tournament, beat Spain's Pablo Andujar 6-3, 6-1, 6-4 in his opening match.