There's no rivalry in women's tennis any more, they said. None at all given the thundering ascendancy of Serena "Slam" Williams on the cusp of winning her fourth major in a row.
No rivalry, it turned out, until an emboldened Heather Watson took leave of her British senses to come within two shuddering points of a Wimbledon all-time monumental upset. Cast in the role of steamrollered underdog she became – aptly this week – a Lioness instead.
One woman understood every nuance of the drama. Martina Nav-ratilova, was also that ascendant superstar. So dominant in her time that the flamboyant American tennis commentator, Bud Collins,  reckoned she should be given a league of her own. While Williams is currently on a 24-game win streak, Navratilova's lasted 74 games in 1984. Between 1982-86 she won 428 singles matches out of 442. Even her famous, toe-to-toe rivalry with Chris Evert had ebbed away by then.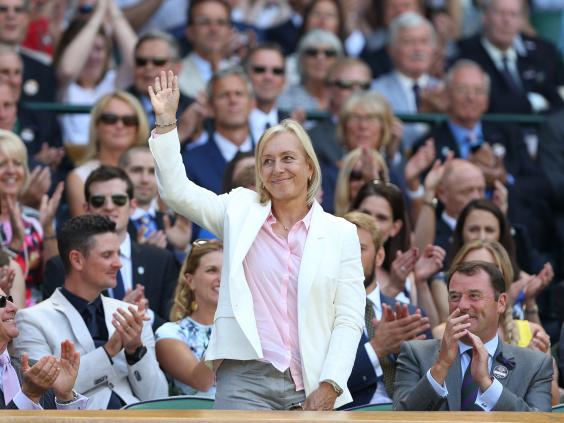 If anyone can identify with Serena Williams, she can. Under normal circumstances, to play Serena is to enter the gladiatorial arena and find you are very much not the one with the trident. But this was a match that redefined our expectations of the women's tennis pecking order.
The Centre Court crowd was uproarious, deafening and – good God – even impolite. They cheered the mistakes of the American world No 1 like an FA Cup Final goal.
Wimbledon 2015 - in pictures
Wimbledon 2015 - in pictures
1/74 Day 13

Novak Djokovic celebrates with the Wimbledon title alongside beaten finalist Roger Federer

GETTY IMAGES

2/74 Day 13

As per usual, Djokovic eats a bit of the SW19 grass in celebration

GETTY IMAGES

3/74 Day 13

Novak Djokovic celebrates winning Wimbledon

GETTY IMAGES

4/74 Day 13

Novak Djokovic wins a point

GETTY IMAGES

5/74 Day 13

A downbeat Roger Federer reacts in the final

GETTY IMAGES

6/74 Day 13

Novak Djokovic plays a strong return

GETTY IMAGES

7/74 Day 12

Williams and Muguruza show off their respective winner and runner-up trophies

Getty Images

8/74 Day 12

Serena Williams with the Wimbledon title

Getty Images

9/74 Day 12

Muguruza and Williams embrace after their Wimbledon final

Getty Images

10/74 Day 12

Serena Williams celebrates winning a point against Garbine Muguruza in the Wimbledon final

Getty Images

11/74 Day 12

Serena Williams celebrates winning a point against Garbine Muguruza in the Wimbledon final

Getty Images

12/74 Day 11

Roger Federer rolled back the years to produce a brilliant display to set up a final against Novak Djokovic

Getty Images

13/74 Day 11

Andy Murray reacts after losing a point to Roger Federer

Getty Images

14/74 Day 11

Novak Djokovic celebrates after easing into the final with a win over Richard Gasquet

Getty Images

15/74 Day 11

Richard Gasquet rarely troubled Djokovic in a straight sets defeat

Getty Images

16/74 Day 10

Serena Williams celebrates victory over Maria Sharapova in the semi-finals

GETTY IMAGES

17/74 Day 10

Garbine Muguruza clinches semi-final victory

GETTY IMAGES

18/74 Day 9

Roger Federer celebrates his win over Gilles Simon

GETTY IMAGES

19/74 Day 9

The players embrace after the match

GETTY IMAGES

20/74 Day 9

Andy Murray celebrates his win over Vasek Pospisil

GETTY IMAGES

21/74 Day 9

The Dutchess and Duke of Cambridge look on

GETTY IMAGES

22/74 Day 9

David Beckham and son Romeo watch Andy Murray

GETTY IMAGES

23/74 Day 9

The roof over Centre Court closes during Murray's quarter-final match

GETTY IMAGES

24/74 Day 8

Jamie Murray on his way to the men's doubles semi-finals

GETTY IMAGES

25/74 Day 8

Madison Keys pictured in her defeat to Agnieszka Radwanska

GETTY IMAGES

26/74 Day 8

Maria Sharapova celebrates after coming through her tough quarter-final match against Coco Vandeweghe

GETTY IMAGES

27/74 Day 8

Garbine Muguruza celebrates her quarter-final victory

GETTY IMAGES

28/74 Day 8

Novak Djokovic on his way to victory against Kevin Anderson after their fourth round match resumed

GETTY IMAGES

29/74 Day 7

Roger Federer was in complete control throughout his three-set victory over Bautista Agut

Getty

30/74 Day 7

Caroline Wozniacki on her way to defeat against Garbine Muguruza

Getty

31/74 Day 7

Andy Murray in action against Ivo Karlovic

GETTY IMAGES

32/74 Day 7

Ivo Karlovic in action against Murray

GETTY IMAGES

33/74 Day 7

Murray in action in his fourth round tie on Centre Court

GETTY IMAGES

34/74 Day 7

Andy Murray in action against Ivo Karlovic

GETTY IMAGES

35/74 Day 7

Nick Kyrgios clashes with the umpire during his defeat to Gasquet

GETTY IMAGES

36/74 Day 7

Maria Sharapova during her fourth round win

GETTY IMAGES

37/74 Day 7

Serena is congratulated by sister Venus after their fourth round contest

GETTY IMAGES

38/74 Day Six

Andy Murray was in real trouble for a short time against Andreas Seppi and needed a medical timeout to work on his shoulder

Getty Images

39/74 Day Six

But the Scot rallied and won six games in a row to march into the fourth round

Getty Images

40/74 Day Six

James Ward is cheered off by the home support after losing an epic battle with Vasek Pospisil

Getty Images

41/74 Day Six

Defending champion Petra Kvitova leaves the court in tears after shock defeat to Jelena Jankovic

Getty Images

42/74 Day Six

Angelique Kerber was upset by Garbine Muguruza, who was seeded 10 places below the German

Getty Images

43/74 Day Six

No 5 seed Caroline Wozniacki made quick work of Camila Giorgi

Getty Images

44/74 Day Six

Marin Cilic needed five sets and a 12-10 tie-break to beat American John Isner

Getty Images

45/74 Day Six

Roger Federer Eased to a win over Sam Groth

Getty Images

46/74 Day Six

Wimbledon darling Dustin Brown packs up after defeat to Viktor Troicki

Getty Images

47/74 Day Five

Serena Williams celebrates her triumph over Heather Watson

GETTY IMAGES

48/74 Day Five

Heather Watson wins a point in the third set

GETTY IMAGES

49/74 Day Five

Serena Williams reacts to losing a point

GETTY IMAGES

50/74 Day Five

Grigor Dimitrov was knocked out after losing to Richard Gasquet

GETTY IMAGES

51/74 Day Five

Maria Sharapova celebrates her win over Irina-Camelia Begu

52/74 Day Four

Tennis world number 102 Dustin Brown has shaken Wimbledon by knocking out two-time champion Rafael Nadal

53/74 Day Four

Roger Federer plays a cheeky shot during his second round win over Sam Querrey

GETTY IMAGES

54/74 Day Four

Petra Kvitova celebrates her second round win

GETTY IMAGES

55/74 Day Four

The Duchess of Cornwall meets Rafa Nadal

GETTY IMAGES

56/74 Day Four

Adam Lallana of Liverpool at Wimbledon with Game of Thrones star Kit Harington

GETTY IMAGES

57/74 Day Four

Andy Murray in second round action where he beat Robin Haase in straight sets

GETTY IMAGES

58/74 Day Four

Wimbledon fans feel the heat

GETTY IMAGES

59/74 Day Three

Milos Raonic of Canada serves to Tommy Haas of Germany during their singles match

AP

60/74 Day Three

Grigor Dimitrov of Bulgaria reaches for the ball trying to return to Steve Johnson

AP

61/74 Day Three

Heather Watson impressed to beat Daniela Hanutchova in straight sets

Getty Images

62/74 Day Three

Novak Djokovic eased into the third round with a win against Jarkko Nieminen, who played his last game at the tournament

GETTY IMAGES

63/74 Day Two

Defending champion Petra Kvitova made light work of Kiki Bertens, dropping just one set

Getty Images

64/74 Day Two

Heather Watson booked her place in the second round but upsetting No 32 seed Caroline Garcia

Getty Images

65/74 Day Two

Laura Robson played her first Grand Slam match in 17 months but lost to Evgeniya Rodina

Getty Images

66/74 Day Two

No 10 seed Rafa Nadal was given some problems by Tomaz Bellucci but prevailed

Getty Images

67/74 Day Two

Roger Federer was excellent as he beat Damir Dzumhur in straight sets

Getty Images

68/74 Day Two

Getty Images

69/74 Day One

A blue tit stole the show early on the first day of the tournament

BBC

70/74 Day One

Serena Williams made hard work over her victory over Margarita Gasparyan

Getty Images

71/74 Day One

Novak Djokovic boked his place in the second round with a 6-4 6-4 6-4 win over Philipp Kohlschreiber

Getty Images

72/74 Day One

Liam Broady produced a brilliant fightback from two sets down to beat Marinko Matosevic - a man ranked 43 places above him

Getty Images

73/74 Day One

Maria Sharapova was impressive in beating Britain's Johanna Konta

Getty Images

74/74 Day One

Kei Nishikori reacts after the No 5 seed struggled to a five-set win

Getty Images
Navratilova said: "Serena really should have won this match a lot more easily. At the same time she could have lost it 6-1 in the third. The nerves did get to her a little bit.
 "It was a great effort from Heather. She has got to hold her head high."
Coming from a nine-times Wimbledon champion, watching the match for the Tennis Channel, that was worthy praise.
Navratilova had been right all along. Despite fears that the spectacle of women's tennis was being damaged by the all-conquering nature of Williams' game, up comes one of the most riveting episodes ever. With a British woman too.
"Women's tennis doesn't have to do anything about it, not at all," said Navratilova. "Serena's just an exceptional athlete and player. The men's game has a number of great players all around at the same time at the moment but in the women's game –some retired, some haven't stepped up yet – Serena just has no peer.
"It's credit to Serena but I'm also disappointed nobody pushes her more. When I was her age Steffi Graf had already won the Grand Slam. Then it was Monica Seles who came through. Maybe it was just my bad luck. Without Steffi I'd probably have won 20 majors. And now there's no Steffi pushing Serena."
There was a fair bit of pushing from Watson, it turned out. In the end, Williams – a five-time Wimbledon champion – had precedent and the sheer physical sovereignty to prevail. That might sound familiar. Navratilova was the player who took the sport from cardigans to chain mail. Her assumption of fitness, muscle, aggression was the single most important redefinement of women's tennis of the 20th century. That and losing the corsets back in the 1910s.
The Amazonian ferocity – if not the adherence to the baseline – of the current game owes so much of itself to her.
That is why one of the greatest moments in her career was winning her last Wimbledon in 1990, aged 33, when she knew her physical powers were waning. "The last one was very special because I worked really hard for it. I was beyond my sell-by date. Not really in age but in terms of how many matches I'd played. That's what's amazing about Serena Williams. She's 33 now but she's played about 400 fewer singles matches than I had at that age and probably about 400 fewer doubles matches too. I had a lot more wear and tear. Still it's amazing what she's doing."
With that final victory she broke the record for Wimbledon singles titles and from that experienced vantage point, she very much reckons that Andy Murray could win this one – and more. "Oh absolutely, why not? He's playing the best tennis of his life, according to him. He won here two years ago, so the pressure's off and he's already got two slams under his belt.
"He's got three, maybe four, more years of physical prime. And there's four majors a year. That's 16 more shots at it, right?"
She also joins the growing chorus that credits Murray's coach Amélie Mauresmo for this new-found formidability. "They like each other, they work well together and she's made him more aggressive. He's always had the tools, now he's using them more. He has confidence in her. I'm happy for them. it's great. Now maybe other guys won't think about gender when they hire coaches."
She does not rule out working with a male player in the future. "I'm not excluding it. I want to do it. But right now I have a lot on my plate. I'm a parent. I have two girls and a wife. That's funny to say. I always wanted a wife but I'm a wife too. We've been partners for seven years and now we've been able to make it legal."
She married Julia Lemigova at a ceremony in December with Chris Evert as a maid of honour, rivalry long since having morphed into abiding friendship.
It's nearly 40 years ago now since her worst moment on a tennis court aged 19  – losing in the first round of the US Open in 1976, while Evert, incidentally, went on to crush Evonne Goolagong in the final in straight sets.
"I cried. I broke down on the court like a baby. I felt like a baby," said Navratilova. "It was one year after defecting and I had played all summer long. I couldn't go back to Czechoslovakia. I was absolutely exhausted and Janet Newberry beat me – the only match on that day because it had been raining so much. I felt extremely alone."
"But it's a lifetime ago now," she said.
Martina Navratilova is a tennis expert and tournament commentator on BT Sport.  BT Sport is the exclusive UK broadcaster of 21 live WTA events every year.
Reuse content