Finally. Frank Lampard has made it to New York City and could run out for his new club as soon as this weekend.
A year after New York City FC announced that the veteran midfielder would be their latest, gilt-edged signing only to see his debut delayed, the 37-year is in the squad to play on Sunday at home to Toronto.
He said he had already had his first "New York moment", had attempted to drive on its clogged, crazy streets, but had not yet ridden on the city's subway.
"It's great for me," Lampard said at a press conference in New York on Tuesday, at which he and fellow new signings Andoni Iraola and Jose Angel Tasende were "introduced" to the media.
"I've always been a very determined character," he said in response to questions. "And I've always believed the only way to answer questions is on the field."
He added: "My aim is to play good football. If there is a debt, then I will try and answer it on the pitch. I'm a straight person. I work hard. If I can do that, then none of us will have any debts to pay so we can all be happy."
Lampard's arrival in New York was held up after what was supposed to have been a short-term contract with Manchester City was extended. This meant he could not join New York City FC for the start of the Major League Soccer (MSL) season in March, something that disappointed some fans and disgruntled others.
As it, Lampard will now be joining a squad that not features not just him and Iraola, but Italian legend Andrea Pirlo and Spain's David Villa.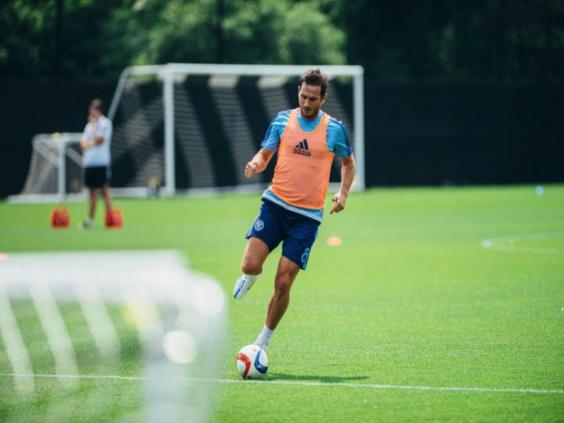 "I was fortunate to be able to play against lots of great players," he said when asked if he had ever thought he might play on same team as Villa and Pirlo. "I have admired them both."
He also said he would give Pirlo the right to the first free kick, if he, the Italian and Villa were standing together over the dead ball. "He is a stylish player to watch."
Coach Jason Kreis said Lampard was one of a series of high-quality signings designed to lift the club. "We have a team that is very hungry," he said.
Lampard said he had always appreciated the fact that his friends and family – his father in particular – had supported him and routinely attended his games. He said he would be collecting his father from the airport on Wednesday night ahead of Sunday's game.
"The problem will be to keep people away," he joked. "People think I'm here on holiday."
He added: "My challenge is to come here and win. I would not have come here if I did not think I had a lot left in me."
Reuse content