Thanks to his imposing 6"11' frame, Kavell Bigby-Williams has never had any issue standing out from the crowd - even within his own changing room. But beyond his sheer physicality and presence, it quickly transpires that there's more than meets than the eye to the Oregon University basketball player.
With his distinctive London accent, laced with American jargons and a mid-western twang, it's clear that the 21-year-old is a long way from home.
As America's much-hyped 'March Madness' rolls into town for another year, Bigby-Williams takes to court as the competition's sole Englishman. In a single-elimination tournament that pits the nation's top college basketball teams against one another, the young gun is set to be thrust into the limelight as he and the Oregon Ducks, alongside 67 other university teams, bid to be crowned national champions.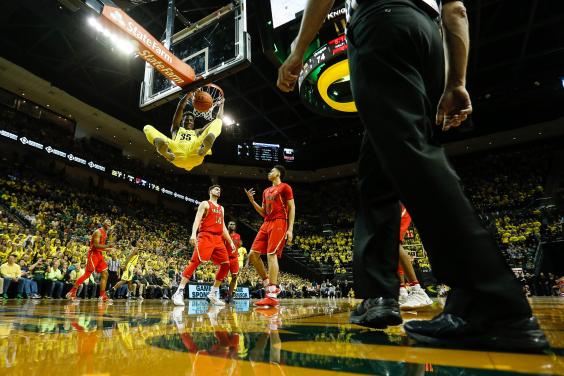 But life could have been very different for the London giant. Born and raised in Hackney, Bigby-Williams' early years were spent kicking balls as opposed to bouncing them. An Arsenal fan from a young age, the 21-year-old grew up with Ian Wright, Dennis Berkgamp and Thierry Henry as his idols. A fractured tibia temporarily forced him out of the game but, after consulting his family and friends, it became evident to the youngster that his future no longer lay in football.
"I got into basketball after hurting my leg and I thought, 'Maybe it's time to change sport'," he tells The Independent. "After I recovered from my injury I tried to go back to football but it just didn't feel the same, I didn't have the same passion for it. So at I thought at the time to try a new sport.
"Everyone in my family and my friends were saying you should be playing basketball anyway. So I just tried it out.
"I started playing basketball for my high school team. And after that I had a friend who introduced me to his youth team, and after I started playing with him I got better and better and it built up."
From there, Bigby-Williams took his next big step and swapped life in east London for the glitz and glamour of America.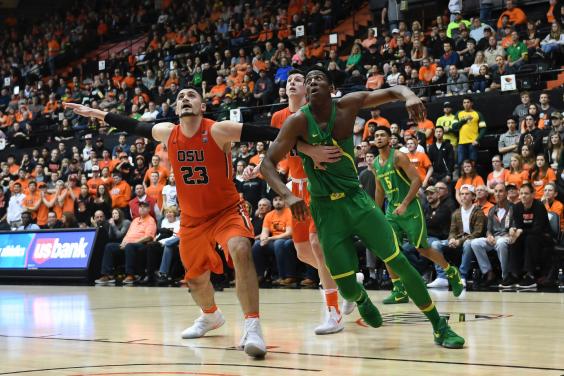 "I came to the US because it's better competition than in London," he explains. "I wanted to play in the best competition and coming here was a step towards that.
"I came to the States in my freshman year of college. I went to Gillette College [in Wyoming] for two years. I had a good season the first and the second season I stepped up my game…
"As I got better I started getting recruited by bigger schools and I ended up at Oregon."
And so, after quite the journey, Biby-Williams finds himself competing alongside some of America's next big stars in one of the country's most famous annual sporting events - not that he ever expected it. "I didn't ever think I'd be playing at this level, playing in March Madness."
Although the youngster admits to missing his family and friends - his mum, who still lives in Hackney, brings him 'candy' and English food when ever she visits  - the youngster now has his heights set on emulating some of the game's greats who walked a similar path before him.
"At first I didn't really have any heroes, I was still attached to soccer so it was just football," he admits. "[But] as I've been playing the game I've learnt more, I've seen more basketball games, I've started to learn and like more players.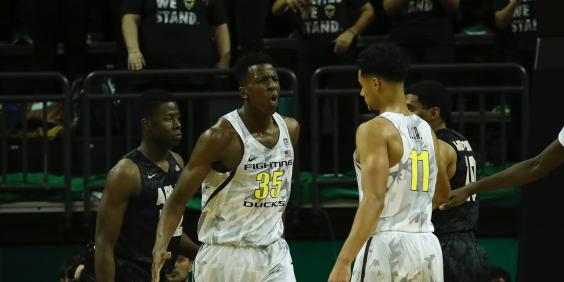 "I like guys like Anthony Davis, DeAndre Jordan, guys that just play hard on both end of the floor… I try to model my game around him [Davis] a little bit, and try and pick up little things from him."
And what about his fellow Britons in America? Bigby-Williams confesses to keeping in touching with Luol Deng, another British-based player who honed his trade across the pond and is now currently playing for Los Angeles Lakers.
"Yeah, I went to his [Deng's] camp a couple of years ago and we kind of keep in touch with him and some of the other guys, he's given me advice, and [told me] to keep working hard and find ways to help the team and stuff like that."
Little may he realise it now, but Bigby-Williams joins an exclusive crowd of Britons to have ventured stateside in pursuit of basketball success. John Amaechi is perhaps one of the UK's most recognisable names. Having enjoyed spells with Cleveland Cavaliers and Orlando Magic, the 6"10' centre enjoyed a respectable career between 1995 and 2003 and has since gone on to make a name for himself within the broadcasting industry.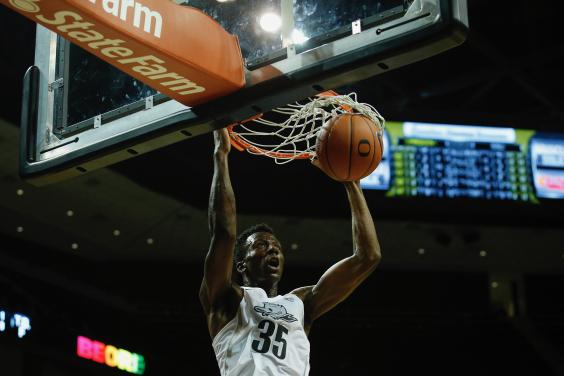 But, for now, Bigby-Williams remains focused on taking his career one step at a time and that currently means proving himself to the senior Great Britain basketball team. As he admits, he's held open talks with the senior coaching team and is well placed to represent the country at this year's European Basketball Championship.
"I've talked to the senior coach and the staff that work with the senior team and I feel like, because there's Euro basketball coming up this summer, hopefully if I'm good enough and if I keep working hard I can make it into that team."
Just don't expect any long-term plans from the young Englishman. "Honestly, right now, I wouldn't say I have a back-up plan at the moment. I'm focusing on basketball right now, and that's my passion right now so I'm just focusing on that." At just 21 years of age, who can blame him? It sounds like quite the life.
Fans can watch the iconic NCAA March Madness® Tournament, on the channels of BT Sport (BT Sport 1, BT Sport 2, ESPN // BT Sport). Throughout the season, the BT Sport channels bring fans in the UK & Ireland more than 300 NCAA basketball games. 
Reuse content