Dirk Nowitzki became the top-scoring non-American player in the history of the NBA on Tuesday night as the Dallas Mavericks beat the Sacramento Kings.
The German, 36, scored 23 points against the Kings to take his overall tally to 26,953 points in his 17 th season in the league, above Nigerian Hall of Fame centre Hakeem 'The Dream' Olajuwon on the international list and ninth overall on the all-time list.
"It's an honour," said Nowitzki.
The 12-time All-Star and 12-time All-NBA selection scored a midrange shot with 8:56 remaining in the game to pass the former Houston Rocket.
 "To do it at home, it was even more special. Getting a standing ovation, it was great."
"Hakeem, to me, was one of the greatest. I grew up watching him in the 90s. His footwork, his touch, was next to no other. I'm really humbled to keep climbing the ladder, blessed to stay healthy, and play at a semi-high level, I guess."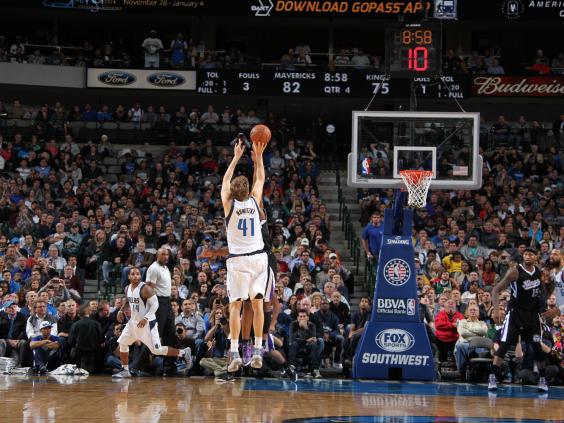 Kareem Abdul-Jabbar is the all-time leading points scorer, with 38,387. Kobe Bryant, fourth on the list, is the only other active player in the top 10.
Fans can watch NBA games on BT Sport and via NBA LEAGUE PASS, the NBA's live and on-demand subscription service (www.nba.com/leaguepass)
Reuse content