Megastar Drake ruined what had the potential to be one of the great sports pictures on Sunday night.
The scene saw legendary NBA star Kobe Bryant playing in his final All-Star game - his 18th, tying the record. 
Bryant, whose numerous injuries have seen him turn into a shell of his former self in the last three seasons, now plays on an irrelevant and awful Los Angeles Lakers team, who are again heading for the bottom of the standings.
NBA All Star weekend 2016
NBA All Star weekend 2016
1/9 Kevin Hart

Actor and comedian Kevin Hart coached and played in the celebrity game

2016 Getty Images

2/9 Zach LaVine

The Minnesota Timberwolves guard was named MVP of the Rising Stars game after scoring 30 points

2016 Getty Images

3/9 Klay Thompson

Golden State Warriors guard surprised by beating team-mate Stephen Curry to win the three-point contest

2016 Getty Images

4/9 Aaron Gordon

Orlando Magic forward produced two of the best dunks ever in a spectacular slam dunk contest

2016 Getty Images

5/9 Lavine

However, LaVine retained his crown by putting the ball through his legs after taking off from the free throw line

2016 Getty Images

6/9 Paul George

Indiana Pacers forward finished the All-Star game with just one less point (41) than Wilt Chamberlain's all-time record

2016 Getty Images

7/9 LeBron James

Former league MVP LeBron James slams home a dunk

2016 Getty Images

8/9 Russell Westbrook

Oklahoma City Thunder guard is congratulated by team-mate Kevin Durant after being named MVP for the second year in a row

2016 Getty Images

9/9 Kobe Bryant

One of the all-time greats, Kobe Bryant, is given a standing ovation after he leaves the floor of his 18th and final All Star appearance

2016 Getty Images
Although the game is an exhibition, with the best players in the world all playing in Toronto this was really the last time Bryant, a five-time champion and one of the best ever, would truly stand shoulder to shoulder with today's other greats.
The picture sees Bryant come up against LeBron James. Bryant was the league's top draw for almost a decade before James truly entered his prime. 
In the image Bryant is all business, trying to prove one last time that his eroded skills haven't completely deserted him.
James, having just slapped the floor to pump up the crowd, has a beaming smile on his face as he prepares to defend.
It's perfect.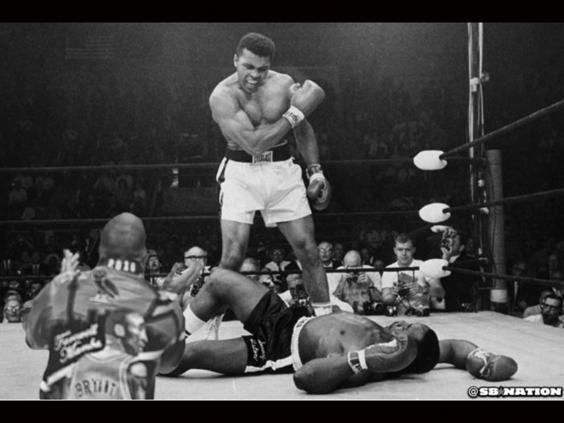 Until Drake stands up with his custom made jacket dedicated to Bryant and gets right in the way. 
James posted the caption: "Legendary!! Getting this framed for the crib."
Hopefully he can airbrush Drake out.
US sports website SB Nation produced numerous other images of Drake ruining great sporting pictures.
Reuse content