Russell Westbrook was just a point shy of the all-time NBA All-Star Game points record as stars flocked to Madison Square Garden to see basketball's greatest exhibition game.
The Oklahoma City Thunder guard scored 41 points as the Western Conference beat the East 163-158 on Sunday night. Westbrook's MVP performance fell just short of Wilt Chamberlain's 42-point effort set way back in 1962.
Stars from the film, music and political world came in their droves to see the game, which sees the NBA's best players pitted against one another in a mid-season exhibition game.
NBA All-Star Game 2015
NBA All-Star Game 2015
1/11 1)

Christina Aguilera - who performed during the game - sits next to New York rapper Nas

Getty Images

2/11 2)

Ariana Grande and Nicki Minaj during their performance

Getty Images

3/11 3)

Comedian and actor Chris Tucker

Getty Images

4/11 4)

Rappers P Diddy and Jay-Z shared a few words during the game

Getty Images

5/11 5)

Former US President Bill Clinton chats to NBA legend Dikembe Mutombo

Getty Images

6/11 6)

Actor Ben Stiller and his wife Christina Taylor

Getty Images

7/11 7)

Nicki Minaj sits with fellow rapper Meek Mill

Getty Images

8/11 8)

Rihanna sat courtside for the game

Getty Images

9/11 9)

Jay-Z took his seat next to wife Beyonce

Getty Images

10/11 10)

World champion boxer Floyd Mayweather

Getty Images

11/11 11)

Director and huge basketball fan Spike Lee with wife Tonya Lewis Lee

Getty Images
Rihanna, Jay-Z and Beyonce, P Diddy, Christina Aguilera, Nas, Nicki Minaj, Floyd Mayweather, Chris Rock and even former US President Bill Clinton were among a large number of celebrities present at the game.
Clinton received the biggest cheer of the night when his face was shown across the big screens - Madison Square Garden was where he was nominated by the Democratic Party in 1992 ahead of his first successful election campaign.
James Harden of the Houston Rockets added 29 points, eight rebounds and eight assists for the West, who built a 20-point lead in the first half and then pulled away after it was tied at 148 with a little more than 4 minutes remaining.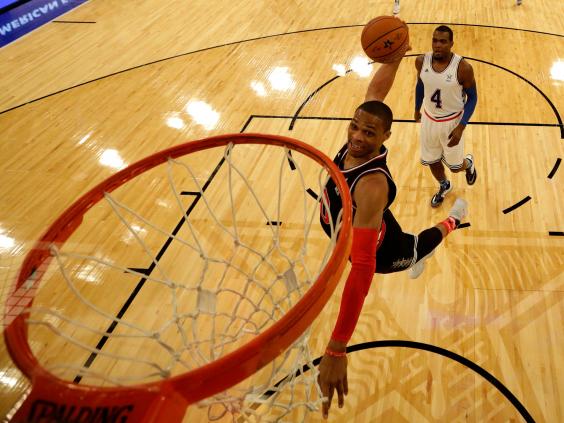 Four-time league MVP LeBron James finished with 30 points, but couldn't lead the East to the victory in his favorite NBA arena.
Atlanta's Kyle Korver hit seven three-pointers and scored 21 points for the East, while Washington's John Wall had 19.
Additional reporting from AP
Reuse content