The NBA All-Star Game is the best night of the regular season.
Before reaching the high drama of the play-offs, the league's 30 teams have to fight through an 82-game marathon that can, at times, be a slog for players and fans.
All-Star Weekend marks the midway point of the season and a chance for players to really have some fun. After the excitement of the three-point and slam dunk contests last night, the very best players of the season so far are pitted against each other to do battle.
LeBron James, an 11-time All-Star and four-time league MVP, Stephen Curry, the favourite for this year's MVP award, LaMarcus Aldridge, a four-time All-Star and John Wall, one of the best young players in the NBA, are four such stars.
They all chatted to The Independent, via Cisco telepresence, ahead of tonight's big game about the season so far and the big game.
LEBRON JAMES, Cleveland Cavaliers
Q | How do you maintain such high levels when night in and night out other teams are looking to stop you performing?
A | "I prepare in the same way that they prepare for me. I do the scouting, watch film and work on my game so that when it starts I know what I'm going to face and I just try to counter everything they do.
Q | Do you think it would be better if the 16 best teams from both conferences went to the play-offs rather than the top eight from each conference?
A | "I think it's fair. It would be interesting to see the top 16 teams advance no matter the conference but it's been a successful thing in our league. You've had champions out of the East and out of the West."
Q | What do you think of the Gasol brothers (who have become the first brothers and first Europeans to start in an All-Star game)
"I think it's amazing. This is the first time we've ever had two brothers starting in the All-Star game. The fact that they are starting right opposite of each other. I think it is unbelievable not only for the Gasol family but for the NBA family as well to have such an unbelievable event like this to happen. I'm happy for Pau and Marc and I'm happy that our league gets to witness it and that I can be a part of it."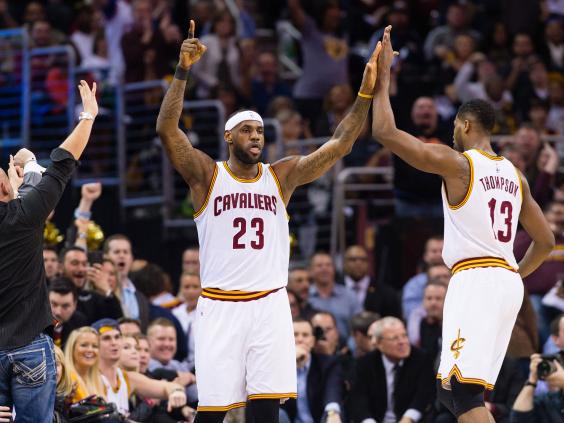 STEPHEN CURRY, Golden State Warriors
Q | How did it feel when you found out you had won more All-Star votes than any other player?
A | "It's special to know that you've got a lot of support both in the US and around the world. People that are not only fans of the NBA but of myself and like the way that I play and want to see it showcased at the All-Star game. To be the leading vote getter is something I never even dreamed of. Two years ago I wasn't even an All-Star, so the process and the journey in that time is pretty special."
Q | Can you imagine not playing without Klay Thompson (who was almost traded in the summer)?
A | "I can't, we've been together four years and got better every single year. Knowing after last season that a decision on his contact had to be made and all this talk about Kevin love and the [Minnesota] Timberwolves, that's out of the players' control. You don't know what to do when all that is being talked about, but I think obviously the right decision was made not to trade him. Things have worked out really well so far this year. It would have been a terrible waste of a nickname -  'The Splash Brothers - if he was traded."
Q | How big an influence has new head coach Steve Kerr had on you and the other Warriors?
A | "He's been huge. It's more the knowledge he's gained from being on championship winning teams, understanding what those teams did to prepare themselves for each game and to be at the best for the play-offs. He's brought those lessons, mental focus, night in and night out. A commitment to your team-mates, and just respecting the game with the way you practice and your effort every single night. He learned a lot from Gregg Popovich [five titles] and Phil Jackson [11 titles], two legendary coaches, and all that knowledge he soaked up during his career has definitely come out. He's been a huge success for us.
LaMARCUS ALDRIDGE, Portland Trail Blazers
Q | What have the Blazers changed this season to get better?
A | "Just to be more disciplined, we're trying to take on board that whole mind-set of playing team basketball."
Q | What do you make of Joel Freeland (one of only two British players in the NBA) as a team-mate?
A | "I love him as a team-mate. Joel is great in the locker room. He does all the things that most guys don't do. He's a great defender, protecting the rim, he's grown offensively, knocking down that mid-range shot. He's a great team-mate and does all the things we need to win."
Q | How much fun is the All-Star break for players?
A | "It's big for us. We compete against each other the whole season, most guys are really competitive. To be here in this atmosphere, with these guys, to rub elbows with players of this calibre is always fun. To be on the same team and compete with them is a lot of fun.
Q | How has your image of European's evolved since you entered the league?
"I think the tradition over there is to learn basketball at a really early age. I think there is a lot of skill and I've definitely seen an improvement in toughness and just overall in talent. The whole talent level has gotten better."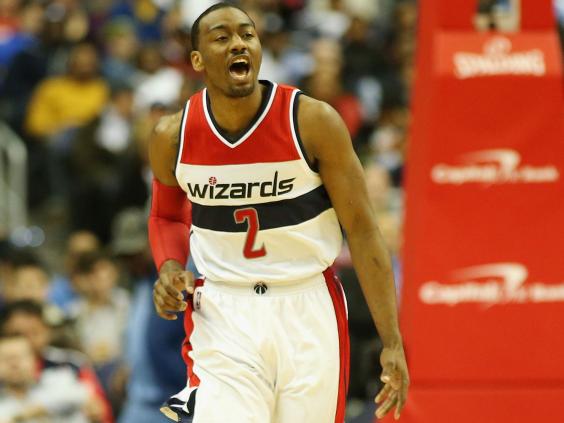 JOHN WALL, Washington Wizards
Q | Your father wasn't involved much when you were growing up, how has that affected your life and your career?
A | "It's definitely been tough, at nine years old I had to become a man. I was doing bad things, hanging with the wrong people. My mum had to talk with me when I was 15, she said 'you can be like your dad and brother or you can take the right path and use basketball as an escape'. That's when my life started to go in the right direction."
Q | Can the Wizards win a championship?
A | "That's our ultimate goal, it comes with a little bit of luck and also with a team that is clicking and playing the right way. Hopefully when the play-offs start we're playing our best basketball. I think we have the pieces it would take to win, but you have to be locked in and focused for 48 minutes and we haven't done that a lot this season, that's the reason we haven't won more games."
Q | How has a veteran like Paul Pierce helped you as a player and the whole team?
A | "He wanted me to know that my time has finally come to show the league what I can do. He wanted me to be the best player every time I step on the court and he wants me to believe that. Just his personality, his championship mind-set has really helped our team out a lot. He knows what it takes to win, he comes in and shows it by example and also by talking to us as much as possible."
Q | Why did you decide not to defend your Slam Dunk Contest title?
A | "I just decided not to get in, I wanted to sit back and rest and let those guys join in and have fun.  Last year I enjoyed my experience and hopefully those guys can have fun."
Q | Do you think the 82-game season is too long? It seems to cause a lot of injuries.
A | "Injuries you can't really prevent. You can prepare and do the right things but the happen. 82 games can be too much, but it's fun. You get an idea of where you rank against the best teams by getting to play them multiple times."
The 64th NBA All-Star Game tips-off at 1am on Sunday evening/Monday morning. The game will be shown live on BT Sport.
Reuse content