The Minnesota Timberwolves surprised few observers with their selection of Karl-Anthony Towns No 1 overall - but that was the only obvious selection on a wild night at the NBA draft.
In recent weeks Towns, a 6ft 11in centre out of Kentucky, had become the consensus top pick, with his mixture of dominant defence and ability to shoot the ball.
Previously Duke centre Jahlil Okafor had been the No 1 recruit, but despite his extremely polished offensive game, there were concerns about his defence. Still, the Los Angeles Lakers were picking No 2 and many experts had Okafor going to Hollywood.
But the Lakers surprised everybody by instead selecting Ohio State point guard D'Angelo Russell.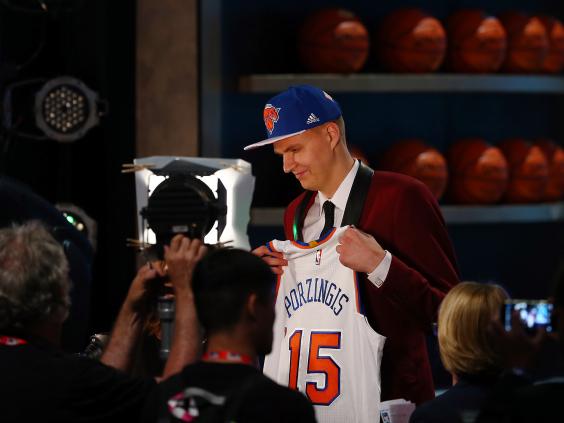 The Philadelphia 76ers had been strongly linked with Russell, but they too sprung a surprise by selecting Okafor No 3, despite having a seemingly loaded front court with Nerlens Noel and last year's No 3 pick Joel Embiid; the move could mean an upcoming trade for the club.
The New York Knicks' selection of little-known Latvian teenager Kristaps Porzingis, who had impressed during the draft process, at No 4 was booed by fans inside the Barclays Center in Brooklyn.
There was also a flurry of trades with the headline move seeing the Atlanta Hawks eventually get veteran Tim Hardaway Jr, the Washington Wizards get No 16 pick Kelly Oubre and the Knicks get No 19 pick Jerian Grant - a move that was cheered by Knicks fans in the building.
--
NBA DRAFT TOP 14
1) Minnesota Timberwolves - Karl-Anthony Towns
2) Los Angeles Lakers - D'Angelo Russell
3) Philadelphia 76ers - Jahlil Okafor
4) New York Knicks - Kristaps Porzingis
5) Orlando Magic - Mario Hezonja
6) Sacremento Kings - Willie Cauley-Stein
7) Denver Nuggets - Emmanuel Mudiay
8) Detroit Pistons - Stanley Johnson
9) Charlotte Hornets - Frank Kaminsky
10) Miami Heat - Justise Winslow
11) Indiana Pacers - Myles Turner
12) Utah Jazz - Trey Lyles
13) Phoenix Suns - Devin Booker
14) Oklahoma City Thunder - Cameron Payne
Reuse content