The Golden State Warriors regained the NBA title from the Cleveland Cavaliers as a 129-120 win on Monday night sealed the finals series 4-1.
Kevin Durant scored 39 points and Stephen Curry 34 to spark celebrations around Oracle Arena in Oakland.
It was the third year in succession the two teams had met in the finals. Cleveland last season became the first team ever to overturn a 3-1 deficit in the best-of-seven finals but after falling 3-0 down this time around, they were only able to pull one game back before the Warriors finished the job.
LeBron James led the Cavaliers with 41 points, 13 rebounds and eight assists but it proved in vain as the home team came out on top.
Though the Cavaliers led 37-33 at the end of the first quarter, Golden State soon reasserted their dominance by winning the second 38-23 to lead 71-60 at half-time.
The Cavs narrowed the gap slightly in the third but the Warriors were able to keep their opponents at arm's length to wrap up a second title in three years.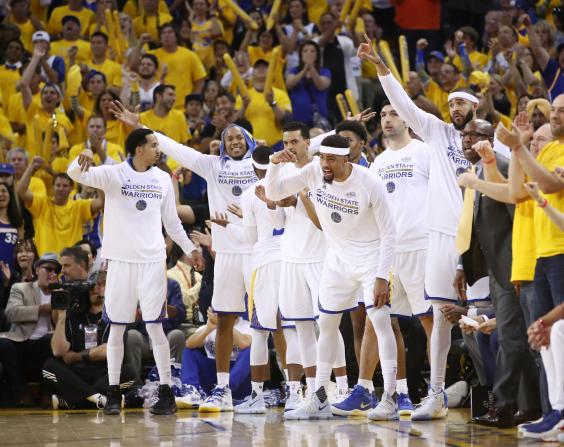 Their superior depth proved vital, with Warriors bench players contributing 35 points - including 20 from Andre Iguodala - to just seven for the Cavs' back-ups.
Wrapping up the series in five games meant the Warriors came through the post-season with a 16-1 record, with only the defeat in game four keeping them from perfection.
Having added Durant last off-season to the talents of Curry, Klay Thompson and Draymond Green among others, it was perhaps hardly surprising they should sweep all before them.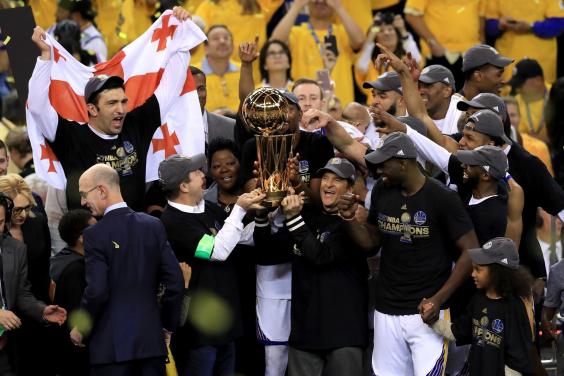 But coach Steve Kerr, who only returned to the team in time for game two of the finals after a period of medical leave to deal with complications arising from back surgery, joked afterwards: "We have very little talent actually, it's mostly coaching!"
Speaking on ESPN and BT Sport, he added: "I've got the best job in the world, these guys are so gifted, so committed to each other and so unselfish.
"I want to say a special 'thank you' to (assistant) Mike Brown for keeping this ship sailing smoothly while I was out."
Durant was named finals MVP after scoring over 30 points in each of the five games - he averaged 35.2 per game across the series.
But he said: "It's a team sport. You want to achieve the highest honour in the team sport, which is winning the championship. To play with these guys is amazing."
PA
Reuse content