The NBA will return to London with the New York Knicks and the Milwaukee Bucks meeting at the O2 Arena on 15 January.
The Knicks, long one of basketball's most popular teams this side of the pond, will return after last being in London in 2012, but as power forward Amare'e Stoudemire explains, the New York club are much changed from the team that beat the Detroit Pistons almost two years ago.
Stoudemire, now 31, was on that team but is one of just five players remaining on the Knicks' roster for the new season. But more than changes on the court, New York have undergone massive changes off the court, with head coach Mike Woodson replaced by rookie coach Derek Fisher – who only finished playing last season – and legendary coach Phil Jackson the new General Manager.
Jackson, who coached the Michael Jordan's Chicago Bulls and the Kobe Bryant-Shaquille O'Neal Los Angeles Lakers, is the most successful coach in NBA history, with a record 11 titles.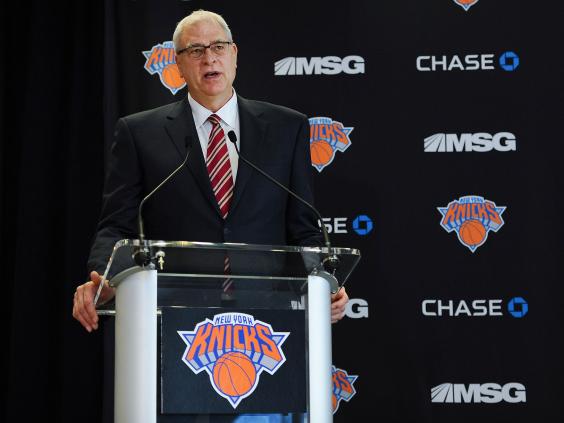 He runs the famous 'triangle' offence, a notoriously complicated scheme that has brought great success to the teams that adapt to it. New York will be running the scheme this season and much of the pre-season chat has been about how Stoudemire and star forward Carmelo Anthony take to it.
"I'm learning two different positions, the four and the five," Stoudemire told international media earlier this week. "Over time and with studying it'll pay off sooner rather than later."
Fisher, who was a member of the Oklahoma City Thunder last season, is only 40; eyebrows were raised when Jackson handed him the coaching role, but as a member of the Lakers in the early 2000s the former point guard ran the triangle perfectly.
Stoudemire, who has bathed in red wine this past off-season in a bid to get healthy, said it was no issue having a man he knew well from on the court as his new coach.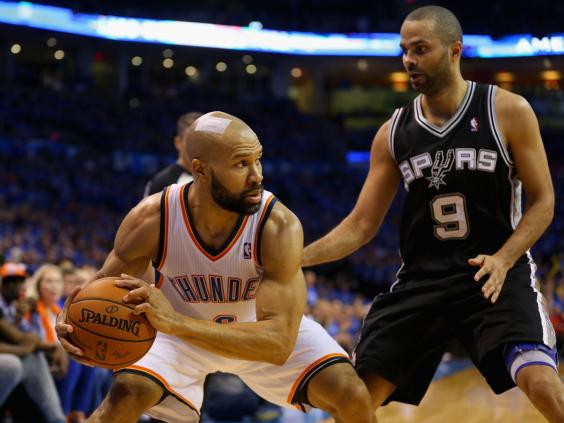 "Yea we used to battle, we had some epic battles with the Lakers and the [Phoenix] Suns back in the day. But there's a sign of respect there because to take on a coaching job is not an easy deal to take on, there's a lot of commitment that goes into it, so the respect levels are there. As players we are definitely keyed in and tuned in to make his job a lot easier."
Stoudemire was once a perennial All-Star and one of the NBA's most exciting players before injury and off-court issues robbed him of his explosiveness.
Named to the All-Star team six times, Stoudemire was also an All-NBA selection in five seasons, averaging more than 20 points-per game and around nine rebounds every year between 2004 and 2011, bar 2006 when he played just six games.
As a member of the Phoenix Suns, alongside Steve Nash and under Mike D'Antoni, the team were perennial title contenders, though they never managed to lift the Larry O'Brien trophy.
Stoudemire, who also acts and has his own cook book, says his excitement for the coming season makes him feel like he is "19 again".
"I'm truly excited about paying the game again, as if I'm in my youth again," he said. "From my body standpoint I feel 25 at least! The coaching staff and bringing Phil Jackson in has brought an excitement level to the game, and that will allow us to search for perfection and reach our potential as players.
"I lost lot of joy in the past two years, going through the injuries and the loss of my brother, there was a lot going on in the last few years and I was a little down and out. But I was able to somewhat preserver and keep a steady [head] and so now the joy from a basketball standpoint is back, and we go from there."
Some have accused Fisher of merely being Jackson's puppet, but Stoudemire says that is not the case.
"[Phil Jackson's] around, Derek fisher is obviously the head coach so he runs the show, but it's always great to see Mr Jackson around because that appearance of excellence is always great to see, we know the success that he had."
Stoudemire also says he is excited to get back to playing in London.
"I truly enjoy playing in London, I wish we could pay there every single season.
"We're coming to win, I can tell you that much, we're showing up to win, we're going to have fun as well and enjoy the city."
As one of the players with previous experience of the Capital, Stoudemire also said he would act as a "tour guide" for his fellow Knicks.
Now feeling healthier than he has done in seasons past, and with rumours that he could play 30 minutes a night, Stoudemire is determined to get back to his best.
"To get back to the Amar'e Stoudemire that the world fell in love with," he said when asked about his goals for the coming season. "The player that I was able to become as a youth. I want to get back to my dominant self."
The Milwaukee Bucks host the New York Knicks at The O2 in London on 15 January as part of NBA Global Games London 2015. Tickets go on sale Friday 31 October at www.theo2.co.uk/nba2015
To watch every NBA game this coming season subscribe to NBA League Pass
Reuse content