He is, by common consent, the finest basketball player on the planet. Five years ago, branded a turncoat mercenary for seeking the NBA titles that his hometown team could not give him, he left for Miami where he duly won a couple. But last summer he came back to north-east Ohio, a man on a mission: to provide Cleveland with their first championship in any sport in more than half a century.
LeBron James embarks on the final step to fulfil that promise, as the Cleveland Cavaliers open the best-of-seven title series in Oakland, California, against the Golden State Warriors.
There are subplots galore: the match-up between James and the man who is his presumptive heir, the Warriors' Stephen Curry, already voted the NBA's most valuable player in the 2014-15 regular season; and the presence in each team of an Australian tough guy – Andrew Bogut for Golden State and the  Cavaliers' Matthew Dellavedova. But, ultimately, it's all about LeBron.
He's 30 now, but he seems to have been around the NBA for ever. He was born to a single mother aged 16 on the poor side of Akron, the one-time "Tyre capital of the world" just 30 miles south of Cleveland. But it soon became evident he was a basketball prodigy. In 2002, at just 17, he was the first high school player of any sport to grace the cover of Sports Illustrated.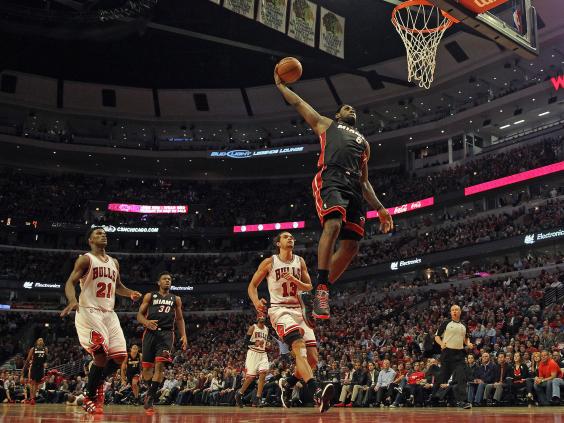 The next year, James skipped college to join the NBA. The Cavaliers took him as first pick in the draft and he's never looked back. With the decline of Tiger Woods, the collapse of US mens' tennis and baseball's lack of a true megastar, he is probably the world's best known American athlete, whose prowess has been likened to that of Michael Jordan in his pomp. And he was certainly the best loved individual in depressed north-east Ohio. Until 2010 that is, and "The Decision".
That was the title of an ESPN special where James, then a free agent, would reveal where he would be playing next season. Without telling a soul beforehand, he announced he had chosen the Miami Heat. Next day, the front page of the Cleveland Plain Dealer consisted of nothing but a picture of James, his back turned, and the single word, "Gone".
The owner of the Cavaliers denounced James' move as a "cowardly betrayal" and promised the Cleveland Cavaliers would win an NBA crown before he did. No such luck: James played in four title series with Miami, winning two. Back home, meanwhile, they were burning his jersey, and one of America's most admired athletes metamorphosed into one of its most detested. But then last year, astonishingly, the prodigal son – by now a four-time MVP – returned to the Cavaliers on a $42m two-year contract. Of sour feelings there were none, and once again his  No  23 jerseys were flying off the shelves. Some conciliatory words from James helped, too.
"When I left Cleveland, I was on a mission," James told Sports Illustrated. "I was seeking championships, and we won two. But Miami already knew that feeling. Cleveland hasn't had that feeling in a long, long, long time [51 years to be exact – and in all major league sports, not just basketball, the longest such drought by any big US city]. What's most important for me is bringing one trophy back to north-east Ohio."
But it won't be easy. Golden State, owner of the NBA's best regular-season record of 67-15, are the near-universal favourites. After a wobbly  19-20 start, as James settled back in, the Cavaliers improved to close 53-29. In the play-offs, largely carried by James and his average 27 points a game, they breezed past the Boston Celtics, the Chicago Bulls and the Atlanta Hawks. Now, however, the match-up's different: the NBA's best player against the NBA's best team.
James is a stunningly intelligent all-court player who, like Magic Johnson in his heyday with the LA Lakers, has the knack of lifting his team-mates' game as well. But this time he is up against the league's best starting line-up, led by Curry and his peerless shooting skills, and backed by the deepest of benches.
By contrast the Cavaliers look threadbare. After an injury-plagued regular season, they lost All-Star centre Kevin Love midway through the play-offs with a dislocated shoulder, while Kyrie Irving, their slippery wizard of a point guard and master of the three-pointer, is playing half-hobbled by a knee injury. Their bench is no match for Golden State, either.
So it is up to James, team leader and motivator extraordinary who already has given his all. The four-game sweep of the Hawks in the Eastern Conference finals have provided an eight-day break for the Cavaliers' talisman to regain his energy. Of his form there is no doubt – "this is probably the best I've been," James said last week. If so, for the Cavaliers and Cleveland, it might just be mission accomplished at last.
Reuse content