San Antonio Spurs point guard Tony Parker says his team have a huge challenge ahead of them if they are to defend the NBA title they won in June.
The Frenchman helped Gregg Popovich's Spus win their first Larry O'Brien trophy since 2007 after a brilliant series win against LeBron James and the Miami Heat.
The Spurs had the best regular season record in the NBA last year before raising their level of play in the play-offs, producing some of the best team basketball seen on the court in recent years to shell-shock Miami.
Such was the manner of the victory that James, the league's best player, has now left to rejoin former team the Cleveland Cavaliers – many observers believe the four-time league MVP thought he could not compete with the Spurs if he stayed in Florida.
But 32-year-old Parker knows his team have a lot of work to get through before they can even think about a repeat of their title-winning season, with navigation through a "brutal" Western Conference first on the agenda.
"The Western Conference is brutal, because there are many good teams," Parker told Sportlobster.com.
"I believe Oklahoma City Thunder are our biggest rivals, but everybody in the West – the Clippers, Houston, Dallas – has an excellent team."
Coach Popovich has won five titles since taking over coaching duties in 1996, Parker has been part of four of them, but none have been won back-to-back. 
Parker added: "It is a great challenge for us to repeat our success. We have never achieved this with the Spurs and so this is the reason why I am extremely motivated to succeed this season and retain our title."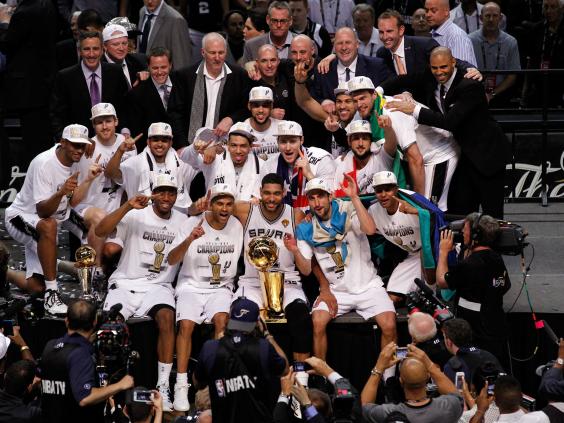 The guard also spoke of his special relationship with the coach, widely regarded as the best in the NBA.  "I have a great relationship with Gregg Popovich, because I have been with him for a long time. It is a special relationship and I don't take it for granted."
San Antonio's success has been built on the 'Big Three' core of Parker, Tim Duncan and Manu Ginobili. With all three well into their 30s – Parker is the youngest – and close to retirement it's been mentioned that this could be the beginning of the end for this team; a view that Parker disagrees with.
The Spurs are currently in Germany for the NBA's global games and will face Alba Berlin on Wednesday before travelling to Istanbul to face Fenerbahce Ulker.
Speaking at a pre-game media session, Parker told The Independent and other selected reporters: "I don't think it is just the Big Three anymore.
"We have a whole team now and we do it together. Kawhi [Leonard] is playing better and better, Danny Green, Patty Mills, Tiago Splitter – we have a lot of guys who can contribute and be effective."
But he did admit that the Big Three era has been "very special".
"I'm very blessed to play all these years with Timmy and Manu. It has been an unbelievable ride. With coach Pop too. I think it is very rare in professional sports to play with the same team mates for that long and have the same coach so hopefully we can enjoy it for at least one more year."
Parker, who said he "hoped" to end his career in silver and black, added that he loved playing in Europe.
He told Sportlobster: "I love going to Europe. Playing against Alba Berlin and Fenerbahce Ulker is excellent for team bonding.
"Everyone likes to spend time together, both off and on the court and we hope to retain the same level of performance as last year."
Sportlobster is the sports social network bringing news, predictions, blogs, photos, videos and event scheduling into one online platform, customised to each fan's preferences.
Reuse content