Julio Jones hauled in nine passes for 141 yards, including a pair of touchdowns, and the Atlanta Falcons came back after squandering a 17-point halftime lead to beat the Philadelphia Eagles 26-24 Monday night in the coaching debut of Dan Quinn.
"You just trust the preparation, let it rip and have fun," Quinn said. "That's what we did."
He sure enjoyed watching Jones, who was rewarded for the best season of his career with a new $71.25 million contract during the preseason. Showing no signs of complacency, Jones dominated the Eagles' revamped secondary as the Falcons raced to a 20-3 halftime lead.
In Monday's other game, the San Francisco 49ers beat the Minnesota Vikings 20-3 to win coach Jim Tomsula's debut.
NFL 2015 in pictures
NFL 2015 in pictures
1/48 New Orleans Saints 31 Atlanta Falcons 21

Benjamin Watson had a career-high 127 yards as the Saints beat the Falcons

2015 Getty Images

2/48 San Diego Chargers 20 Pittsburgh Steelers 24

Le'Veon Bell scores a 1-yard touchdown to win the game with time running out

2015 Getty Images

3/48 New York Giants 30 San Francisco 49ers 27

Larry Donnell scored a spectacular game-winning touchdown with only 21 seconds left

2015 Getty Images

4/48 Tennessee Titans 13 Buffalo Bills 14

Bills quarterback Tyrod Taylor threw a touchdown and run in another

2015 Getty Images

5/48 Detroit Lions 17 Arizona Falcons 42

Matthew Stafford was benched and the Lions are still winless

2015 Getty Images

6/48 Atlanta Falcons 25 Washington Redskins 19

Robert Alford returns an interception for a long touchdown

7/48 Philadelphia Eagles 39 New Orleans Saints 17

DeMarco Murray finally delivered for the Eagles with 83 yards and a touchdown

2015 Getty Images

8/48 Tampa Bay Buccaneers 38 Jacksonville Jaguars 31

Dough Martin scores one of his three touchdowns for the Bucs

2015 Getty Images

9/48 Green Bay Packers 24 St Louis Rams 10

Aaron Rodgers threw his first home interception in nearly two years - James Jones ran in a long score

2015 Getty Images

10/48 Oakland Raiders 10 Denver Broncos 16

Cornerback Chris Harris Jr returned a late touchdown 74 yards for a decisive score

11/48 Dallas Cowboys 6 New England Patriots 30

Julian Edelman catches a touchdown as the Pats kept their 100 per cent record

2015 Getty Images

12/48 Cincinatti Bengals 27 Seattle Seahawks 24

Andy Dalton led the Bengals to win from 17 points down

2015 Getty Images

13/48 Baltimore Ravens 30 Cleveland Browns 33

Travis Coons kicks a game-winning field goal in OT

14/48 Kansas City Chiefs 17 Chicago Bears 18

Running back Jamaal Charles seriously hurt his knee during the defeat

2015 Getty Images

15/48 Houston Texans 20 Indianapolis Colts 27

Matt Hasselbeck won again in the absence of star man Andrew Luck on Thursday night

2015 Getty Images

16/48 Week 4

Steelers 20 Ravens 23; Dolphins 14 Jets 27; Bills 10 Giants 24; Bucs 23 Panthers 37; Bears 22 Raiders 20; Bengals 36 Chiefs 21; Falcons 48 Texans 21; Colts 16 Jaguars 13; Redskins 23 Eagles 20; Chargers 30 Browns 27; Broncos 23 Vikings 20; 49ers 3 Packers 17; Cardinals 22 Rams 24; Saints 26 Cowboys 20; Seahawks 13 Lions 10

2015 Getty Images

17/48 Green Bay Packers 38 Kansas City Chiefs 28

Randall Cobb scores one of his three touchdowns for the Packers - quarterback Aaron Rodgers threw five in total

2015 Getty Images

18/48 Detroit Lions 12 Denver Broncos 24

Demaryius Thomas scores a touchdown as the Broncos continued their perfect start to the season; the Lions are still without a win

2015 Getty Images

19/48 Seattle Seahawks 26 Chicago Bears 0

Star tight end Jimmy Graham scored his first touchdown as the Seahawks ended their losing streak for their first win of the season

2015 Getty Images

20/48 Miami Dolphins 14 Buffalo Bills 41

Ryan Tannehill threw three interceptions as the Dolphins lost to their divisional rivals

2015 Getty Images

21/48 Arizona Cardinals 47 San Francisco 49ers 7

Cardinals safety Tyrann Mathieu picked off two of Colin Kaepernick's four interceptions

2015 Getty Images

22/48 Baltimore Ravens 24 Cincinnati Bengals 28

AJ Green caught 10 passes for 227 yards and scored two touchdowns as the Bengals beat the Ravens in a topsy-turvy clash

2015 Getty Images

23/48 New York Giants 32 Washington Redskins 21

Rueben Randle celebrates a touchdown as the Giants beat their long-time rivals in New York on Thursday night

2015 Getty Images

24/48 Carolina Panthers 27 New Orleans Saints 22

Josh Normanintercepted a last-gasp touchdown throw from Luke McCown as the Panthers held on against the Saints

2015 Getty Images

25/48 Cleveland Browns 20 Oakland Raiders 27

Latavius Murray rushed for 139 yards and the Raiders ended an 11-game losing streak on the road

2015 Getty Images

26/48 Dallas Cowboys 28 Atlanta Falcons 39

Devonta Freeman ran for three touchdowns as the Falcons came from behind to beat the Cowboys, who were missing stars Tony Romo and Dez Bryant

2015 Getty Images

27/48 Houston Texans 19 Tampa Bay Buccaneers 9

Ryan Mallett secured the first win of his career

2015 Getty Images

28/48 Minnesota Vikings 31 San Diego Chargers 14

Chad Greenway returned a Philip Rivers interception for a touchdown

2015 Getty Images

29/48 Tennessee Titans 33 Indianapolis Colts 35

Frank Gore scored two rushing touchdowns as the Colts and the Titans played out a thriller

2015 Getty Images

30/48 New England Patriots 51 Jacksonville Jaguars 17

Tom Brady became only the fourth quarterback to throw 400 touchdown passes in a career - he threw two against the Jags

2015 Getty Images

31/48 St Louis Rams 6 Pittsburgh Steelers 12

The Steelers won but will be without quarterback Ben Roethlisberger for at least four weeks because of a serious knee injury

2015 Getty Images

32/48 New York Jets 17 Philadelphia Eagles 24

Darren Sproles returns a punt for an 89-yard touchdown - the 5ft 6in running back also rushed for a touchdown

2015 Getty Images

33/48 New England Patriots 28 Pittsburgh Steelers 21

New England Patriots quarter-back Tom Brady throws a pass

Getty Images

34/48 San Francisco 49ers 20 Minnesota Vikings 3

Adrian Peterson returned after a year on the sidelines but the Vikings lost to the 49ers

Getty Images

35/48 Atlanta Falcons 26 Philadelphia Eagles 24

Julio Jones had 140 yards and two touchdowns as th Falcons impressed against the Eagles

Getty Images

36/48 Dallas Cowboys 27 New York Giants 26

Jasson Witten celebrates a last minute touchdown after the Cowboys drove down the field

Getty Images

37/48 St Louis Rams 34 Seattle Seahawks 31

The Rams celebrate after Greg Zuerlein's overtime field goal pushed them past their rivals

Getty Images

38/48 Tampa Bay Buccaneers 14 Tennessee Titans 42

No 1 draft pick Jameis Winston was outplayed by No 2 pick Marcus Mariota as the Titans beat the Bucs

Getty Images

39/48 Chicago Bears 23 Green Bay Packers 31

Former league MVP Aaron Rodgers three three touchdowns as the Packers beat their divisional rivals

Getty Images

40/48 Buffalo Bills 27 Indianapolis Colts 14

The Bills surprised play-off contenders the Colts thanks to a great performance by Tyrod Taylor, who impressed in his first NFL start

Getty Images

41/48 Kansas City Chiefs 27 Houston Texans 20

Travis Kelce scored two first quarter touchdowns as the Chiefs held on after a late Houston rally

Getty Images

42/48 Washington Redskins 10 Miami Dolphins 17

Jarvis Landry returned a punt for what turned out to be the game-winning score

Getty Images

43/48 New York Jets 31 Cleveland Browns 10

Ryan Fitzpatrick threw two touchdowns as the Jets had five takeaways to beat the Browns

Getty Images

44/48 Jacksonville Jaguars 9 Carolina Panthers 20

Cam Newton and the Panthers managed just 263 total yards but did enough to beat the Jaguars

Getty Images

45/48 Denver Broncos 19 Baltimore Ravens 13

Former Raven Darian Stewart intercepted a Joe Flacco pass with 28 seconds left to seal a Broncos win

Getty Images

46/48 Arizona Cardinals 31 New Orleans Saints 19

Carson Palmer threw three touchdowns in his comeback game from a torn ACL

Getty Images

47/48 San Diego Chargers 33 Detroit Lions 28

Philip Rivers led the Chargers to 30 straight points for San Diego to comeback against Detroit

Getty Images

48/48 Cincinnati Bengals 33 Oakland Raiders 13

Jeremy Hill ran for two touchdowns as the Bengals beat the Raiders

Getty Images
The Eagles rallied behind new quarterback Sam Bradford, taking the lead for the first time at 24-23 on Ryan Mathews' 1-yard run with 8:37 remaining.
Atlanta bounced back, driving into position for Matt Bryant's fourth field goal of the game, a 47-yarder with 6:27 to go that turned out to be the winner.
Cody Parkey was wide right on a 44-yard field goal that could have restored Philadelphia's lead. The Eagles had one more chance, but cornerback-turned-safety Ricardo Allen intercepted a pass that went through the hands of Jordan Matthews, sealing the victory with 1:11 left.
"They didn't want to throw it at my corners so they threw it in the middle of the field," Allen said. "They tipped the ball and it landed in my lap."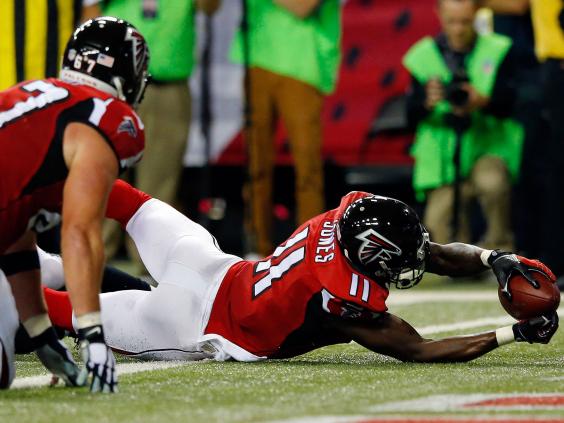 In Santa Clara, California, Carlos Hyde ran for a 10-yard score late in the first half by spinning away from a defender and diving into the end zone untouched on a rare nice play in a game full of ugly ones.
Hyde added another 17-yard TD run and Adrian Peterson carried 10 times for 31 yards in his first game in more than a year following paid leave and then a suspension last year in the fallout from a child-abuse case against him in Texas.
Colin Kaepernick threw for 165 yards and second-year back Hyde ran 26 times to easily best his top rookie performance of 55 yards in his final game last year.
A sloppy first half featured a pair of botched field goals, Vikings quarterback Teddy Bridgewater running into his own teammate that led to a 10-yard sack, an 85-yard punt return touchdown called back on penalty, and a fumbled punt — by the former Australian rugby league star Jarryd Hayne on his first NFL touch.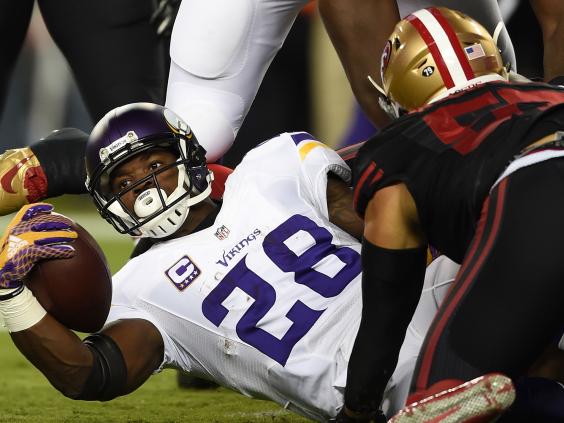 The 27-year-old rookie lost the fumble on a punt return in the first quarter when he misjudged the ball and had to dive forward to try to field it. He made a 1-yard run in the second quarter and caught a 7-yard pass. He was forced into running back duties as the only active backup after Reggie Bush was lost to a left calf injury with about 6 minutes left in the first quarter.
AP
Reuse content