All eyes on Sunday at Wembley will be on the Oakland Raiders' No 71.
Not because he is a league superstar capable of bending NFL games to his will, but because Menelik Watson will become the first British player to play in the International Series at Wembley.
At 6ft 5in and 23 stones the 25-year-old from Longsight, Manchester, is hard to miss although he won't be taking quite as many snaps as British fans, or he, would like.
The Raiders made a big statement when they drafted Watson in the second round, 42 overall, of the 2013 NFL draft. He had excelled at football and basketball as a youngster and moved over to US to pursue a career in the latter; but he was too short to have a professional career.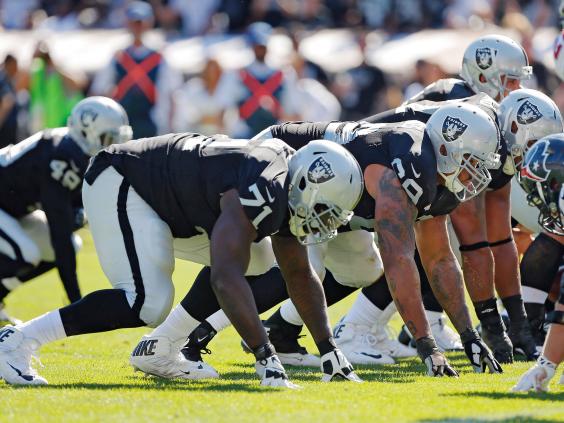 He picked up American football for the first time at college and excelled, before making the transfer to Florida State, a college with a proud tradition in the sport.
With just two years of playing the game it was quite a step for the Raiders to pick him.
The Raiders liked his raw potential and athleticism but Watson struggled hugely with injury in his first season in California playing just five games out of 16.
When we spoke in July at the NFL's media day at Wembley, Watson said he was determined to get on the field more this year.
"[My target is] Playing every single game. Being able to play all the snaps," he said.
"Being consistent. What happened last year, I wouldn't wish that on anybody. It was my fault basically, not understanding the training properly, not knowing how to take care of my body properly and then when I went to the training camp with the injury I was pressured a little bit.
"There was pressure on me, a second round pick and with my personality I also put pressure on myself. It caused me to do stupid things and overcompensate. I [hurt] one knee, then I came back and did the left leg. It was horrible, it was a nightmare,  I was waiting for the year to end so I could get over it.
"One thing people don't realise is that I was practicing all year, even after the Houston game when  I did my ankle. I came back again and I was still playing on it, but after that they called it a year for me. I was still travelling with the team to get the experience."
***
We met again at the Raiders' UK training base in Bagshot, but Watson, an affable person always willing to chat, hasn't been on the field this season as much as he'd have liked.
Watson has been injury free this year, playing in Oakland's three games so far this season but is not the starting tackle with limited snaps behind the more experienced Khalif Barnes, while taking some snaps as an extra blocking tight end.
But as talk he does not seem bitter and being overlooked for the more experienced man and is instead focused on continuing to work hard to reach his potential.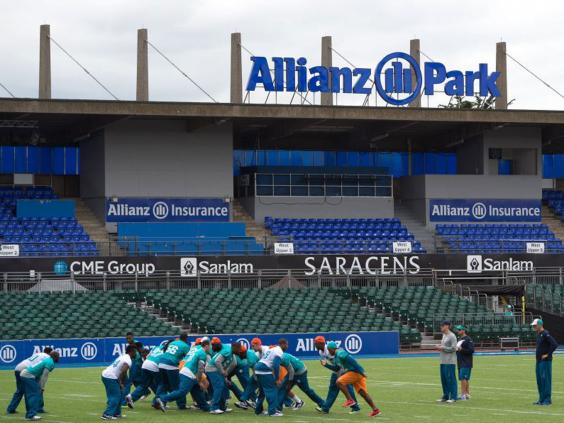 He's enjoyed being back in the country so he could see his family up in Manchester: " I got a chance to go up Manchester, see the family and that," he says.
"It's good, having all my team-mates out here, having a new experience. Fun seeing their faces, their reactions."
Watson admitted in July he does not know London well having only travelled down as a youngster to play basketball – but that hasn't stopped other Raiders asking him to be the tour guide.
He said: "When we found out last year they found out before me, the guys were coming up to me and saying 'hey man, we're going to England, you've got to find the spots for us, make sure you find the bars and get everything ready' but I had to explain I'm not from here and I don't know anybody down here."
This week he said he had been asked but he still didn't have a clue: "They still are [asking me], it's getting a little annoying now, asking where this and that is. I don't know!"
Even though he may be used sparingly in the game, Watson is still a team-first player. Despite losing all three of their matches so far this season, Oakland pushed Tom Brady and the New England Patriots all the way last Sunday, narrowly losing 9-16; they may have won but for some late errors. The Manchester man is confident the work done in Bagshot will yield results at Wembley.
"It's going well, we're practicing hard, we're prepared, there's focus. Especially being out here, there's no distractions, all we have is non-stop football so everyone's locked in and focused, trying to get this win and finish this first quarter of the season on a good note."
In July, Watson admitted he never thought he'd get the chance to play at Wembley: "I love it. It's incredible to be here, it's a privilege. I never thought I'd be here, ever. If I wasn't playing footy I'd have no reason to go, to come here unless Manchester City [the team he adores] were playing."
Watson can expect a raucous reaction when he does take the field on Sunday.
Reuse content