Brady surprises no one in Patriots return
Starting with the least surprising storyline of the week, Tom Brady made his season debut yesterday – shredding the hapless Cleveland Browns as the Patriots moved to an AFC East leading 4-1.
Claiming he still felt a little "rusty', Brady's 17th season with the Patriots – a team record – started as we all knew it would in a comfortable 33-13 win.
Looking like the all-world quarterback we've come to know and love, Brady's afternoon began with an easy completion to Julian Edelman before he set about orchestrating huge days for Chris Hogan (114 yards), Rob Gronkowski (109) and Martellus Bennet (three touchdowns).
It could have been worse, too. Benched with just over 6 minutes remaining, Brady knows there will be tougher tests ahead but you can bet all of New England is glad to see 12 back at the helm.
Vikings rumble straight into Super Bowl contention
The Minnesota Vikings meanwhile, could well be the best team in football that no one is talking about.
Sitting pretty at 5-0 (the League's lone undefeated team) the Vikings made light work of an, admittedly middle of the road, Houston Texans team as they ran out 31-13 winners.

Despite missing Teddy Bridgewater, Adrian Peterson and their leading receiver Stefon Diggs, the Vikings barely missed a beat as Sam Bradford marshalled the offence with ease en-route to 271 yards and two touchdown throws.
The former Eagle looked at ease despite still being relatively new to the team – something that cannot be said of Brock Osweiler who continues to look lost behind a leaky Texan line that offers little to no protection.
It's a concern that must be plaguing those high up in Houston too, given the extraordinary amount of money they invested in the former Denver Bronco in the off-season.
Prescott throws Romo return in doubt
On the subject of quarterbacks, the situation in Dallas appears to be growing murkier by the week thanks to another impressive Dak Prescott performance in the Cowboys' comfortable win over Cincinnati.
Throwing for over 220 yards and a touchdown, Prescott's emergence as a genuine NFL calibre starter is leading many to predict that Tony Romo may not reclaim his starting spot when he eventually returns from injury.
Prescott's third rushing touchdown of the season has seen him become the most effective Cowboys QB (in a rushing sense) since 1983. Not bad when you consider that he was drafted after seven other quarterbacks had already been taken and was meant to be learning the ropes while sitting behind Romo.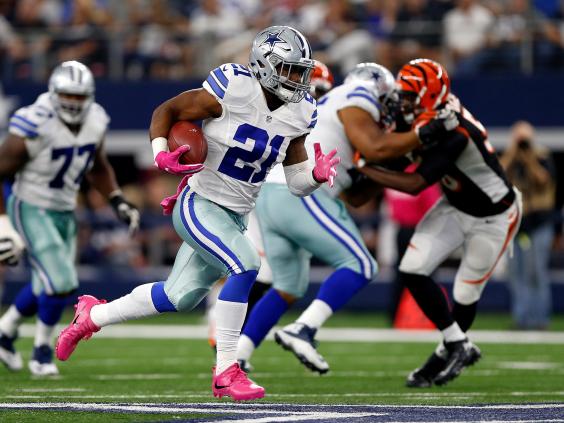 Elliot the real driving force behind the Cowboys
That said, the real star of this Cowboys team in many people's eyes at the moment is former Ohio State runner, Ezekiel Elliot.
The NFL's leading rusher (Elliot has 546 yards – which is more than 23 teams have managed at this point) ran for two scores and finished the day with a huge average of 8.9 yards per carry against the Bengals who only began to find their footing towards the end of the game when two Brandon LaFell scores spared their blushes.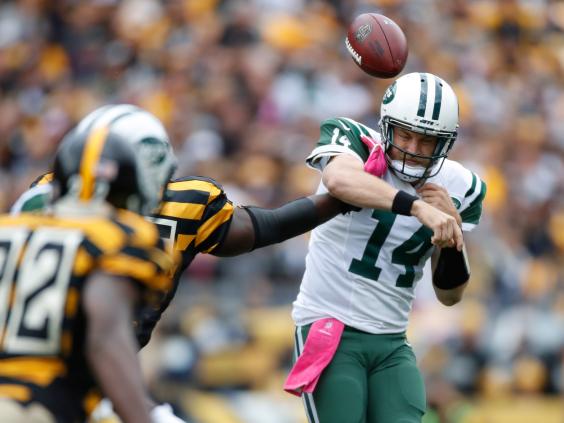 Best of the rest
In another unsurprising turn of events, the Steelers' beat down of the New York Jets has shown just how far Tod Bowles' team have fallen behind, thanks in part to the erratic play of Ryan Fitzpatrick.
Carson Wentz, like Prescott, finally threw his first interception of the season – on his 135th attempt - in the Eagles loss to Detroit while the Atlanta Falcons looked like a team on the rise in their 23-16 win over the defending Super Bowl champion, Denver Broncos.  
Reuse content