Tim Brown believes the Oakland Raiders need to find 'go-to' players so they can return to their glory days.
Brown, 48, is known as Mr Raider and is the best player to ever suit-up in Silver and Black.
The wide receiver spent 15 years with the franchise, in Los Angeles and Oakland, before playing the final year of his career with the Tampa Bay Buccaneers, and holds team records for games played, touchdowns, reception yards and catches, punt returns and all-purpose yards.
He was a nine-time Pro Bowl selection between 1988 and 2001 and helped the Raiders reach the Super Bowl in 2002 - the last time the franchise has reached the play-offs.
Speaking before Oakland's demoralising loss to the Miami Dolphins at Wembley, Brown told The Independent that the Raiders need to improve their personnel to change the club's fortunes.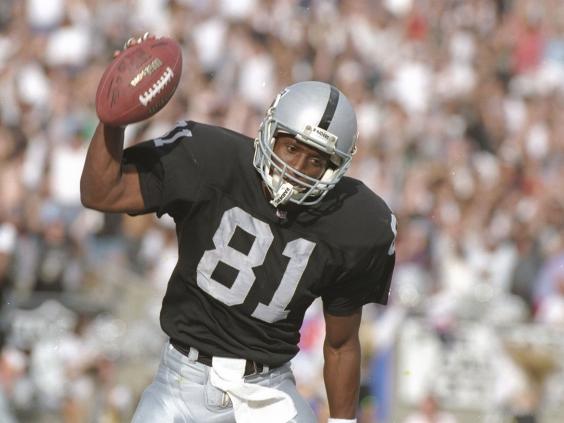 "I think at this point you have to have some go-to players," he said at the Foot Locker store in London.
"You know, look at the history of the Raiders – you can hang your hat on players, from back in the day to my day, there's always been players with the Raiders that you say 'that's that's Fred Biletnikoff that's Snake [Ken Stabler].'
"You always have those players, and over the past few years you haven't had those players, you haven't had players who you can hang your hat on, who you know are going to go out there for you week in, week out, and play great football – they gotta get that back.
"Some kind of way, they gotta find those players and make them Raider players and not just guys who are coming in and leaving the organisation and I believe if they can get back to having a couple of guys on offence and a couple of guys on defence, it changes the whole organisation."
Brown caught 1,070 passes for 14,734 yards and 99 touchdowns for the Raiders; he is sixth on the all-time list in yards, fifth in catches and seventh in touchdowns.
Rookie quarterback Derek Carr performed well for at Wembley before injuring his leg and ankle, and Brown believes he could be the man to lead a new-look Oakland.
"He has the ability to lead this team. Now the hard thing for a rookie is, every day is a new day in NFL – it's a tough situation for him. So I think once he gets a bit more comfortable, which I think really won't be until next year, he will really be able to excel and do things he really wants to do in the league."
In the wider NFL, Brown does "absolutely not" see the Seattle Seahawks as the favourites to retain their Super Bowl title, neither does he see Peyton Manning and the Denver Broncos winning it all.
When the Wembley games come around there is plenty of talk about a franchise eventually moving permanently to London, but Brown believes it could be too "tough" to become a reality.
He says: "I tell you what, it would be great, but the trip over here, it is exhausting, and for someone to have to come over here every week, for a team to have to come over to the US every other week, it would be tough.
"It would be tough for the team and I know NFL players, the teams that come over here, they have a bye the next week – if they can work out that part of it, that every time a team came over here, they had a bye, that would be okay.
"But the problem is by eight, ten weeks of the season, there are no more byes. But now you're talking about travelling over here in the winter, I think as much as they would like to do it, I think that the feasibility of getting it done is just not practical.
"Players, these guys cry about stuff now, and you give them something like this to cry about, it could really be a problem."
Tim Brown was speaking at Foot Locker in Regent Street. Visit footlocker.eu to see a range of NFL apparel
Reuse content