Former Miami Dolphin full back Rob Konrad has said he is "happy to be here" after his recounted his death-defying 16-hour swim to safety.
The former NFL player, 38, last week fell from his fishing boat off the south Florida coast and had to swim 27 miles to safety.
Speaking to media in the US, Konrad, sitting with his wife Tammy, was still unable to walk properly and still needs to rehydrate.
"Happy to be here," he began.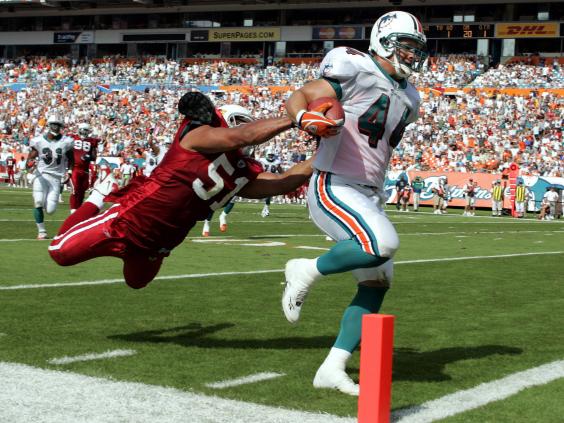 Konrad said that he had been fishing off Florida's south coast and had caught a large fish; as he was tending to it, a large wave hit the boat, knocking him into the ocean at about 12.30pm on Wednesday.
His boat was on autopilot and continued east. The former Dolphin, who played six seasons in the NFL, was not wearing a life jacket.
"I realised I was in some real trouble," he said. Konrad decided to swim to shore, but feared succumbing to hypothermia or cramps after two or thee hours. Konrad admitted he was not much of a swimmer and switched between backstroke and breaststroke to preserve energy.
He swam 27 miles in total, finally reaching an oceanfront house in Palm Beach at 4.30am on Thursday.
Endurance swimmer Diana Nyad told ESPN that it was an "incredible story".
"We're not really talking about a swimming story. We're talking about a survival story," Nyad said. "I'm sure his background as an athlete -- toughness, having resolve, knowing things are going to be painful -- were the saving grace for him."
Konrad said he was bitten "by a whole bunch of stuff", while a shark circled him.
Seeing lights and landmarks in the distance he gained strength: "Five or six hours in I realised, 'Maybe I can do this,'" he said.
He was almost recused twice as well. A fishing boat came within 50 yards but he couldn't get their attention, while a Coast Guard helicopter missed him.
"They had their lights on me and kept going," Konrad said. "They didn't see me. That was a difficult time." He added that thinking of his two daughters, aged eight and 10, kept him going.
When he finally reached land he was barely able to walk. "My body was shaking uncontrollably. I crawled up on the beach and warmed myself up enough to be able to walk."
Reuse content