Anthony Dablé was sat in his home in Grenoble, France, one day in 2011 and watching the NFL Draft. AJ Green, now one of the league's finest receivers, was selected 4th overall by the Cincinatti Bengals and Dablé - who had fallen in love with the NFL through a computer game, Quarterback Club on the Nintendo 64 - looked at Green's vital statistics, reminiscent of his own, flashing across the screen and asked himself "why can't I do that?"
Moritz Böhringer didn't get his inspiration from the Draft or a video game. For the 6ft 4in, 227lb German it was YouTube and, more specifically, videos of Adrian Peterson that got him the bug.
Dablé and Böhringer both took up American football, found success in the German league and then tried out for NFL Undiscovered, a training programme aimed at finding talented athletes that would thrive in America's game.
With talent at a premium in the league, scouts have branched out to rugby and then other sports in search of athletic individuals who could learn the game and make the grade. Dwain Chambers, the former Olympic sprinter, famously tried out and got nowhere while ex-Team GB Discus thrower Lawrence Okoye is currently on the practice squad of the Miami Dolphins. Alerted to these talents, the NFL launched a scheme to try and snare even more.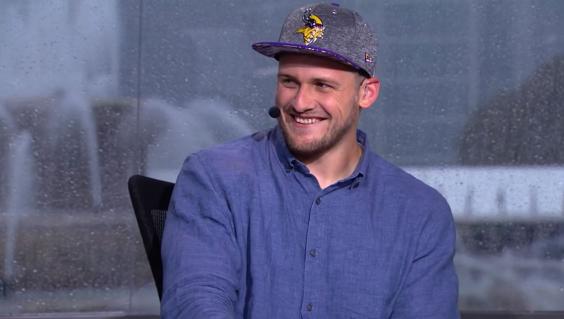 Dablé and Böhringer came through the first season of NFL Undiscovered, with the German wide receiver eventually becoming the first-ever player to be drafted without having played football at college. What's more, it was by the Minnesota Vikings - to play alongside Adrian Peterson, the man who'd inspired him to pick up a pig-skin for the first time. 
Both have futures contracts now - worth around $150,000 per year - Dablé with Super Bowl heartbreakers the Atlanta Falcons and Böhringer still with the Vikes.
And now you could join them.
NFL Undiscovered will head to Florida for filming shortly, led by coaches Aden Durde and double Super Bowl winner Osi Umenyiora, to prepare some diamonds in the rough for the eyes of NFL scouts.
"We have already proved that this can be a life-changing experience," said former NFL and NFL Europe player Durde, who has coached with the Dallas Cowboys and Atlanta Falcons. "We are ready to start work with a small group of players with a view to preparing them to showcase their skills for NFL scouts and coaches at Pro Days, and we still have room for the right athlete."
London-born Umenyiora, who won two Super Bowls with the New York Giants despite his late start in the sport, added: "By this time last year, we had not yet started working with Moritz, so there is still plenty of time for someone to make their dream come true. We know that sometimes there is incredible talent out there that goes undiscovered because they have never been in the right place at the right time and given the right opportunity. We aim to give someone that chance."
This year's NFL Undiscovered group will be training at a facility in Florida over the next two months, alongside leading college players preparing for the NFL Draft on April 27-29 and established NFL veterans working on their skills in the offseason. "It is an incredible environment," said Umenyiora. "Young players can't help but improve as they work with these guys. Everyone is out to help each other, there is a real feeling of camaraderie and the work is intense."
See if you could be the next NFL star.
Who is eligible for NFL Undiscovered?
Applicants must be aged 24 or under, cannot have played American football at a US college and must have been out of high school (or equivalent) for at least four years.
Experience of playing American football is desirable but not essential.
English language is essential because of the short timeframe being worked to.
US and Canadian citizens are not eligible.
Applicants must be available and eligible to travel to the US for two months from the beginning of March.
How to apply for NFL Undiscovered
Applicants should send the following material to nfl.undiscovered@nfl.com:
Film of applicant undertaking vertical jump, box jump, timed 40-yard dash.
Links to any relevant footage – e.g. workouts, football film or other sports footage.
Details of age, height and weight.
Full contact details.
Applications must be submitted by midnight UK time on Sunday, March 5.