Digital technology has revolutionised the way that students learn. Virtual worlds are now changing the landscape again, providing spaces where learning can be put into practice.
The University of the West of England (UWE), Bristol has developed virtual-world campuses where modules from a range of programmes are taught. Mistakes can be made in a "safe place" where students can reflect on their successes and failures and learn from them both.
Already on these virtual campuses, crime scenes are being investigated, trials enacted, food poisoning outbreaks and accidents investigated, risk assessments undertaken and financial audits carried out. More applications are continually being developed.
Running UWE Bristol's virtual-world estates is Professor Liz Falconer. To her, the virtual environment is not a replacement for teaching in the physical world, but a very useful addition.
"Many of our students are familiar with games like World of Warcraft, or adopting an avatar and playing an interactive role in a simulated gaming environment. Even those who aren't do seem to become quite comfortable learning and working in the virtual settings we create for them before long.
"Critically, it's not just an individual experience. Yes, we provide one-to-one tuition where appropriate; but equally, student groups collaborate and interact really well, and that's demonstrated in role-play work.
"In our business ethics simulation, for instance, they can take turns in different company roles – each time gaining a new perspective.
"Interestingly, this seems to function better than enacting a scene in the physical world where acting skills and the suspension of disbelief can have a strong impact on role playing.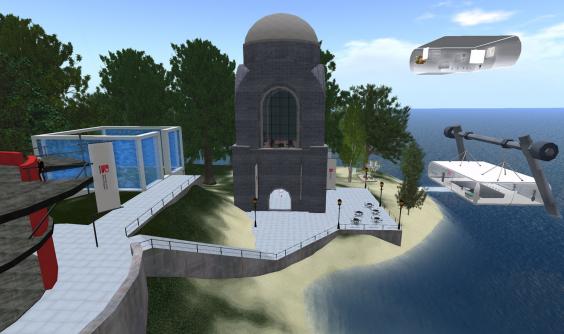 "Students take their learning in virtual environments very seriously and can form close bonds with their online peers: great friendships have been forged as well as productive working relationships.
"Social hierarchies develop, as you would expect in real life. But the hierarchies in virtual environments can be different. Some students who are shy in the physical classroom can be bolder in the virtual one."
Many organisations, schools and universities are now using virtual-world technologies and there is a great deal of exciting work going on, according to Professor Falconer.
For example, helping autistic children learn to socialise, helping to rehabilitate wounded service personnel returning from overseas and medical students undertaking simulated investigations into the causes of workplace ill-health.
At UWE Bristol, several students are now taking PhDs researching new ways to use virtual worlds in education. These include helping computer science students to understand complex concepts through simulated experiences. In this case, to simulate the way CPUs buffer commands, a virtual canteen was created where students became people in the queue,  and could experiment with different ways of making that queue work more efficiently.
The benefits of studying in a virtual world, says Professor Falconer, include releasing students' imaginations and inhibitions – encouraging them to experiment and try out different scenarios. "Importantly, virtual worlds have translated into very impressive academic results, while attendance figures are equally positive. 
"If this is the only taught period they have in a day, students can work at home and make more use of their time. For anyone with a problem around mobility, the technology can be really helpful. And, of course, we can teach people living anywhere in the world  – as we did on a recent MA course.
"Theoretically, it allows us to do more teaching with the physical resources we have – although the biggest cost factor in education tends to be the input of the dedicated staff.
"But the most valuable aspect of attending a university is being part of a learning community of staff and students, and extending the reach of such communities around the world is an exciting and fascinating activity."
Reuse content