As if you don't have enough fresh and unfamiliar experiences to deal with over the coming months – new people, new courses, new interests and new home – it may well be that forays into the kitchen to cook are beyond your current realm of experience too. Trust me, however, when I tell you that cooking for yourself is the easiest way to make your future digs feel like home.
Whilst there are many demands on your time at college, cooking for yourself and friends is always beneficial. Not only will you eat healthily and economically, but there is therapy in the process of preparing and cooking good food, too.
Cooking for one, or for a group, needn't be a baptism of fire. Each of these technique-based recipes can be easily scaled up or down depending on the number of people around your table. Practice the techniques before you depart to ensure you eat well for less, and wow new friends.
Pantry Pizzas
Skill acquired: making basic bread dough. Makes two large pizzas, four flatbreads or one white loaf.
The best way to cement new friendships is to break bread together. If you've made the bread yourself, then BOOM! Instant halls hero or house heroine.
Use a simple dough as a crisp base for whatever you have knocking about in the fridge, freezer or cupboards; making them astoundingly thrifty and creative every time you feel the stomach rumble and the budget pinch. Use tinned tomatoes blitzed and quickly simmered or microwaved with tomato puree and dried oregano for a speedy tomato base sauce, if required.
Good storecupboard combinations include mozzarella, fried onions, frozen peas and ham; cheese (any hard cheese will do), tomatoes, tuna, spring onion, capers and olives. Just let your imagination go wild.
500g strong plain flour
1 tsp fine sea salt
7g sachet of dried yeast
A pinch of sugar
2 tbsp olive oil (optional, but this makes the dough more pliable)
250ml barely warm water
1. Preheat the oven to 250C, Fan 230C, Gas 9.
2. Mix flour and salt in a large mixing bowl. Tip in dried yeast, sugar, oil and 200ml of the water. You want a smooth, slightly sticky dough, so mix by hand then add small amounts of the remaining water, if needed. Remember that a slightly wet dough bakes better than a dry one. Knead for 5-10 minutes on a floured surface, until it forms a smooth, cohesive ball. This is a great stress reliever.
3. Leave to prove, or rise, in a large bowl covered with a clean tea towel. It will take about an hour in a warm place to double in size.
4. Turn out, and knock the air out of the dough with your fist. You need only half of this dough for one large 30cm pizza, so cut in half and reserve the remainder unless you're entertaining. (Leftover pizza dough, rolled into small balls and stored in airtight bags, freezes brilliantly for an easy individual-sized meal on another day. Making dough balls to be served with garlic butter are another great way to use up dough, too.)
5. Roll out as thinly as possible, as the dough will rise in the oven. Transfer to a preheated baking sheet and scatter with your chosen toppings. Bake in the centre of the oven for 10-12 minutes.
Alternatively, at step 4, shape and tuck the whole quantity of dough into a floured, 1kg loaf tin, dust with flour and bake at 200C, Fan 180C, Gas 6 for 30-35 mins or until the base of the loaf sounds hollow when tapped.
To accompany the kebabs below, divide and stretch half the dough out with your fingers to form four flatbreads. Dry fry in a non-stick pan over a medium heat for 5 minutes on each side until browned and cooked through.
Lamb Kebabs, Burgers or Meatballs
Skill acquired: stretching quality ingredients. Serves four, plus spare kebabs for the freezer.
Meat commands a high price tag, buy the best you can afford and cook it into as many servings as possible. The cost of fast food adds up quickly if you indulge regularly, and it's rarely good for you. For a DIY takeaway that cuts the bills and the fat content, this simple recipe can made into kebabs, burgers or meatballs, so you feel like you've had a night out, but without the the MSG hangover. Keep your energy for the other kind.
1 large onion
1 small bunch of parsley
1 can anchovy fillets in oil
1kg lamb mince (supermarkets often sell 500g packs)
Zest of 1 lemon, grated
 2 tsp Turkish red pepper flakes (often labelled as "Pul biber")
2 tsp ground coriander
2 tsp ground cinnamon
2 tsp black pepper
½ tsp grated nutmeg
½ tsp salt
Oil, to grease
1. Grate the onions and squeeze out most of the liquid through a sieve. Place in a large bowl. Finely chop, then add, the parsley, anchovies, and a little of their oil for flavour.
2. Mix in the meat, zest, spices and salt until thoroughly combined. Shape around flat skewers, ensuring wooden skewers have been pre-soaked in water for an hour to avoid burning. (Metal skewers require no treatment.) Whether you choose to make kebabs, patties or meatballs, in order to help keep their shape  during cooking, cover and chill for at least an hour or overnight.
3. Heat a frying pan, griddle or barbecue greased with a little oil. Cook the kebabs until seared on all sides, and cooked through to your liking. Eat immediately with flatbreads (see above), chopped salad and yoghurt.
Alternatively, brown the lamb in a large pan, then add two cans of chopped tomatoes, a couple of tablespoons of tomato paste, and some chopped carrots, celery and mushrooms, as well as some seasoning. Let the pot simmer on the hob for two hours for a batch of economical and intensely savoury, but refreshingly different, pasta ragu.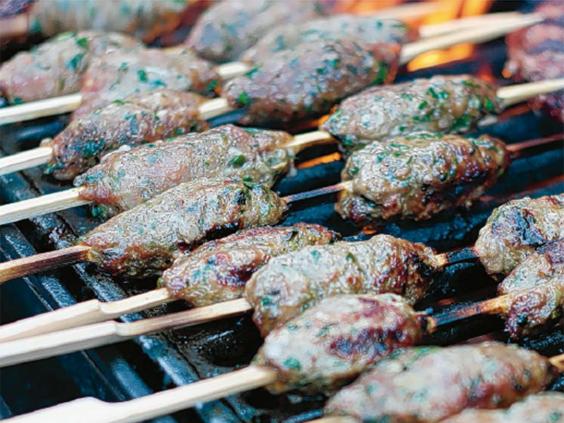 Mater or Pater's Macaroni Cheese
Skill acquired: making a classic sauce. Serves four.
Macaroni cheese is comfort food that can be elevated to elegant dining. Add your own twist, à la the current trend for pimped Mac'n'Cheese, with crisped bacon, a few chunks of smoked haddock or keep it veggie with caramelised onions.
400g macaroni or short pasta
50g butter
50g plain flour
900ml whole milk
Grating of nutmeg
½ tsp English mustard powder
Large pinch of sea salt
150g mature cheddar, coarsely grated
1. Cook the pasta in salted boiling water.
2. Meanwhile, melt the butter in a pan, and stir in the flour. Cook out the raw flour, stirring all the time, for a couple of minutes. (This gives you a "roux", or thickener, to be made into a sauce with the addition of liquid like chicken stock, or milk in this instance.)
3. Gradually whisk in the milk, a little at a time, until the sauce is smooth. (This is basic white sauce. From here you can add a plethora of flavourings to accompany a host of dishes. Think peppercorn sauce for steak, parsley sauce for fish or béchamel for lasagne.)
4. Stir for a few minutes until the sauce reduces slightly and thickens, then add nutmeg and mustard, and stir in 125g of the cheese until completely melted. Remove from the heat.
5. Preheat the grill. Drain the pasta and rinse briefly under running water.
6. Grease a large baking dish with butter, then combine the pasta and cheese sauce and pour in the mixture.
7. Scatter over twhe remaining 25g of cheese and a good grind of pepper, and grill for about 10 minutes until bubbling and golden.
A word to the wise  
1. Practise before you leave the safety net of home. Get advice from any half-decent cook who wanders into the kitchen.
2. Cupboards: stock up on tins or jars of beans, anchovies, olives, sundried tomatoes, artichokes, tuna, fruit and vegetables. These provide the foundations of a good meal. You may even be able to cheekily prevail upon someone else's household budget if you shop before you go away.
3. bbcgoodfood.com is a valuable source of recipes, whatever your level of  culinary expertise.
4. Batch cook large quantities in a pan. Then use the freezer for more than simply chilling vodka. Defrost thoroughly before eating.
5. Scout out international and local grocers when you arrive in your new neighbourhood. Often an Aladdin's cave of cheap fruit and vegetables, they may stock ingredients you'll want to explore. Supplement with large supermarket runs (or online deliveries) irregularly.
6. Assemble a small scale spice kit to stave off tastebud tedium and avoid repetitive meal syndrome.
7. Eat before you shop. You'll buy more if you're hungry, and be less discerning with your budget. Armfuls of special offer biscuits won't feed you for a week.
8. Kitchen alchemy will impress house mates and love interests too. Pick your favourite recipe and make it your own signature dish like all great chefs.
Reuse content