What graduate needs a cool CV to attract jobs when you can have almost 9,000 used beer bottles to get yourself noticed instead?
That's exactly what one graduate architect has done by using his skills to build himself an astonishing office using 8,500 green bottles as a 'calling card' to attract investors and partners to start his own business.
Li Rongjun, from Chongqing in south western China, graduated from the Inner Mongolia University of Science and Technology earlier this year and is determined to make it big on his own after internships at construction companies failed to interest him.
He told the People's Daily Online: "There is no creativity and it's a waste of life to be there.
"No matter if I succeed or not I want to give my dream a try."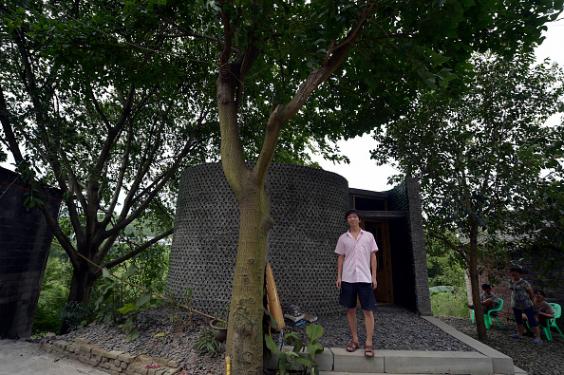 Li put the building together with his father's help at a cost of over 70,000 Yuan (£7,300) over a period of four months.
Although Li's family live a modest lifestyle, he said he will use his masterpiece as an office space for when clients come to visit and his father hopes the building will make a strong statement when investors come too.
Completely supporting his son's unique idea, Li's father added: "We could see that he has a strong determination to create his own business."
The work-of-art is also proving to be a hit with neighbours in the small village who have said the building 'glows' at night-time when the light hits it.
Although, there is always one sceptic as local architect, Tang Ji, warned that the building could be at risk of collapsing under the weight of the bottles.
Reuse content