A former student at Oxford University claims she was forced out by her college due to her learning difficulties.
22-year-old Sophie Spector, a sufferer of severe dyslexia and obsessive compulsive disorder (OCD), studied philosophy, politics and economics at Balliol College, Oxford.
She started at the university in 2012, and said to The Daily Telegraph that the college denied her neccessary allowances, such as extended deadlines and reading given in advance, to allow for the extra reading time she needed due to her dyslexia. This meant she quickly began to fall behind.
She submitted a subject access request to the college, and they released internal emails that mentioned her and her learning difficulties.
In one February 2013 email from Douglas Dupree, then the college's chaplain and dean, to a university doctor, he requested that she be seen by a doctor "who can be straight and firm with histrionics and panic."
Top ranking universities in the UK
Top ranking universities in the UK
1/18 1. University of Cambridge

Cambridge will continue to top the list by 2016.

Playstation

2/18 3. London School of Economics

LSE will follow third.

Getty Images

3/18 4. St Andrews

University of St Andrews

4/18 6. Imperial College London

Rex Features

5/18 7. Warwick University

WARWICK UNIVERSITY PRESS

6/18 8. Bath University

The campus of Bath University.

GETTY IMAGES

7/18 9. University College London

UCL

UCL

8/18 10. University of Exeter

9/18 11. Lancaster University

Pendle College at Lancaster University is named after the infamous haunt of witches in medieval folklore. Unusually, the college's logo is a witch silhouetted against a yellow moon. To add another fantastical touch, magic mushrooms grow in abundance on the hill on which Lancaster's campus is situated.

Khairil Zhafri

10/18 12. Surrey University

Success story: Surrey University

Alamy

11/18 13. Loughborough University

Loughborough University is home to the amusingly-named Bastard Gates, christened as such after the former Chairman of Governors, William Bastard.

Loughborough University

12/18 14. York University

York University's Central Hall (Alamy)

Alamy

13/18 15. East Anglia

Rex Features

14/18 16. Southampton University

University of Southampton

15/18 17. The University of Birmingham

The University of Birmingham launched an investigation after a keylogger was found

Rex/View Pictures

16/18 18. University of Bristol

17/18 19. Leicester University

Leicester University

Rex Features

18/18 20. Newcastle University

The INTO building at Newcastle University that was reportedly evacuated on Tuesday evening

Google Maps
Mr Dupree then goes on to talk about the extra allowances that she would need to be given, saying she needs "the absolute maximum limit of whatever concessions are allowed", before asking: "Yes, why did we admit her?"
She went on medical leave in March 2013, and claims the college told her she would have to pass extra exams with higher pass marks if she was to return.
She calls the college's treatment of her "callous" and has not returned to the university.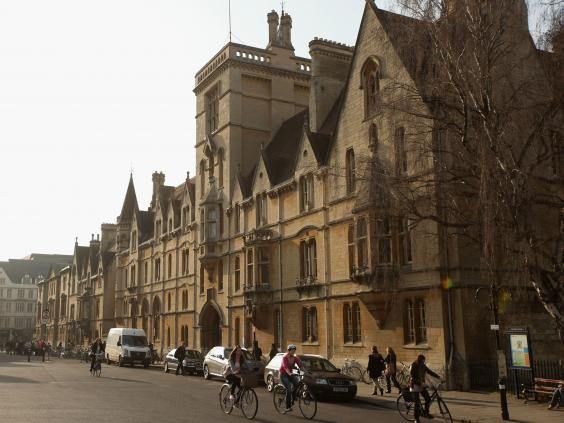 Speaking to The Telegraph, law firm Unity Law said it has been instructed to send a letter of claim to the university, setting out a challenge for disability discrimination, a breach of the equalities act and a failure to make reasonable adjustments on the grounds of disability.
In a statement to the paper, Balliol College said they are investigating a formal complaint, adding: "We cannot comment on that or on individual cases, but the College has a thorough and caring approach which is not fairly represented by selectively quoting from email correspondence."
The university said it takes a proactive approach to disabled students, and works with them and the college to ensure the required support is provided.
A spokesman for the university said: "The decision to take medical leave is never entered into lightly. It is used as one option within a strong and caring support system, often with the student's agreement, which in many cases helps them to recover and resume their studies successfully."
Reuse content