Crossgate in Durham is used to invasions. In 1346 the Scots army poured across the border hoping to catch the English napping as they prepared to battle the old foe France, while in industrial times a towering viaduct was driven through the area, bringing with it the thundering trains of the east coast mainline.
The most recent incursion has been scholastic in nature, but equally unsettling for those who still live in this historic city centre suburb.
It is estimated there are just 400 non-student households left in a community that was until recently home to 2,000 permanent residents. In some streets all but a handful of what were once desirable family homes are now let out in term time, most of them occupied by five or six students, standing empty for nearly half the year.
Those who are refusing to move out of the area, just a short stroll from the World Heritage Site of Durham Cathedral and Castle, include the novelist Pat Barker. But as the students have moved in, local shops have closed and families have shifted out.
The area has become, it is claimed, noisy and dirty and locked in a vicious cycle of "studentification".
Now locals fear that what remains of their identity is about to be lost with the creation of a giant development on the site of the old Durham County Hospital. Developers are hoping to create 73 student studios in the refurbished Victorian psychiatric wards, while building an additional 367-bedroom accommodation block on the same site. It is an addition to a 200-bedroom student accommodation block under construction on adjacent land.
The university has opposed the development, complaining that the residences lack facilities. But it is accused of continuing to increase student numbers in this small, compact city with little or no regard for the lives of those who live there permanently.
Mike Costello, a retired IT specialist, who has lived in Crossgate since the 1980s, is now in one of only six non-student households in his street. "There are now two separate communities with totally different lifestyles. It feels overwhelming," he said.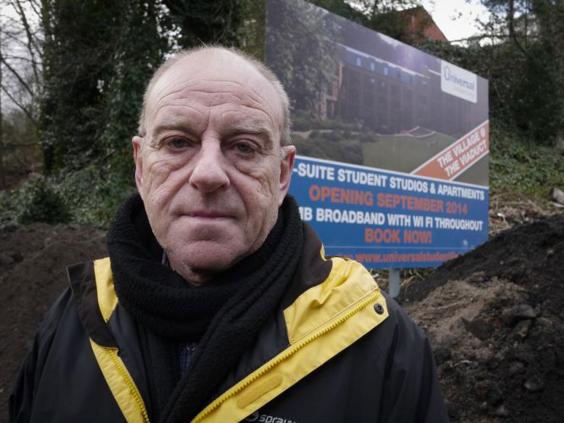 A trustee of the Crossgate Community Partnership, which wants mixed use for the old hospital, he said relations between the university and the community were "very poor". "It's really gone over the edge in the past three or four years," he said. "This has always been seen as a student ghetto, but with expansion it has become much worse." 
Durham, a city of about 47,000, is also home to a university with a full-time student body of 15,000. The number of undergraduates has increased from 7,385 in 1999 to more than 12,000 this year, spread across the two sites in Durham and Queen's Campus, Stockton, though most students prefer to live in the city.
Elizabeth David, 40, graduated with a degree in education from Durham 20 years ago and has chosen to stay in the city to raise her two children. "It is about creating a balanced community and not allowing the area to become a student ghetto," she said.
"For families it should be a great place to live because there is so much going for it. But so many streets have become student-only and there is always the fear that the house next door to you will become a student house."
Durham's pro vice-chancellor, professor Graham Towl, said: "Although the university did not support the planning application associated with the development plans at the former County Hospital site, it is generally supportive of the development of high-quality purpose-built student accommodation in Durham city centre; provided it has sufficient social and learning space and is to be managed in such a way as to minimise disruption to other residents."
Reuse content