Charges have been dropped against a student whose violent and bloody arrest was caught on video in March which sparked days of protests over racial profiling because he is black.
University of Virginia student, Martese Johnson, 20, was arrested by Alcoholic Beverage Control (ABC) officers who claimed he was using a fake identity as he tried to enter a bar during St Patrick's Day celebrations in the city of Charlottesville in Virginia.
Video contains strong language and violence some may find disturbing:
Prosecutors were forced to admit they didn't have enough evidence to move forward with the case and Mr Johnson's charges of resisting arrest and public intoxication were dropped.
Although Mr Johnson has admitted he was trying to enter the Trinity Bar as a minor, entering a bar is not illegal and his ID was not fake.
The ABC officers were filmed by a passer-by taking control of Mr Johnson's arms as they pinned him to the ground.
Speaking to CBS News about that night, Mr Johnson said he didn't realise the amount of blood that was pouring from his face and added: "I remember my leg going back and falling face-forward to the ground," saying it was his head that broke the fall.
While being arrested, Mr Johnson accused the officers of targeting him for being black and said the white students who were asked for their IDs were not being violently arrested.
"I don't believe that I did anything to warrant being slammed on the ground that night. Black lives matter," he said.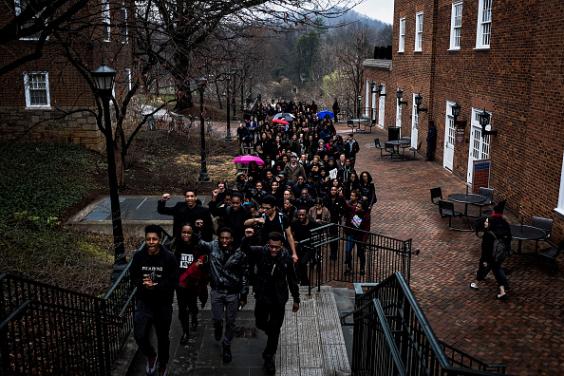 Mr Johnson's arrest triggered three days of demonstrations as hundreds of fellow students – and staff – took to the campus, calling for a review and the retraining of state alcohol enforcement officers.
The state police investigation found that Mr Johnson co-operated with the ABC officers before he was assaulted. They also confirmed he had passed a breathalyser test in custody which swept away any reason for any criminal charges against him.
Since the incident, the ABC agents who were involved that night have been on administrative leave and, according to a statement from the agency, they will not face any charges.
The statement reads: "Virginia ABC respects today's decision of the Charlottesville commonwealth's attorney to not pursue the charges of public swearing/intoxication and obstruction of justice without force against University of Virginia student Martese Johnson and to not charge the ABC special agents involved in his arrest."