The mother of a University of Cambridge student has helped to squash the myth that students are layabouts, by posting an advert for a "blonde female" to accompany her son to an upcoming May ball, because he's too busy to look for a date himself.
Only identifying herself as Margot, most likely to save her son from any embarrassment at her bizarre-sounding post, the woman defends the advert by writing he son is "fully occupied by school works."
The woman is oddly aware of her son's 'type', and stipulates the woman must be "blonde, talkative," and aged between "19 and 22".
Listed under the 'Jobs – Student & Graduate' section of Gumtree, the advert unsettlingly states that the 'Contract type' is 'temporary'.
Perhaps anticipating that the post may attract some joke responses, Margot adds only a "female" with an "honest and sincere attitude toward this opportunity" should contact her.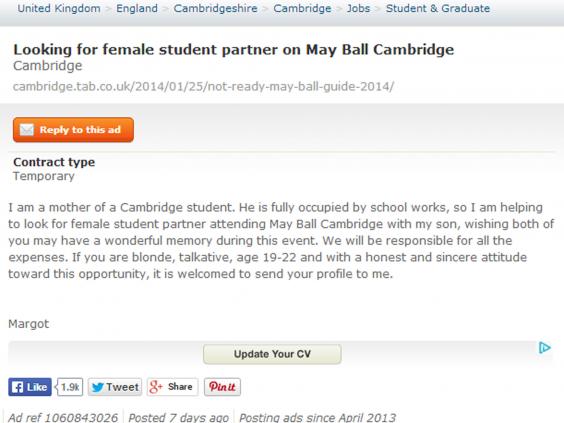 As tickets for the event can cost up to £200 – just less than a weekend ticket to see the Rolling Stones at Glastonbury Festival cost last year, Margot attempts to sweeten the deal by writing: "we will be responsible for all the expenses".
A spokesman for the Romance.ucam.org, a dedicated dating service for Cambridge students, told the Telegraph: "Cambridge is a really hard place to find romance and a date for a May Ball.
"In exam periods, the trend seems to be that girls stick to their own groups, while men want to get out and meet new women - so that makes it very hard for them to get together."
The advert has been shared on the Overheard in Cambridge Facebook page, with students tagging their friends as potential candidates.
One commenter Sajeev Sridhar wrote on the page: "FREE MAY BALL TICKET," while another called Mrodecal Paechter said: "aw, sweet. And very creepy."
Reuse content