A retired firefighter, who rescued a girl from her cot in a burning house 17 years ago, said it "meant an awful lot" to see her walk across the stage and graduate from high school this week.
Mike Hughes, 61, was a captain with the Wenatchee Fire Department in Washington in 1998 when he responded to an emergency call about a house fire. He remembered: "Our engine pulled up and the whole interior part of the house was burning heavily.
"My partner and I went in and I got a call on the radio that they suspected somebody was in the house."
Mr Hughes recalled how he burst into a room to find a baby girl "squirming" in her crib. He added: "I snatched her up and got her to the front door and handed her off to the first firefighter who was there."
That particular rescue stayed with Mr Hughes over the years – until he finally decided to get in touch with the girl, Dawnielle Davison, now 16, on Facebook a few years ago.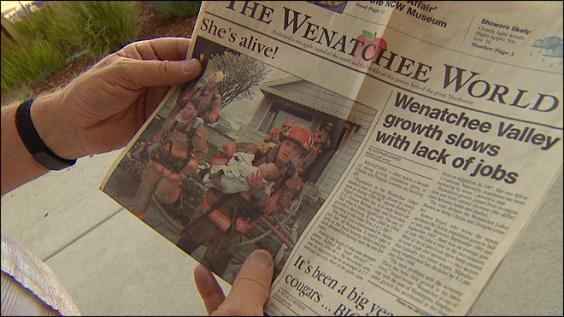 He sent her a message saying: 'I think I pulled you out of a fire when you were a baby.'
Ms Davison – then a middle-school student – was dubious and replied back saying: 'Oh yeah, what was my mom doing?' to which Mr Hughes replied: 'Well she was at work and your dad was there'.
After passing Ms Davison's test, the retired captain kept in touch with Davison – and even attended some of her athletics contests. Occasionally, he remembers, he also became used to running into the teen and her step dad at the local shops.
This month, the teenager sent a message to Mr Hughes asking if he would like to attend her big day at high school: "She sent me an invitation so I thought: 'By golly, I'm going.' It meant an awful lot to me. I was really happy."
Speaking about the day of her gradation, Ms Davison said it was "really emotional" and added: "I don't know really how to describe it. They're happy tears, to realise some things could have gone wrong."
Watch the touching video of both friends on Ms Davison's graduation day:
Reuse content