An overwhelming majority of young people plan to vote in the next election despite feeling under-represented by current Westminster politics, students said at i's second student debate in Manchester last night.
Students from all over the country turned out in force to discuss the motion: a generation of young people is right to give up on Westminster politics. The event, chaired by i editor, Oliver Duff, saw nearly 420 people cram into Manchester Town Hall.
He was joined on the panel by Amol Rajan, editor of i's sister paper 'The Independent, columnist Owen Jones, critic Ellen E Jones and i news editor Fran Yeoman.
Mr Jones kicked off by reminding the audience that political change comes from the people on the streets using their "collective power" to force change inside Westminster and among those in power.
"It's not either or," he said. "Find people who are like-minded and who use their collective power to force people who are above to concede. You don't have to like them, but you do have to force them to concede."
Mr Rajan, who labelled the House of Lords a "hotbed of corruption" that allowed rich people to buy their way into politics, agreed that young people had been "shafted" by Westminster. "The twenty-somethings is a uniquely under-represented group," he said.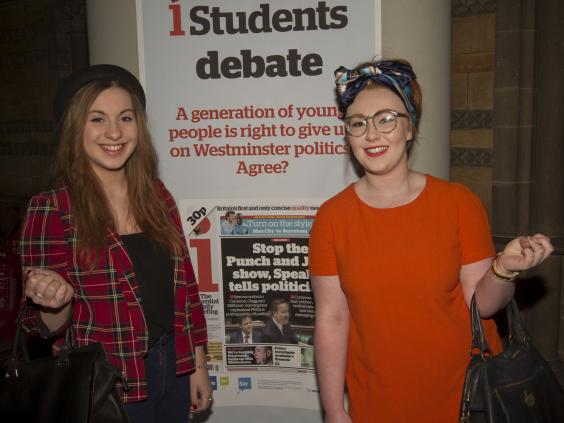 "The cost of education has gone up sharply and you guys haven't got a hope in hell of buying a house in London if you decided you wanted to do that. That's a deliberate policy, the housing market is fixed so you can't get into it, that is a deliberate con, perpetrated against you.
The question of how to engage young people in politics was brought up by Cory Bernart, who is studying PPE at The Open University. He supported the view that 16-year-olds should be allowed to vote. "My parents have never voted, even though they're quite well informed. It's irrational to say we can run away from Westminster politics. How would the county run without it?"
Ms Yeoman admitted she had agreed in part with Russell Brand's notion that young people shouldn't vote, but said she felt the comedian hadn't come up with a viable alternative. "Campaigning is a useful addition, but voting is the one universal way of making a change," she said.
Social media's role in politics was also debated at length, with Aubrey Allegretti, a student at the University of Sussex, asking whether politicians should use the internet to engage with young people. Although she acknowledged the benefits of social media, Ms Jones claimed politicians turning up on Twitter was akin to a teacher turning up at a house party.
The last i Student debate in Cardiff in January found that young people will not be put off voting Conservative or Lib Dem in 2015 because of the failures of the current government.
Questions from the floor
Are young people anti-politics or just anti-Westminster?
Andrew Sproat, University of Salford
Do you believe that political cabinets need tobetter represent the population as a whole, and if they did, would that alleviate a lot of the apathy towards voting and politics  which exists now, particularly among  younger people?
Abby Robinson, University of Salford
Do you think government and politics lessons should be made compulsory, and if so, a  what age?
Portia Fahey, Liverpool John Moores
Is there genuine scope for the main three political parties to inspire and reinvigorate young people's political interest, or do we need to look elsewhere to find a party that represents young people?
Matthew Harriott, University of Manchester
A lot of young people are passionate about politics, but if the increasing of university fees taught us one thing, it's that the government pays no attention to us whether we vote or not. What can young people do to make their voices heard?
Beatrix Matyas, University of Huddersfield
What do you say to the young people who are out there who say "I can't be bothered to vote"?
Monique Touko, University of Manchester
If you were to pick one scheme, policy or campaign that would change young people's participation in Westminster politics, what would it be?
Bryony Grace Lovell, University of Leeds
Having had the disheartening experience of growing up in Ken Clarke's Tory fiefdom my votes has never had any effect on the UK democratic process. This has been a huge influence on my own disengagement with voting. When so many of us live in "safe" seats can the panel make a strong case for traditional political engagement? Would they support a move away from first-past-the-post voting?
Daniel Jackson, Open University