Go to lecture, study session in the library, skip class, report from a warzone – and set up an international online news site.
Not exactly a typical day for a full-time undergraduate student but, for 21-year-old Trey Yingst, it's just the norm as he juggles his studies and reporting of stories and situations, he says, "the world needs to see."
A broadcast journalism major at American University in Washington, D.C., Trey has been busy making a name for himself in the world of global conflict reporting – and is now calling on other journalists to incorporate more effort, speed and variety into their coverage within war reporting.
Armed with his passport, some camera equipment, flight fare and some food, Trey has cut classes to report from Ecuador, Israel, Ukraine, Uganda, the Rwanda-Congo border and, more recently, the riots in Ferguson following the Michael Brown shooting – where he was arrested for 'unlawful assembly'.
FYI: November 21st the @ACLU wins a court order to protect journalists. November 22nd I am arrested. pic.twitter.com/dcP1f1emuJ

; Trey Yingst (@TreyYingst) June 10, 2015
Trey says the success of the site he co-founded, News2Share, is down to the fact that it taps into a field no other mainstream broadcast media outlet does: by solely concentrating on gathering raw footage from people involved in situations as they are happening.
Using the example of a situation post-car crash, Trey explains to The Poynter Institute where other journalists are going wrong – and where he is going right: "You have many reporters who turn around on camera and say, 'Earlier here today, there was a car accident.'
"We want audiences to see what's happening in the moments right after or even during the crash."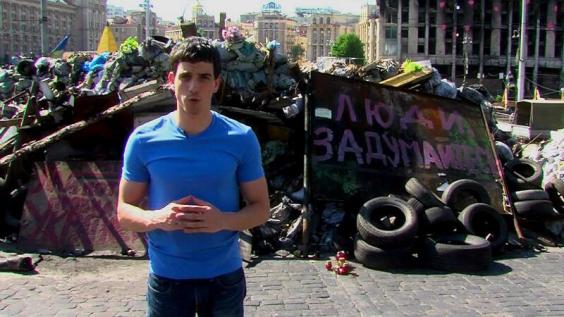 Why? Because, says Trey, this viewer footage captures human suffering in its rawest form which makes people "feel emotion for it and care about more."
Looking back to two years ago when he flew out to Syria – after reports emerged about allegations that Syrian president Bashar al-Assad was commissioning chemical weapons against his own people – Trey felt "no-one really cared about it."
The National Guard out tonight in full tactical gear #Ferguson @news_2_share pic.twitter.com/HeW7VPvBns

; Trey Yingst (@TreyYingst) November 26, 2014
What moved him was when some citizen journalists shot footage which showed what the effects of the chemical attacks were actually doing to the Syrian people: "That really showed the suffering up close and personal that people started to care," he recollects to the Institute. "We could no longer deny that it was happening because it was right in front of us."
Armed with a genuine passion for showing the world the plight of people and places in trouble, Trey urges those with an interest in news – and other journalists – whether they are in college, graduates, regardless of age, or whether they are with an established news company or not to just "go cover it," adding: "It's an opportunity of a lifetime."