Two-thirds of MBA graduates have reported being able to climb the career ladder and receiving higher salaries as a result of their studies, indicating that career expectations are matching reality when it comes to life post-business education, according to a global survey.
Independent media agency and specialist in the higher education sector, Advent Group, carried out an annual survey among 2,000 prospective, current, and past business education students from 24 countries around the world to also find candidates' primary motivation for getting an MBA degree is to climb the career ladder (47 per cent), followed by getting a better-paying job (34 per cent), and the ability to switch career lanes (19 per cent).
From the 66 per cent who cited their studies as being the reason they've achieved higher-paying jobs and strong opportunities, Advent Group said this figure was only slightly lower than the 71 per cent of candidates who wanted to achieve these outcomes.
Founder and CEO of Advent Group, Christophe Coutat, described how the survey's aim was to compare the current success of MBA and Masters graduates to the initial expectations of candidates, whom are consulted every day.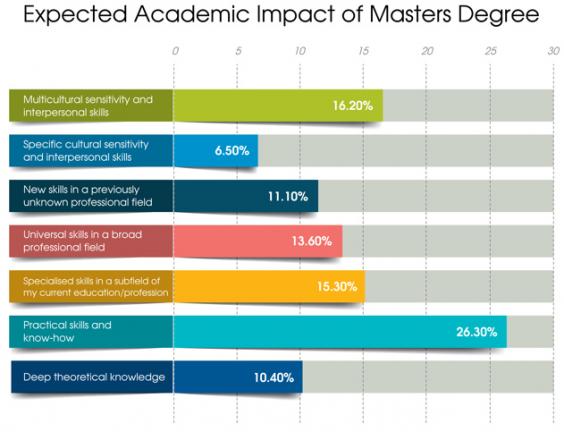 He said: "What we can say is that business education continues to net good results for those who choose to pursue it, but preliminary expectations often differ from reality".
Survey data has also hinted to a more dynamic career path, whereby achieving a higher salary, climbing the career ladder, or changing careers are equally common results for graduates, with each career progression corresponding to one-third of the responses.
As well as this, MBA graduates are much more likely to hold managerial positions compared to their Masters counterparts. According to the survey results, 60 per cent of all MBA alumni respondents currently hold mid or senior level management positions, something which "encapsulates the MBA degree's principle idea of elevating one's career to a managerial level," according to Advent Group's candidate management director, Kalin Yanev.
On the whole, Advent Group said 52 per cent of future and present MBA students expect the MBA degree to set in motion a career of global travel and business, but only 17 per cent of employed MBA graduates enjoy such lifestyles, findings the group described as being "by far the biggest discrepancy between expectation and reality within the MBA segment."
Advent Group's Access MBA tour will return to London on 8 February at Hotel Le Méridien Piccadilly which will bring together top international business schools from Europe and North America, as well as prestigious local institutions.
Participating schools include the University of Cambridge, HEC Paris, IESE Global Executive MBA, IE Business School, Esade Business School, Cass Business School, and many more.
Registration for the event is free and places are limited.
Reuse content