'Northern powerhouse.' It could easily describe a student club night offering cheap drinks and a soundtrack of Northern Soul. Yet the chancellor's plans for devolved powers to the north could ultimately offer students more than a snappy title to an evening out.
According to Professor Liz Barnes, deputy vice-chancellor at Sheffield Hallam University, Yorkshire is the only region outside of London to be a net importer of graduates, with 1 per cent more living and working in the region after graduation than were originally domiciled there. "This suggests that we need to create more graduate level jobs and opportunities outside of the south-east," she says. "Plans for a northern powerhouse can only boost the region's chances of retaining our best graduates and capitalising on the combined economic strengths, industrial diversity and cultural ambition of cities like Sheffield and Leeds."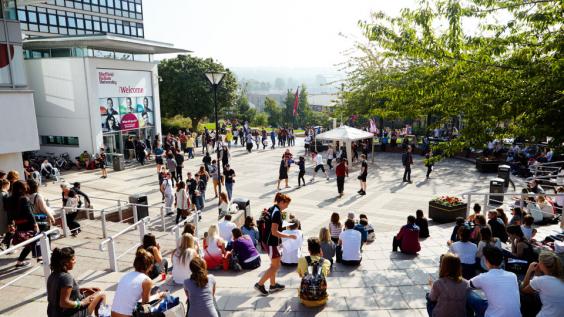 Devolving power to northern cities could well lead to better and more exciting graduate jobs suggests Bruce Tether, professor of innovation management and strategy at Manchester Business School. "More students will want to stay in Manchester, Leeds, or Newcastle, than be attracted to the massive economic magnet that is London," he says. "The Northern Powerhouse should make a difference to graduates' job prospects – perhaps not so much with respect to the quantity of jobs on offer, but the quality of jobs."
Professor Chris May, associate dean for external relations and enterprise at Lancaster University, says there is "much to welcome" about a Northern Powerhouse, but is wary of the effect 'devo-Manc' could have on his area. "It's quite possible that the gravitational pull of London will be replaced by a similar pull from Manchester," he says. This could leave Lancaster and other areas with the same difficulties around graduate retention. However, May adds that the arrival of new businesses, new strategic relations between the public and private sectors and the revitalisation of the regional economy could all be beneficial for his graduates.
Of course graduates themselves are often only responding to the job market when they migrate south; the option of staying in the north simply isn't open to them. In time that may change. "For too long we have lost the vast bulk of graduate talent to the South East as they understandably seek out better career opportunities," says Damian Grimshaw, professor of employment studies at MBS. "But Manchester and the wider region is ready to bounce back."
Those staying in (or relocating to) the north may see benefits beyond simply finding an appealing job – the average house price in Manchester is £138,700 compared to £417,500 in London, according to Hometrack. "Young people will appreciate having more disposable income in their pockets, since housing costs are lower, as well as more time to spend it since it is easier to live in town," Grimshaw concludes. And then there's that Northern soul...