Dodgeball is a word more commonly associated with Ben Stiller, quirky characters and easily quotable material, rather than the competitive sport, growing in popularity, that it actually is.
Popularised by the 2004 film Dodgeball; An Underdog Story, the sport has been gaining greater recognition and participation over the past decade.
Events such as the 2014 European Championships in Vienna are obtaining record-breaking numbers of entrants, with a whopping 32 teams competing in this summer's tournament surpassing last year's 18 by a substantial margin.
For those unfamiliar with Dodgeball, the basic aim is to be the team with the most players left - starting with six - on court by the end of a typical three-minute game. Getting players out can be achieved through making catches, knocking a ball out of the opposing player's hands - "loss of control" - and getting direct hits on the other team (yes, face shots count!).
The relative newness of Dodgeball as a recognised popular sport means that the sport's more intricate rules are often subject to modification from the United Kingdom Dodgeball Association (UKDBA), all in pursuit of establishing smooth running and excitingly intense games for both players and supporters.
Amongst the newest rules is the "save" rule. This means that if a player on your team is hit, but one of you catches the ball before it comes into any other kind of contact, the floor or another player for example, the player it ricocheted off of remains in play.
Not only has this added another dimension to the game in terms of vigilance, it also affords you the opportunity of feeling somewhat heroic, defending fellow players against the opposing team's onslaught!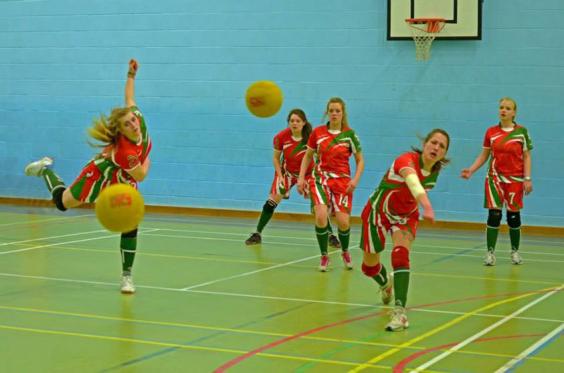 Dodgeball is often (erroneously) regarded as a softer sport for those individuals who were consistently picked last in PE. While this latter assumption might be founded in depressing truth, the former, suggesting that Dodgeball is in any way a gentle sport, is severely inaccurate.
Some of the sport's more experienced male players throw at speeds reaching over 60mph, with 68mph being the fastest recorded throw so far, and players will unashamedly aim at faces on the grounds that it makes the ball harder to catch if it comes screaming in at your face. Good point.
Luckily mixed tournaments have proved that female Dodgeball players are more than up to the challenge of these throws; Warwick Warriors' Megan White says it is far more satisfying to catch a throw of that speed due to the impressive noise made on impact, and "the look of mingled shock and admiration is an added bonus".
Dodgeball is seeing a greater number of university teams being set up across the country to compete in tournaments.
Asked why the sport is becoming so popular Eddie Chawner, ex-captain of the Winchester Bullets, believes that while Dodgeball can be high-paced and competitive, it is extremely accessible due to the simplicity of the rules.
"Aside from this, it is an extremely inclusive sport, as most will have never played before and will begin at a similar level. It can also be very cathartic!"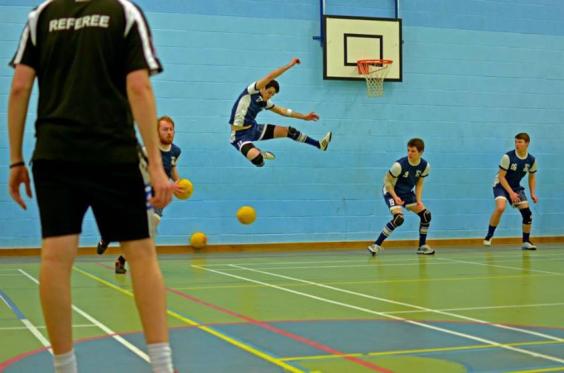 The female leagues as well as the male ones are steadily growing in popularity. Female captain Kelly Bowen says: "Getting women into the game means we can continue to prove that Dodgeball is not just for men; women can be extremely skilled at it too. Being captain is fantastic as you get to see and support players overcome their initial reluctances and develop into accomplished and tactical players."
Dodgeball is not just a sport entirely dominated by students, however. More community teams are being set up in areas around the country, with a London Club recently being latest to join the fray.
The growth of the sport has necessitated the setting up of more official organisations aside from UKDBA, which aim to facilitate new teams, run tournaments and promote the sport.
DodgeHub is a relatively new organisation that has successfully launched dodgehub.com and Dodge Mag to provide "everything Dodgeball".
One of DodgeHub's four founding members, Brett Koenig, reflects: "I had been playing Dodgeball for around four years and I have such a great passion for the sport; it is truly addictive. DodgeHub aims to make the sport affordable, accessible and inclusive which we are well on the way to achieving, we have some exciting projects in the pipeline!"
There have also been whispers throughout the Dodgeball community that the sport could be pushing for a spot in the Olympics in the not too distant future and, while this has primarily been conjecture amongst players, the growing popularity of the sport shows you shouldn't count it out.
Reuse content