Leamington Spa, whilst not actually a city, is fantastic town for students to live in due to its buzz of constant activity. This is the town that a vast majority of Warwick students move to once they leave campus, regardless of the fact that Warwick University is actually situated in Coventry.
What's the big draw?
Aside from what actually goes on, the town of Leamington Spa is stunning in itself architecturally. The north end of the parade is full of elegant white Georgian-looking properties and at the centre of the town is the Victorian park Jephson Gardens which, come end of exam season, will be full of sprawling sun-seeking students. The size of the town also means that you are in a small sociable community of students and your friends are within walking distance. Oh, and there are two Wetherspoons. Two.
What's the night-life like?
While the town itself isn't very big, Leamington is packed full of things to do in the evenings. Up and down the parade there are an array of different bars, both independently owned and high street chains. As well as these bars there's a multitude of different pubs ranging from the swish looking White Horse at the top of town, wherein you are greeted by a lifesize model horse on the way in, to the slightly dodgier pubs for students who enjoy a bit of grit in their pint.
There are three big clubs along the high street, Smack, Altoria and the recently renamed Neon, if you're looking for a conventional club night; or there are the slightly quirkier locations such as Moo Bar and Zephyr Lounge which specialise in slightly more individualistic nights. For students who can't afford to blow £30 on a night out there are evening events such as open mic nights in Robbin's Well or stand-up comedy and poetry slams at Lamp that are free entry - and an awesome way to spend an evening.
Leamington is also home to Kelsey's, the bar much patronized by Warwick university students due to its famed four-pint pitcher of a virulent green concoction that goes by the somewhat apt name "Eliminator". Failing all of those opinions, Birmingham and Coventry are a cheap train ride away.
What can you do in the day?
During the day there are various different cafes and restaurants to while away the hours in – Nandos opening a restaurant on the high street was big news. Free entertainment can be had in the park for those with a football or a vivid imagination. Orange Wednesdays at the Vue are a nice cheap way to pass the time as well although Leamington does not have its own ice rink as of yet, bitter disappointment.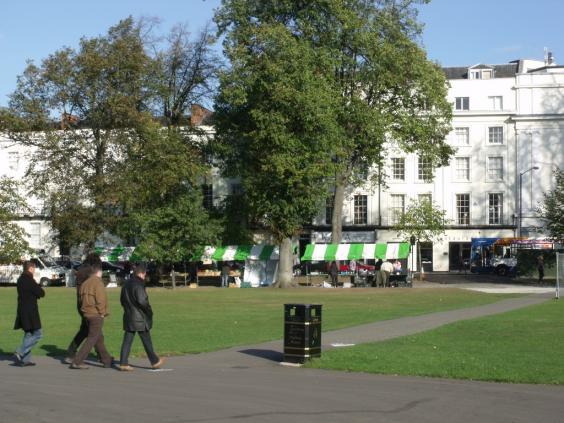 Where's the best place for non-millionaires to live?
Widely acknowledged as the more student part of town, south Leamington is the cheaper area of the town to live in, although student property prices in general do not tend to differ too greatly in the area.
In short Leamington is a fantastic student location with a real buzz of activity about it; the parade forms the perfect pathway to wander down and decide which of the social hives to join.
Reuse content