Barry Press is a compact man. Tonight, he's wearing Oxford shoes, a bow tie and a mortarboard wrapped in a plastic bag. And each October - for the last four decades - he has somehow managed to persuade hundreds of people to stay up until the wee hours  in order to walk backwards around a quadrangle.
He is the founder of the "Time Ceremony", which is held at Merton College in Oxford, and which now sees the majority of the college's undergraduate and graduate population don academic dress (gowns, mortarboards and all) and wait up 'til 2am British Summer Time.
For the next hour, 'til 2am Greenwich Mean Time, they walk backwards through a quadrangle usually reserved for Fellows (the teaching staff), linking arms and spinning at the corners. Port is the traditional accompaniment.
The point of all this is, of course, to make sure the clocks go back successfully.
"Which they always do. I mean you can't dispute that," Press correctly points out.
The ceremony began in 1971, during a national experiment in which the UK stuck with BST for the entire year.
"I felt there should be some sort of recognition of it going back," he says. "We thought that in theory maybe it wouldn't go back, and that we ought to help it. And this seemed the obvious thing to do."
"Walking backwards round Fellows' Quad seemed to be a good idea – anticlockwise, obviously. And why not dress in full sub-fusc [i.e. academic dress]?"
The first ceremony was private, involving Press and four others. Like most events in Oxford, someone had to leave halfway through in order to finish off an essay. However, the number of attendees increased over the years, and the college authorities gradually became aware of the ceremony's existence.
Nowadays entrance to Merton after 11pm is strictly monitored to ensure that only members of the college can get in; a small troop of students volunteer to point out trip hazards, to guarantee no glass is brought in to the quadrangle - the port has to be drunk out of plastic bottles - and, of course, make sure that everyone keeps off the grass.
Press, who read a combination of Maths and Law in his own time at Merton, has returned for the Time Ceremony every year since leaving the college. He styles himself as the "Keeper of the Watch".
"It changes over the years. Although I'm the Keeper of the Watch, I don't keep a particular watch," he explains.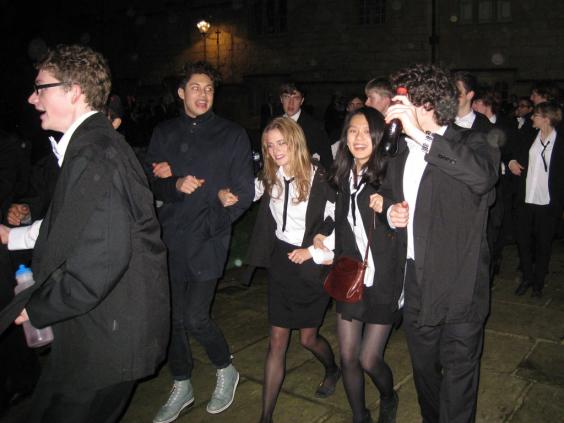 Such is his dedication to his ceremony that he opted not to convert his bachelor's degree to a master's, as is Oxford graduates' right, because a bachelor's gown has a white fur rim, which shows up well in the middle of the night.
Why does he come back so often? "It's a great ceremony. Why not?"
"I think everybody appreciates that it's strange," he says, but he doesn't believe it himself.
In fact, the Time Ceremony is not, as many undergraduates currently think, a parody of the overblown absurdities of Oxford life.
"It's a perfectly serious ceremony," he says. "There's nothing spoof about it. If you think about it, there's nothing it could be a parody of.".
After 42 years, in which little serious discussion of abolishing GMT has taken place, the Time Ceremony has become a fixed part of Merton College's calendar.
"If one year the JCR didn't arrange anything so that nobody turned up, there'd still be a few people turning up anyway, people who didn't know it hadn't been arranged," Press said. "I would envisage it going on for hundreds of years. I don't see any reason why it shouldn't."
At that, he wanders off into the night, assured of immortality in his own little way.
Reuse content