Travel essentials
Why go now?
The inaugural Chicago Architecture Biennial (chicago architecturebiennial), a celebration of all things architectural and a showcase for new ideas in building design, kicks off on Saturday in this city of staggering buildings, and runs until 3 January 2016.
It follows a blizzard of new hotel openings and unveilings of ambitious public spaces, the latest of which was the Bloomingdale Trail (the606.org) in June. Running through the northwestern 'hoods of Bucktown, Logan Square and Humboldt Park, the converted freight train route is Chicago's 2.7 mile-long answer to New York's High Line elevated public park.
Touch down
American Airlines (020 7660 2300; aa.com) and its partner British Airways (0344 493 0787; ba.com) compete with United (0845 607 6760; united.com) and Virgin Atlantic (0344 209 7777; virgin-atlantic.com) from Heathrow to Chicago O'Hare; American also flies from Manchester, and United goes from Edinburgh. 
A blue line "L" train departs at least every 15 minutes, 24 hours a day, taking around 45 minutes to reach downtown stations such as Washington (1), fare $5 (£3). Fares not from the airport are $2.25 (£1.50), and can be paid for with contactless debit or credit cards. Alternatively, an unlimited-travel Ventra card costs $10/£7 for one day or $20/£13 for three.
A taxi from the airport to downtown Chicago should cost around $40 (£27); shared rides with other passengers are $24 (£16) each.Transfers take 30 to 60 minutes.
Get your bearings
No one in Chicago calls it downtown – it's The Loop. This is where most of the city's sky-scraping architecture congregates. Three blocks east of Washington station (1) the Chicago Cultural Center (2) at 78 E Washington Street (00 1 312 742 1168; chicagoculturalcenter.org) is the best spot to pick up tourist information.To the east is art-packed Millennium Park (3) and beyond that is Lake Michigan.
The money – including the Magnificent Mile shopping strip – lies to the north of the Chicago River, and cool neighbourhoods such as West Loop and Wicker Park are to the west. Grittier areas with cultural heritage such as Bronzeville sit south of The Loop.
Check in
The Chicago Athletic Association Hotel (4) at 12 S Michigan Avenue (001 312 940 3552; chicagoathletichotel.com) is the most visually stunning of the city's new hotels. The former private members' club has kept many of the original fittings and worked in subtle sports-themed decorative touches. Doubles from $226 (£151), room only.
The new Virgin Hotel (5) at 203 N Wabash Avenue (001 312 940 4400, virginhotels.com) has ceramic dogs in the hallway, rooms designed for female travellers and an hour's worth of free drinks at the bar for guests. Doubles from $163 (£109), room only.
The Essex Inn (6) at 800 S Michigan Avenue (001 312 939 2800; essexinn.com) is Chicago's best bargain. Double rooms start at $122 (£82), room only.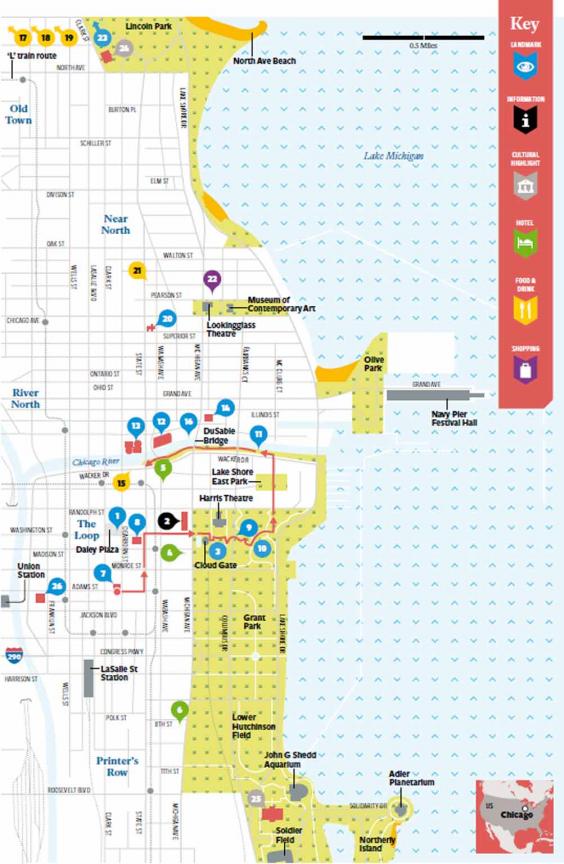 Day one
Take a hike
Amble east through The Loop, taking in some of the skyline stars. The Marquette Building (7) at 56 W Adams Street is all decorative panels and mosaics while the 19th-century glass and terracotta-clad Reliance Building (8) at 1 W Washington Street is regarded as one of the first true skyscrapers.
Continue to Millennium Park (3) to ogle the skyline properly (and check your reflection in Anish Kapoor's shiny "Cloud Gate"). The Frank Gehry-designed BP Bridge (9) leads to one of Chicago's new public spaces – Maggie Daley Park (10), which is filled by a playground and climbing wall.
From there, swing north until you hit the recently extended Riverwalk (11). This pedestrianised path along the Chicago River offers shipping-container bars and kayak hire outlets, plus marvellous views of the architecture on the near north side. The gleamingly unsubtle Trump Tower (12), corn cob-esque Marina Towers (13) and fussily neo-Gothic Tribune Tower (14) are the star turns.
Lunch on the run
The City Winery (15) at 11 W Riverwalk South (001 312 229 5593; citywinery.com) specialises in by-the-glass rather than by-the-plate, but it serves up seriously tasty salads and Italian sandwiches with arrestingly long ingredients lists. No one's going to tut too hard if you take on a Californian pinot noir with it, mind.
Take a ride
The city's soaring buildings, and often the stories behind them, are best taken in by boat. Wendella operates a 90-minute river and lake cruise from its dock (16) at 400 N Michigan Avenue (001 312 337 1446; wendellaboats.com). This heads along the river, out of the lock at the end and into Lake Michigan. The skyline looks like a single multi-faceted masterpiece when observed from a distance on the water. 
The commentary is entertaining – particularly the tale of how the Chicago River's flow was reversed, sending the sewage down towards St Louis rather than Lake Michigan. Cruises go at least four times a day from 10.15am to 7.15pm – including one at 2pm – and it costs $35.50 (£24).
An aperitif
Head on the L blue line towards Logan Square, which for a supposed hipster enclave feels refreshingly unpretentious. Emporium (17) at 1366 N Milwaukee Avenue (001 773 697 7922; emporiumchicago.com) is a classic example of this – it's a huge former garage lined with pool tables, arcade games and air hockey tables. There's a commendable range of canned microbrew beers too.
Dining with the locals
Nearby, the tiny-but-convivial Fat Rice (18), at 2957 W Diversey Avenue (001 773 661 9170; eatfatrice.com; closed for dinner Sunday and Monday) is a homage to the former Portuguese empire, although the food focus leans most strongly towards Macau. The $48 (£32), paella-ish arroz gordo is the prodigiously flavoursome headliner, but other dishes are easier on the wallet.
Alternatively, head back down the blue line to Trenchermen (19) at 2039 W North Avenue (001 773 661 1540; trenchermen.com) in the rambunctious Wicker Park area. 
In a luscious converted Turkish bathhouse setting, it's half flirtatious, gin-cocktail mingling spot and half modern American restaurant with an inquisitively playful dinner menu.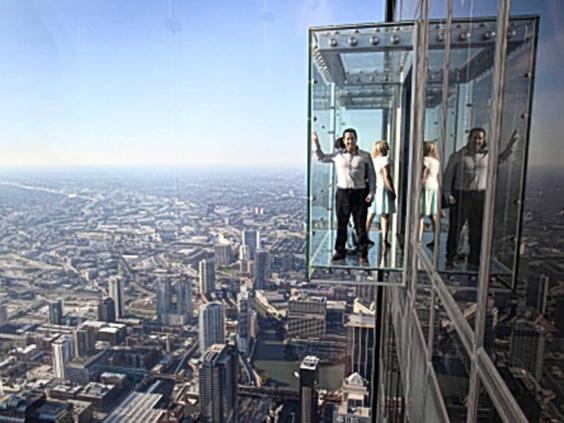 Day two
Sunday morning: go to church
The Holy Name Cathedral (20) at 730 N Wabash Ave (001 312 787 8040; holynamecathedral.org) holds Sunday mass at 7am, 8.15am, 9.30am and 11am. 
The enormous bronze doors lead to a soaring Gothic revival interior, but look out for the bullet marks on the cornerstone outside. They came courtesy of the 1926 assassination of mobster Hymie Weiss.
Out to brunch
The locally beloved Tempo Café (21) at 6 E Chestnut Street (001 312 943 4373) does classic gut-busting American diner breakfasts, such as the "Poor Man's Skillet" with three eggs, ham, green pepper, cheese and onions over hash browns.
Window shopping
Amble up N Michigan Avenue, where big name department stores, luxury designers and high street names congregate. Along the way, Watertower Place (22) at 835 N Michigan Avenue (shopwatertower.com; 11am to 6pm Sunday, 10am to 9pm otherwise) has a few more independent-minded stores.
A walk in the park
Lincoln Park hugs the shoreline of Lake Michigan for six miles. The full length can be left to the particularly energetic, but there is a well-signposted nature-spotting boardwalk around the South Pond (23).
Cultural afternoon
The Chicago History Museum (24) at the southern end of Lincoln Park, 1601 N Clark Street (001 312 642 4600; chicagohistory.org; noon to 5pm Sunday, 9.30pm to 4.30pm other days) is a little old school, but offers a helpful run through of the city's past, from the Great Chicago Fire of 1871 to Obama (entry $14/£9.40).
The blockbuster alternative is the Field Museum (25) at 1400 S Lakeshore Drive (001 312 922 9410; fieldmuseum.org; 9am to 5pm daily). Sue the tyrannosaurus rex skeleton is the emblem, but there are also exhibitions on ancient Egypt, evolution, pre-Columbian America and gemstones from around the world . Basic admission is $18 (£12).
Icing on the cake
Take the brown or purple L line between Sedgwick and Quincy stations in order to head up the biggest of Chicago's big beasts. The Willis Tower (26) at 233 S Wacker Drive has 108 storeys, and its Skydeck (001 877 759 3325; theskydeck.com; 10am to 8pm October-March, 9am to 10pm April-September) has one terrifying twist on the norm. Four glass boxes jut out from the edge, overhanging 1,352 feet of absolutely nothing. Tickets $19.50 (£13).