Travel essentials
Why go now?
Start the year in sunshine and style. Miami Beach is at its most rewarding in January, when the resort laughs in the face of winter – and revels in its role as the spiritual home of Art Deco. The architectural form that South Beach made its own in the 1930s is celebrated on 16-18 January with the Art Deco Weekend (artdecoweekend.com) – with street markets and classic car parades on Ocean Drive.
Touch down
American Airlines (020 7660 2300; aa.com), British Airways (0844 493 0787; ba.com) and Virgin Atlantic (0844 209 7310; virgin-atlantic.com) fly from Heathrow to Miami. The airport is nine miles west of Miami Beach. To reach the beach by public transport, first take the free MIA Mover shuttle to the Metrorail Station. From here, the Airport Flyer 150 bus runs direct to Miami Beach on the hour and half-hour, for $2.65 (£1.80). The bus is scheduled to take around 40 minutes to reach South Beach. In practice, the service often departs late and takes an hour or more. But it does, however, serve multiple stops in Miami Beach south of 41st Street along Collins and Washington Streets.
A taxi to Miami Beach is fixed at $32 (£21); the driver will expect a tip of at least $5 (£3.30). Taking a rental car to Miami Beach is not a good plan. Traffic congestion is terrible, as a result of constant street works, and meter or off-road parking costs $1.75 (£1.20) per hour from 9am-3am.
Get your bearings
Miami Beach occupies a narrow barrier island between the ocean and Biscayne Bay, beyond which rises the core of Miami. While the Atlantic beach unrolls for miles from the southern tip, most places of interest are within the two miles between 5th and 17th Streets – loosely known as South Beach or SoBe, and encompassing the Art Deco National Historic District.
If you plan to use public transport regularly, a stored-value Easy Card is a good idea. Buy one at a Metrorail station for a $2 initial fee plus however much you choose to load on. Cash bus fares are $2.35 (£1.60), with a 30c premium for express services); exact fare only.
Check in
Many places along Ocean Drive are party hotels – great for late-night drinking and dancing, but if you seek a quiet retreat, look a block or two inland. I paid $203 (£135) a night for a family room at the Hotel Astor (1) at 956 Washington Avenue (001 305 531 8081; hotelastor.com), where direct booking brings the twin benefits of Continental breakfast and free use of hotel bikes (usually $5/£3.30 an hour).
The Art Deco lobby and the alluring ocean-facing 200ft pool of the National Hotel (2) at 1677 Collins Avenue (001 305 532 2311; nationalhotel.com) are worth the typical room-only rate of $355 (£237). The hotel was renovated in 2014, but has kept its design credentials while offering extra comfort. Come for brunch if you're staying elsewhere.
Another delectably resurrected option is the Gale South Beach (3), which perhaps confusingly is quite a long way north and not on the beach – at 1690 Collins Avenue (001 305 673 0199; meninhospitality.com). It retains many of its original 1941 features, enhanced with a rooftop pool. Winter rates are typically $300 (£200), room only.
Click here to see a bigger image of the map
Day one
Take a view
The fishing pier (4) at South Pointe Park, at the southern tip of Miami Beach, is a blissful place to start the day, and your exploration. See the low-rise homes and hotels of Ocean Drive retreat to the north while, to the west, Miami proper is illuminated by the morning sun. Then walk north on the boardwalk fringing most of the beach.
Take a hike
A dozen blocks north, where Ocean Drive meets 10th Street, stop at the Art Deco Welcome Center (5) (001 305 672 2014; mdpl.org; 10am-4pm daily), run by the Miami Design Preservation League, at 1001 Ocean Drive. At 10.30am each day (and at 6.30pm on Thursday), the Official Art Deco District Walking Tour sets off for a 90-minute exploration of Art Deco as well as 1920s Mediterranean Revival and 1950s MiMo (Miami Modern). Your $25 (£17) ticket entitles you to explore the Art Deco Welcome Center itself – a fascinating repository of social history and architectural intelligence.
Lunch on the run
The 11th Street Diner (6) is a genuine, chrome-plated 24-hour diner at 1065 Washington Avenue (001 305 534 6373; eleventhstreetdiner.com). It serves an all-day (and all-night) breakfast featuring a dozen different omelettes starting at $6.95 (£4.60).
Cultural afternoon
Mitchell "Micky" Wolfson Jnr is a Florida businessman with a keen eye for fine art, furniture and ceramics – as well as Art Deco. His generosity is celebrated at the Wolfsonian-FIU (7) at 1001 Washington Avenue (001 305 531 1001; wolfsonian.org), which celebrates its 20th anniversary this year. Inside this South Beach landmark you can find much of his collection covering the period between 1885 and 1945. The museum opens noon-6pm (until 9pm on Thursday and Friday) daily except Wednesday; adults $7 (£4.65), free from 6pm on Fridays.
An aperitif
The Congress Hotel (8) at 1052 Ocean Drive (001 877 775 5783; congresshotelsouthbeach.com) has two components: the original Art Deco property and a newer northern addition. The latter has a rooftop swimming pool with a bar, which provides an ideal platform for watching dusk encroaching on pastel-shaded South Beach as you sip a pastel-shaded cocktail.
Dining with the locals
South Beach has some of America's greatest restaurants, with prices to match. Fortunately, if you wish to stretch your sterling just follow the locals to a couple of lively, friendly spots. Manolo (9) has been serving up good, honest fare at 685 Washington Avenue (001 305 674 7444) for decades. On a menu ranging from Latin American to Italian, you can find dishes such as La Mama spinach ravioli or beef planchita; mains around $15 (£10), plus cheap beer and wine.
Lincoln Road Mall is full of options, but on a warm evening you need look no further than Pizza Rustica (10) at 667 Lincoln Road (001 305 672 233; pizza-rustica.com). A "huge square slice" of the signature pizza, including artichoke, olives, prosciutto and sun-dried tomatoes costs just $5.75 (£3.80); with a side salad, a drink and a tip, you can fill up splendidly for less than $15 (£10).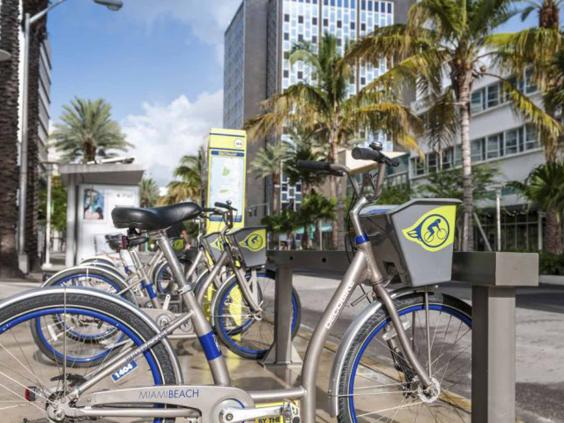 Day two
Sunday morning: go to church
Pick up where you left off on Lincoln Road Mall. It was laid out in 1912, but in the early 1950s the visionary architect Morris Lapidus created some modest MiMo marvels that give a captivating mid-century look. He designed a tiny outdoor chapel, but for something more substantial visit the 1921 Mediterranean Revival-style Miami Beach Community Church (11) (001 305 538 4511; mb-communitychurch.org); worship on Sundays at 10.30am.
Window shopping
Lincoln Road was once known as Florida's Fifth Avenue. It hit hard times in the 1960s and '70s, when America neglected the heritage of Miami Beach, but has come back to life. Between the brand-name stores, you can find street stalls and art galleries – such as ArtCenter South Florida (12) (001 305 674 8278; artcentersf.org). It has tricky opening times, though: 4-9pm at weekends, noon-6pm on Monday and Tuesday, and noon-9pm Wednesday to Friday.
A walk in the park
From ArtCenter South Florida (12), walk south along Meridian Avenue – the main artery of the Flamingo Park Historic District. The homes are shaded by palm trees and entwined with vines.
Out to brunch
The National Hotel (2) has a Sunday Jazz Brunch in its Tamara Bistro for $39 (£26). An extra $10 buys unlimited mimosas to help the day along.
Take a ride
Deco Bike is the local rent-it-here, leave-it-there scheme (decobike.com). For $10 (£7) you can hire a bicycle from one of several Deco Stations for up to two hours, and join the locals cycling or jogging along the Miami Beach boardwalk. It extends north from 21st Street for a couple of miles, allowing you to see more of Miami Beach beyond South Beach.
The decking path is lined with lush vegetation and is raised in parts so that you can look over the broad, sandy beach and peek into hidden hotel gardens in the other. If you have time, pedal to South Pointe Park at the far south of the island and continue around until you reach 5th Street.
Icing on the cake
For cuisine you won't find at home, and a reminder of Miami's pre-eminence as capital of the Caribbean (until Havana takes over), visit Tap Tap (13) at 819 5th Street (001 305 672 2898; taptapmiamibeach.com; noon-11pm daily). It is a Haitian restaurant that serves up conch creole ($15/£10) and stewed goat ($18/£12), with profits going to community projects.