Travel essentials
Why go now?
The cultural capital of western France and gateway to the Loire Valley comes alive in summer with a multitude of events. The centrepiece is the two-month Voyage à Nantes festival (3 July to 30 August; 00 33 8 92 464 044; levoyageanantes.fr), which invites visitors to trace 40 city sites along a 10-mile green trail, painted on the pavement.
The food scene also blossoms in warmer months, with the emergence of La Cantine du Voyage (1), a pop-up restaurant on Ile de Nantes, where diners can sample a set lunch or dinner beside the water with wine for €10/€13 (until 13 September).
And from next weekend, BMI Regional (0330 333 7998; bmiregional.com) makes it easier to access Nantes, with new seasonal flights from Bristol starting 4 July until 12 September.
Touch down
You can fly to Nantes Atlantique airport (00 33 8 92 56 88 00; nantes.aeroport.fr) with easyJet (0843 104 5000; easyjet.com) from Gatwick and Liverpool; Flybe (0371 700 2000; flybe.com) from Manchester and Southampton; and CityJet (0871 405 2020; cityjet.com) from London City. Shuttle buses run every 20 minutes (half-hourly on Sundays) from the airport, costing €7.50 to reach the train station (2). From here, all the main sites are accessible on foot, though you can use your bus ticket to connect to the tram system.
I travelled with Voyages-sncf.com (0844 848 5848; voyages-sncf.com), which has return train tickets from London St Pancras to Nantes via Paris from £108.
Get your bearings
Nantes was once a powerful maritime city, carved into a watery maze where the River Loire, charging towards the sea, meets the River Erdre, trickling down from the north. These days, the two waterways are not as influential as they once were. Many of the old canals – especially the ones that formerly made Île Feydeau an island – were filled-in between the wars to make way for modern tram lines, and port activity migrated west, to the Atlantic coast near St-Nazaire.
Nevertheless, the city's maritime heritage lives on in the novels of Jules Verne. The founding father of science fiction was born in the city in 1828 and was inspired by the huge, 19th-century sailing ships that once passed his windows.
On the north bank of the Loire, the old town unfurls over three main squares: Place Graslin, Place Royale and Place du Commerce, with the cathedral (3) and castle (4) marking the city's eastern edge. To the south, the main draw is the former industrial site of Ile de Nantes, now populated with bars and restaurants, especially around the old banana warehouse of Hangar à Bananes (5) (00 33 2 40 71 08 79; hangarabananes.com).
The main tourist office (6) at 9 Rue des Etats (00 33 2 72 640 479; en.nantes-tourisme.com) opens 10am to 6pm daily.
Check in
Once a 19th-century chapel, the chic Hôtel Sozo (7) at 16 Rue Frédéric Cailliaud (00 33 2 51 82 40 00; sozohotel.fr) contrasts contemporary interiors with stained-glass windows. Doubles from €109, room only.
In the smart Graslin neighbourhood, Oceania Hôtel du France (8) at 24 Rue Crébillon (00 33 2 40 73 57 91; oceaniahotels.com) is positioned close to the heart of the city. Doubles from €75, room only.
At 2 Rue Boileau, Hôtel Pommeraye (9) (00 33 2 40 48 78 79; hotel-pommeraye.com) has well-priced standard rooms. Doubles start at €54, room only.
Click here to see a bigger image of the map
Day one
Take a view
Nantes has only one tower, the 37-storey Tour Bretagne (10) – a Seventies-era skyscraper that rises from Place de Bretagne. At the top you'll find Le Nid – or "The Nest" – a rooftop bar, complete with a panoramic terrace and curious artworks by French graphic designer Jean Jullien, including a gigantic heron whose neck wraps around the whole room (00 33 2 40 35 36 49; weekends, from 10am).
Take a hike
Exit the Tour Bretagne (10) and walk south down Cours des 50 Otages (11), the city's wide and inviting main thoroughfare. The street is named in honour of French hostages who were executed by occupying Germans in 1941, though there were actually 48.
Cut left into Rue de la Barillerie and make your way on to Rue du Château, where you'll find some nice boutiques such as jewellery shop Lili au Soleil (12) (00 33 2 40 89 13 24). Coming up, you'll spy the castle (4), known as the Château des Ducs de Bretagne (00 33 811 46 46 44; chateau-nantes.fr; daily 10am to 6pm, except Monday; €5). Enter to explore its impressive museum, detailing the history of Nantes, or walk in the grounds, which hold a maze-like art installation by Patrick Dougherty that's great fun for children.
Lunch on the run
Find a table outside Créperie Heb-Ken (13) at 5 Rue de Guérande (00 33 2 40 48 79 03; heb-ken.fr) to taste delicious galettes, made with buckwheat flour and served with savoury fillings. If there's room for another, consider a sweetened crépe (both from €4.50).
Window shopping
French style is in evidence on Rue Crébillon (8), a smart street which showcases home-grown fashion labels such as Sandro and Comptoir des Cotonniers. A few steps south is Passage Pomeraye (00 33 2 40 48 78 17; passagepommeraye.fr), an ornate 19th-century mall which features the likes of Hermès and has appeared in French movies, including the Sixties classic Lola, by director Jacques Demy.
An aperitif
The streets of Nantes used to smell sickly sweet, thanks to the presence of two biscuit factories: Biscuiterie Nantaise (BN) and Lefèvre Utile (LU). The latter's former site, overlooking the River Erdre at Quai Ferdinand Favre, was partly demolished and left abandoned in the Seventies, but has since been renovated as Le Lieu Unique (14) (00 33 2 40 12 14 34; lelieuunique.com).
The thriving arts and cultural centre has a bar, restaurant and regular live music. A glass of muscadet wine from the Loire Valley costs €2.
Dining with the locals
Two minutes apart from each other are two of Nantes' finest restaurants. On Rue du Cheval Blanc, Lulu Rouget (15) (00 33 2 40 47 47 98) is run by an up-and-coming chef, who serves Michelin-quality food; the "surprise" four-course menu, where dishes are kept a secret, is €47.
On Rue du Marais, Pickles (16) (00 33 2 51 84 11 89; pickles-restaurant.com) is an always-packed alternative, with contemporary French cuisine cooked by an English chef who changes the menu weekly; three-course set menu €28. Dishes might include haddock with carrot velouté, yogurt and sesame.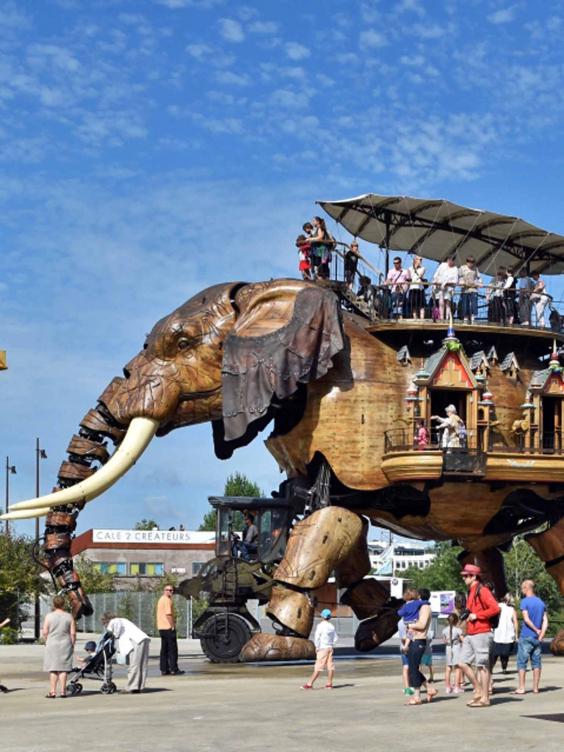 Day two
Sunday morning: go to church
The 19th-century Basilique Saint Donatien (17) at Place des Enfants Nantais (00 33 2 40 74 14 38; paroissesaintdonatien-nantes.cef.fr), whose 10 bells ring the same aria as Big Ben, was ravaged by a devastating fire earlier this month.
However, a visit to the dramatic Cathédrale St-Pierre and St-Paul (3) (00 33 2 40 47 84 64; cathedrale-nantes.cef.fr) is an uplifting start to the day, whether for Sunday service at 10am or to admire the building's white marble columns and stained glass windows. It holds the tomb of Francis II, the last ruler of the independent Duchy of Brittany, as it was before the region finally became part of France in 1532.
Out to brunch
Head to the vibrant Marché de Talensac (18) at Rue Talensac (00 33 2 40 20 59 98; marche-talensac.fr; (6am to 1pm), where stalls selling flowers, clothes and furniture spill on to the streets.
For food, enter the market hall, where seafood, cheese, wine and fruit await. A favourite stop is pâtissier Vincent Guerlais (00 33 2 40 35 49 02; vincentguerlais.com) whose salted-caramel creations, including the popular "Bulle de Saveur d'Hiver", are renowned.
A walk in the park
The Jardin des Plantes (19) at Rue Stanislas Baudry (00 33 2 40 41 65 09; jardins.nantes.fr) is home to a children's playground, rows of fruit trees and neatly-planted flower beds, with a lake in the middle. Peer into the ornate greenhouses or take up a seat on the Orangerie Café (00 33 2 28 44 27 08).
Cultural afternoon
If you're visiting during the Voyage à Nantes festival, you'll have realised that most of Nantes' art and cultural diversions are outdoors.
A visit to open-air Les Machines de L'Ile (20) on Ile de Nantes confirms it (00 33 2 51 17 49 89; lesmachines-nantes.fr; until 2 July open Tuesday to Friday, 10am to 5pm, weekends to 6pm). Created by two former members of the Royal de Luxe theatre group, the site allows visitors to ride a 12m-high wood and steel elephant(€8.50), ride a vintage Marine Worlds Carousel (€8.50) and more.
Reuse content