Travel essentials
Why go now?
As January ends, bonhomie returns to the Czech capital in the shape of the cheerfully informal Prague Carnival that begins this weekend and continues to 9 February, with a series of concerts (carnevale.cz). In 2016, the city is also celebrating the 700th anniversary of the birth of Charles IV, King of Bohemia and Holy Roman Emperor, whose 32-year reign is seen as a golden age. 
Touch down
You can fly to Ruzyne airport, 16km north-west of the city centre, on British Airways from Heathrow (0344 493 0787; ba.com); easyJet (0330 365 5000; easyjet.com) from Bristol, Edinburgh, Gatwick, Stansted and Manchester; Ryanair from Stansted (0871 246 0000; ryanair.com); Wizz Air from Luton (0330 977 0444; wizzair.com); and Jet2 from East Midlands, Leeds/Bradford, Manchester and Newcastle (0800 408 1350; jet2.com).
Immediately outside Terminals 1 and 2 there is a bus stop with yellow ticket machines. These sell single-journey tickets, valid for at least 75 minutes, including transfers, for 32 Czech koruna (32Kc/£1). You can buy a 24- or 72-hour city travel pass for 110Kc (£3) or 310Kc (£9); whichever you choose, validate your ticket when you board.
Take bus No 119, which runs at least every 10 minutes from 6am to 11pm, to Nadrazi Veleslavin station on Metro line A – which has frequent underground trains to the centre. Mustek (1) is the most central station. 
The Airport Express bus (60Kc/£2) runs direct to the main railway station (2) every half-hour, taking around 30 minutes. Get your bearings
The Old Town, Stare Mesto, is on the east bank of the Vltava River. Old Town Square (3) is at the heart of the medieval maze of cobbled alleys. To the north stands the Jewish quarter, Josefov; to the south is Novy Mesto (New Town), of which the most notable feature is Wenceslas Square – a 700m-long boulevard with an equestrian statue of Good King Wenceslas (4) at the far end.
West of the Old Town, the 14th-century Charles Bridge (5) spans the river to the winding streets and green slopes of Mala Strana ("Little Quarter") and Hradcany – the hill topped by the rambling Prague Castle.
The Prague Information Service (00 420 221 714 444; prague-info.cz) has several branches including at airport Terminals 1 and 2. The main tourist office is at the Old Town Hall, adjacent to the Astronomical Clock in Old Town Square (3). Most bureaux open 9am to 7pm daily.
Check in
The Prague Inn has possibly the best site in the city, adjacent to Mustek Metro Station (1) and punctuating the north-west end of Wenceslas Square (00 420 226 014 444; hotelpragueinn.cz). Most of the 34 rooms are large and comfortable, with advance doubles typically €62 with breakfast.
A block away, the Perla Hotel (6) at Perlova 1 (00 420 221 667 777; perlahotel.cz) is a modern, efficient establishment with benefits such as a welcome beer and a full breakfast included in pre-paid rates of typically €63 a night. 
Over the river, the 16th-century At the Charles Bridge (7) at Na Kampe 15 is part of the Archibald chain (00 420 234 652 800; archibald.cz) has welcomed guests such as Prince Charles and Vladimir Putin (though not together). The waterside hotel has an historic core with newer rooms in a quiet garden backing on to the river – costing as little as €80, with breakfast, if you book 10 days ahead.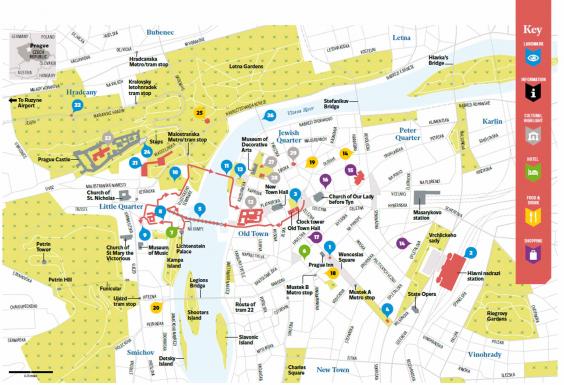 Day one
Take a view
The 15th-century tower dominating Old Town Square (3) offers a 360-degree panorama of the city from 70m up: buy a 120Kc (£3) ticket on the 3rd floor and take the glass lift up. Open 9am to 10pm daily (Mondays from 11am).
Take a hike
For a tour through the centuries, thread west from Old Town Square (3) to the Charles Bridge (5), which is guarded by 30 religious statues – the oldest of which is St John of Nepomuk, halfway across on the right. On the far side, descend to the quiet cobbled street known as Na Kampe and go right to Velkoprevorske Square (8) and its symbol of dissidence, the John Lennon Wall. Just beyond it, the Maltese Square (9) was a location in the movie Amadeus; the church is an elaborate Baroque creation still used for filming. 
Cross Mostecka and pass the Voyan Gardens (10) on your left, then cross the Manes Bridge (11) for a different perspective on the city. On the far side is Jan Palach Square (12) – named for the 20-year-old student who set himself on fire in protest against communist rule in 1969. Walk south beside the Vltava on one of the few easily accessible riverside promenades in the city until you can go no further, then turn left and head through the Klementinum (13) – a Jesuit complex that was once Prague's Inquisition HQ, now home to the National Library. Try to time your return to Old Town Square (3) to coincide with the on-the-hour performance of the 15th-century Astronomical Clock, featuring a parade of apostles (8am to 8pm).
Lunch on the run
Prague is no place for a vegetarian. Nase Maso (14) at Dlouha 39 is a classy and bustling butcher's that also serves delicious sausages with a hunk of bread and a double-dose of beer (served from an "honesty pump") for a very reasonable 84Kc (£3); noon to 9pm daily, except Sunday.
Window shopping
In the 1970s, the Kotva department store (15) was the most glamorous shopping experience in Eastern Europe. The curious hexagonal construction is as it was four decades ago, a high point of post-war Czech architecture.
From his perch at the top of Wenceslas Square, Good King Wenceslas (4) now looks out at an array of global retail brands. For something more vernacular, stylish Bohemian glassware is on sale at Material (16), behind the Church of Our Lady (00 420 608 664 766; i-material.com). You can buy anything crystal, from jewellery to a chic chandelier. 
Havelska market (17) has been in business since 1232, though these days it deals more in souvenirs than fruit and veg. 
An aperitif
Get a typical Czech brew at U Pinkasu (18), a beer house on three floors tucked away on Jungmannovo Namesti (00 420 221 111 150; upinkasu.com; 10am to 11.30pm). Half a litre of Pilsner Urquell, first served here in 1843, costs 45Kc (£1.25). As you sip, explore the vaults below and old monochrome photos above.
Dine with the locals
Even on a quiet winter night, VKolkovne (19) at V Kolkovne 8 (00 420 224 819 701; vkolkovne.cz) is busy. The restaurant occupies a 1920s stamp-printing works, and serves hearty Czech favourites such as Moravian Sparrow – nothing to do with small birds, but a vast plate of cabbage, onion and lots of pork – washed down with yet more beer by the litre.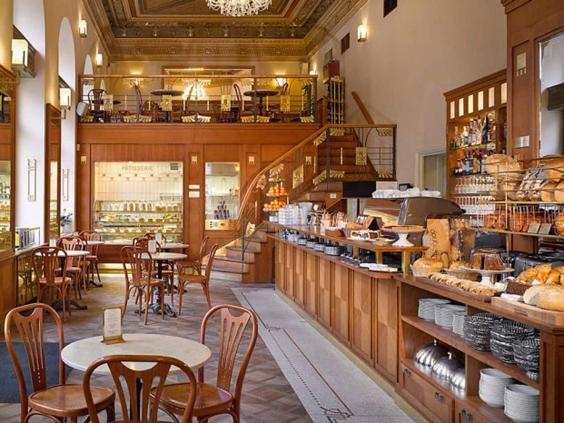 Day two
Sunday morning: out to brunch
Book in advance to secure a table at the handsome 1893 Café Savoy (20) at Vitezna 5 (00 420 257 311 562; avoy.ambi.cz; 9am to 10pm). The signature breakfast (195Kc/£6) comprises Prague ham, emmental cheese, a boiled egg, hot chocolate and enough cake, bread and jam to fill you up for the day. 
Take a ride
From near the Café Savoy (20), take tram 22, direction Bila Hora. It winds past the Wallenstein Palace (21), now the parliament building, and zig-zags up hill to Prague Castle; get off at Prazsky hrad (22).
Go to church
From the tram stop, cross the road and head towards Prague Castle, a symbol of the Czech state for over a millennium. At its centre is St Vitus Cathedral (23). The twin spires rise from a majestic Gothic structure completed only in 1929, including Art Nouveau stained glass (noon-4pm Sunday, from 8am other days; admission free). 
Head downhill for a heavenly panorama of other church spires from a viewpoint (24). A walk in the park Descend the steps and aim towards the hillside Letna Gardens, curving around the north-west bank of the Vltava. At the highest point, a vast post-war monument to Joseph Stalin was dynamited in 1962 and has now been replaced by a curious giant metronome. In the south-west corner, the terrace at the 1891 Hanavsky Pavilion (25) has coffee and cake along with a view of the city. Then cross Checuv Most (26) into the Jewish Quarter.
Cultural afternoon
Explore the Jewish Quarter of Josefov. Buy a 300Kc (£8.50) ticket for the complex at the Klausen Synagogue (27), which contains an introduction to Hebrew traditions. Then visit the haunting Pinkas Synagogue (28), where the whitewashed walls are covered with 80,000 names of those who perished in death camps across Eastern Europe. Between the two synagogues, headstones jostle for space in the Old Jewish Cemetery.
The ticket also covers the Spanish Synagogue (29), a short walk away, an elegant domed structure that shows how vibrant Jewish culture was in Prague before the horrors of the Second World War. 
All these locations open 9am-4.30pm daily except Saturdays (00 420 221 711 511; jewishmuseum.cz).
Discover your perfect holiday in Prague with The Independent
Reuse content