Why go now?
No longer just the sprawling city you have to endure on your way to the beaches and tea country, Sri Lanka's capital is rapidly emerging as a destination in its own right. Increasing hotel construction offers more choice for travellers, while the opening of the Colombo-Katunayake Expressway in 2013 has more than halved the journey time from the airport to the capital. It's a cosmopolitan city that will get the adrenaline pumping from the minute you hop in a tuk-tuk or push through the crowds of people in the bazaars.
Get your bearings
Colombo is split into 15 postal code areas, used to identify specific districts. The old colonial centre is Fort (Colombo 1) home to government buildings, the President's House (1) and the World Trade Centre (2). 
Just east lies Pettah (Col 11), an old quarter with thriving markets, and Cinnamon Gardens (Col 7), the city's swankiest district. 
To the south is Slave Island (Col 2), not actually an island but it was used for keeping slaves during the Dutch colonial era. South of Fort and facing the sea, Galle Face Green is a stretch of lawn, dotted with kite flyers and food vendors. The main tourist office (3) is at 80 Galle Road (00 94 11 24 26 900; srilanka.travel). Open 8am-4pm Monday to Saturday; closed Sundays.
Day one
Take a hike
Start at the Old Dutch Hospital (4), a complex of teak beams and courtyards that dates back to the early 1600s but has been lavishly restored to house shops, cafés and restaurants. Exit and turn right up Hospital Lane and left onto Chatham Street, once part of a network of canals built by the Dutch which have been converted into streets by the British who arrived later, as Colombo was becoming more commercialised, and the backdrop for Duran Duran's "Hungry Like the Wolf" music video.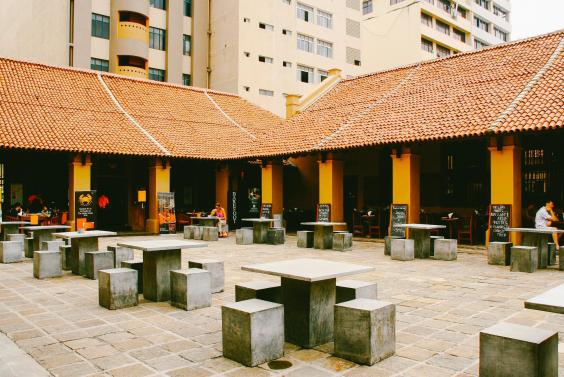 Pause at the junction with Janadhipathi Mawatha (formerly Queen Street) to admire the 95ft-high Clock Tower (5); built in 1857, this was Colombo's tallest building at the time and originally served as a lighthouse. 
Turn right down Janadhipathi Mawatha, pausing to send a postcard from the Old General Post Office (6) on the right; the 19th-century building was used as a military barracks during the civil war but has recently returned to its original function. 
Leaving behind the walled-off President's House (1) opposite, follow the road round to the right until you reach the ornate 1906 building housing Cargill's Main Store on York Street (7); now mostly empty, its faded elegance can still be glimpsed in the red facade's cornucopia carvings and ground-floor colonnades. Continue along Sir Baron Jayathilake Mawatha until you reach Front Street, where the lively markets of Pettah begin.
For an historical account of the city, Colombo City Walks (facebook.com/Colombocitywalks) offers superb guided walks from $40 (£33) per person.
Lunch on the run
For cheap, tasty eats, it's hard to beat Colombo's street food. Pick up a lunch packet (rice and curry packs sold from carts in the city for about 150 rupees (80p)) or hoppers, bowl-shaped pancakes served with seeni sambal (a spicy chilli dip). Join the locals at Al-Batha Muslim Hotel (8), at 74 Olcot Mawatha, for samosas (40 rupees) cooked in front of you. Open 24 hours, daily.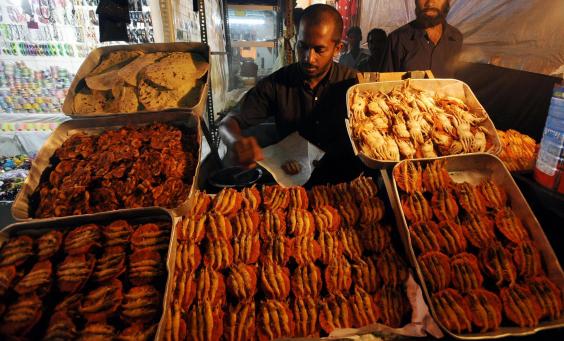 Window shopping
Locals go to Pettah to pick up household goods and food. Each street has its speciality (for example, 1st Cross Street for electrical items and 2nd Cross Street for jewellery). Don't miss Federation of Self Employees Market (9) which stretches along 5th Cross Street (7am-4pm daily).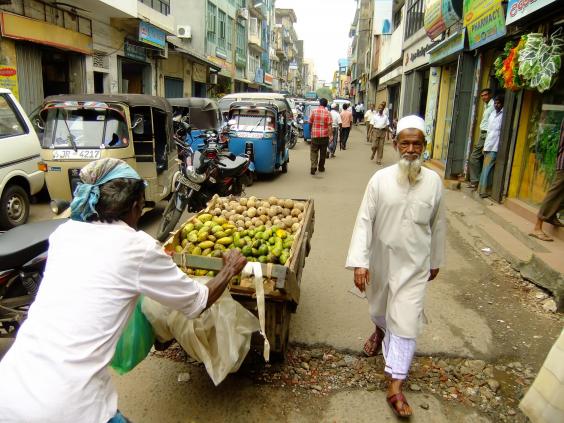 For something less hectic but more expensive, try Odel (10) at 5 Alexandra Place (odel.lk); the glitzy department store houses both international and local brands. Open 10am-9pm daily.
An aperitif
The west-facing seafront is the place to be come sunset. Treat yourself to a G&T (800 rupees) at the Travellers' Bar in Galle Face Hotel (11), with its comfy sofas and spectacular Indian Ocean sunset views (00 94 11 254 1010; gallefacehotel.com). Open 10am-midnight daily.
Dine with the locals
On Galle Face Green, Nana's (12) is a busy beachfront pop-up that opens in the evenings to serve fast food, such as devilled cuttlefish for 250 rupees (00 94 77 154 66 52). 
In the Old Dutch Hospital (4), Ministry of Crab is popular with city workers and tourists alike (00 94 11 234 2722; ministryofcrab.com). Try the garlic chilli crab, from 3,600 rupees. Open 11.30am-3.30pm and 6pm-10.30pm daily; booking is advisable.

Day two
Sunday morning: out to brunch
Inside the Crescat Boulevard Shopping Mall (13) at 89 Galle Road, Sugar Bistro (sugarcolombo.com/sugar-bistro-wine-bar) has a relaxed atmosphere, a collection of quirky wall clocks and a good menu featuring fresh fruit platters, French toast and avocado and feta cheese mash. Open 8am-midnight daily. 
A walk in the park
Viharamahadevi Park (14) is the city's largest park, with playgrounds, cycling tracks, fountains and a palm tree-lined walkway leading up to a huge Buddha statue. Originally called Victoria Park, it was renamed in the 1950s after the mother of King Dutugamunu.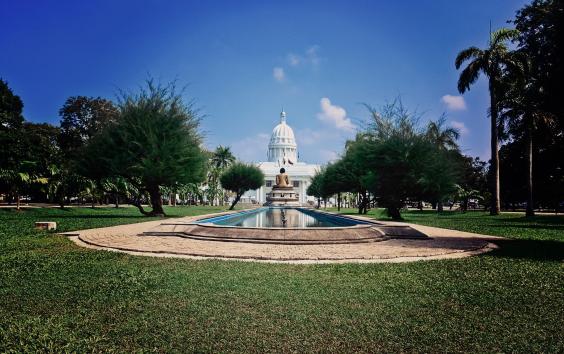 Take a ride
Three-wheeled tuk-tuks are omnipresent and often the cheapest and most convenient way to get around. Unless the driver uses a meter, agree the price before setting off. From Fort, expect to pay around 300 rupees to reach Cinnamon Gardens, for example. 
Cultural afternoon
For a fascinating insight into the country's past, wander through the National Museum (15) at Sir Marcus Fernando Mawatha (00 94 112 695 366; museum.gov.lk), Sri Lanka's largest and oldest museum, with some galleries dating back to 1877. Highlights include the bejewelled royal throne made for King Wimaladharma in 1693 and a rare collection of traditional masks. Parts of the museum are closed for refurbishment, but should be open by December. Entrance 600 rupees for adults; 300 rupees for children. Open 9am-5pm. Closed on Poya (full moon) days.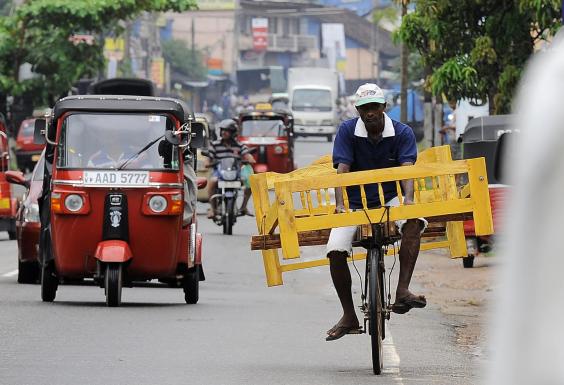 The icing on the cake
Colombo is home to a plethora of superb street food – but seeking it out can be daunting for foreign visitors. Urban Adventures (urbanadventures.com/Colombo-tour-eat-eat-repeat) has an excellent three-hour foodie tour led by a local guide who immerses you in the city's unique mix of Sinhala, Muslim, Tamil and Malay cuisines with a number of food stops. The tours meet outside Colombo Fort Railway Station (16) daily at 4.45pm. From Rs 8,000. Book online.

Travel essentials
Getting there
Bandaranaike International Airport (17) is 30km north of Colombo. A taxi to the city centre costs about 3,000 rupees and takes about 30 minutes. Bus 187 runs every half hour from 5.30am to 6.30pm, costing 110 rupees and taking about 45 minutes to reach the station in Fort (18).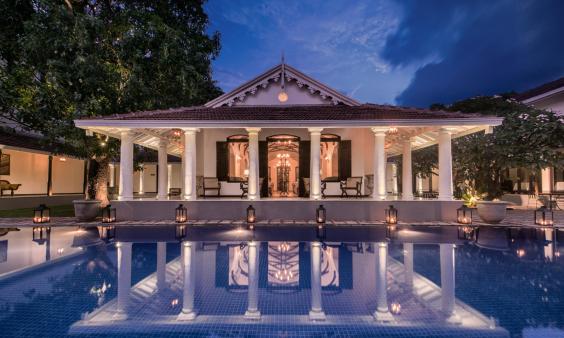 Staying there
Residence by Uga Escapes (19) at 20 Park Street (00 94 11 56 730 00; ugaescapes.com/residence) is one of the best places to stay in Colombo, offering secluded peace despite its central location. The 11 suites are sumptuous, with high ceilings, dark wooden furnishings and silk sofas. Suites from £160 per person per night, room only.
The hulking Cinnamon Lakeside (20) at 115 Sir Chittampalam A Gardiner Mawatha (00 94 11 24 910 00; cinnamonhotels.com/en/cinnamonlakesidecolombo) overlooks Beira Lake and has colourful, contemporary rooms, plus 10 restaurants, inside its polished marble interior. Doubles from £105 including breakfast.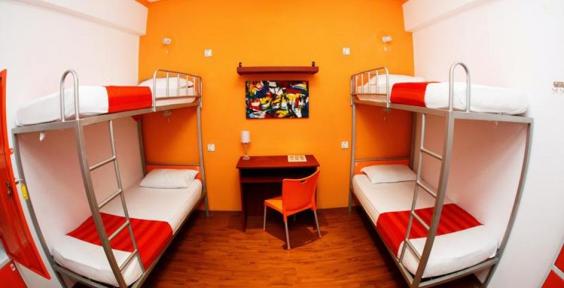 City Rest (21) at 46 Hospital Street (00 94 11 23 393 40; cityrestfortcolombo.bookings.lk) is a bright and funky hostel with a fun, communal atmosphere. Dorm beds from £16 including breakfast; private rooms from £56.
The writer travelled with Audley Travel (audleytravel.com; 01993 838 335), which offers tailor-made trips to Sri Lanka. A 12-day itinerary taking in colonial culture, tea country and Colombo, including a two-night break in Residence by Uga Escapes, international flights, as well a private vehicle and chauffeur-guide throughout, starts from £2,880 per person.
Click here to view our Sri Lanka Tour, with Independent Holidays
Reuse content