Travel essentials
Why go now?
At the most prosaic level, because the bleak midwinter is usually benevolent in Israel's great coastal city. The forecast for the week ahead predicts sunshine. But this beautiful beachside metropolis has much more to offer besides warmth, with outstanding architecture, museums and many places to eat, drink and be merry.
Touch down
British Airways (0844 493 0787; ba.com) flies from Heathrow, El Al (0207 121 1435; elal.com) flies from Heathrow and Luton, and easyJet (0330 365 6600; easyjet.com) flies from Luton, Gatwick and Manchester.
From Ben Gurion airport, 20km southeast of Tel Aviv, frequent trains (rail.co.il) serve the main Tel Aviv Savidor-Merkaz (Centre) station (1) for 16 shekels (NIS16/£2.70). From the station, bus No 10 runs into and through the centre. A single ticket on city buses is NIS6.90 (£1.15), a carnet of 10 (cartissia) is NIS55.20 (£9.50) or a day-pass (hofshi yomi) is NIS15.20 (£2.50).
Trains and buses do not run on the Jewish Shabbat – from sunset Friday until sunset Saturday. Metered taxis from the airport into the city charge about NIS100 (£17).
Get your bearings
Tel Aviv was founded in 1909 as overflow from Jaffa – a trading hub and Mediterranean port dating back to Old Testament times. Today, Jaffa has been absorbed and gentrified as a touristy artists' quarter; only traces of its Palestinian heritage survive.
Meanwhile upstart Tel Aviv has become one of the most cosmopolitan cities in the Middle East. In the north of the city, the key area is the former port, now home to beach restaurants and nightlife. In the centre, a shop-packed zone extends between Dizengoff Square (2), named after Tel Aviv's first mayor, Meir Dizengoff (1861-1936), and the Yemenite Quarter. In the south, Neve Tzedek is an atmospheric area of stone-built cottages dating from the 1880s – older than Tel Aviv itself. Today it is filled with café-bars and ethnic restaurants. Adjacent is the bohemian Florentin neighbourhood.
The beachfront tourist office (3) is at 46 Herbert Samuel Street (00 972 3516 6188; visit-tel-aviv .com). It opens Sunday to Thursday 9.30am to 5.30pm and Friday 9am to 2pm.
Check in
Israel's swankiest new beach hotel opened last year: the Ritz-Carlton Herzliya (4), at 4 Hashunit Street in the seafront suburb of Herzliya (00 972 9373 5555; ritzcarlton.com). From the light-filled atrium lobby to the airy suntrap balconies, everything about this hotel focuses on the sea. Sunloungers flank the rooftop pool, rooms exude calm, upmarket contemporary styling and even the oversized baths offer Med views. Doubles from US$425 (£279), with breakfast.
In a great location near restaurants and the beach, the Port (5) at 4 Yirmiyahu Street (00 972 3544 5544; porthoteltelaviv.com) offers 22 rooms with vaguely nautical styling. Doubles cost US$119 (£78), including breakfast.
The Norman (6), 23-25 Nachmani Street (00 972 3543 5555; thenorman.com), also opened last year in two adjacent 1920s townhouses off ritzy Rothschild Boulevard. Its 30 rooms and 20 suites feature contemporary styling in pale earth tones by London designers Sagrada, plus there's a rooftop pool and citrus garden. Doubles from US$338 (£213), including breakfast.
Click here to see a bigger image of the map
Day one
Take a hike
From the tourist office (3), loaf your way north along the prom then cut inland on Frishman Street to reach the broad, tree-lined pavements of Dizengoff Street. Head south (right) past chi-chi boutiques and the Dizengoff Centre mall (7) to turn right on King George Street, packed with more fashion outlets. This culminates in the frenetic mass of people and traffic that is Magen David Square (8). Take a sharp left to ramble past the sociable terrace cafés of buzzy Sheinkin Street (9). Sheinkin meets the curving sweep of glamorous Rothschild Boulevard, flanked by original Bauhaus architecture.
Turn right and amble down the shaded park within Rothschild's central divide; all around are the clean lines and distinctive curving balconies of the Modernist style, designed chiefly by Jewish architects expelled from Germany after the closure of the Bauhaus school in 1933. Look out for the Levin House (10), a villa that once served as the Russian Embassy, and the Dizengoff House (11), from where the State of Israel was declared in 1948.
At the foot of the 1960s-era Shalom Meir Tower (12), turn north on Nahalat Binyamin Street, once the centre of Israel's rag trade. This leads you into the frantic Carmel Market (13). A stroll west on Rav Kook Street returns you to your starting point.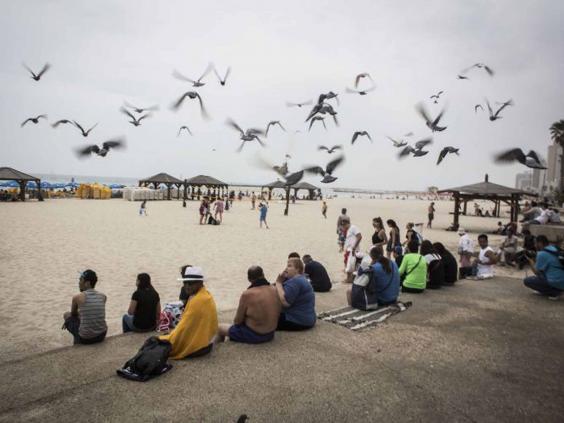 Lunch on the run
Just steps from Sheinkin Street and Carmel Market, Café Bialik (14), 2 Bialik Street (00 972 3620 0832; cafebialik.co.il), is a cheerful, arty spot for salads, sandwiches and all-day breakfasts.
Cultural afternoon
The Tel Aviv Museum of Art (15), at 27 Shaul Hamelekh Avenue (00 972 3607 7020; tamuseum.com) is open Monday, Wednesday and Saturday 10am to 6pm, Tuesday and Thursday 10am to 9pm, Friday 10am to 2pm; entry NIS50/£8.30. Temporary shows – chiefly by Israeli artists – dominate. But explore the basement for the Old Masters collection including Gainsborough and Reynolds, then head up to the superb Impressionist and Post-Impressionist galleries, taking in Picasso, Chagall, Klimt and Van Gogh.
An aperitif
Repair for cocktails to the classy street-level Viennese bar at Hotel Montefiore (16), 36 Montefiore Street (00 972 3564 6100; hotelmontefiore.co.il) – ask for the Jasmine, a house special of gin, Campari and passion fruit (NIS42/£7).
Dining with the locals
Herbert Samuel (17), 6 Kaufmann Street (00 972 3516 6516; herbertsamuel.co.il) is the flagship outlet for celebrity chef Yonatan Roshfeld, a judge on Israeli Masterchef. Start with the Jerusalem artichoke and chestnut truffle soup (NIS52/£8.60), but the main event is seafood: try teriyaki eel with seaweed salad (NIS78/£13).
Or book ahead at bright, fast-moving Benedict (18), 29 Rothschild Boulevard (00 972 3686 8657; benedict.co.il) for its trademark eggs Benedict (NIS66/£11). Alternatively, try an omelette, from Spanish to Balkan, huevos rancheros, or steak and eggs Philly-style, smothered in cheese (NIS72/£12).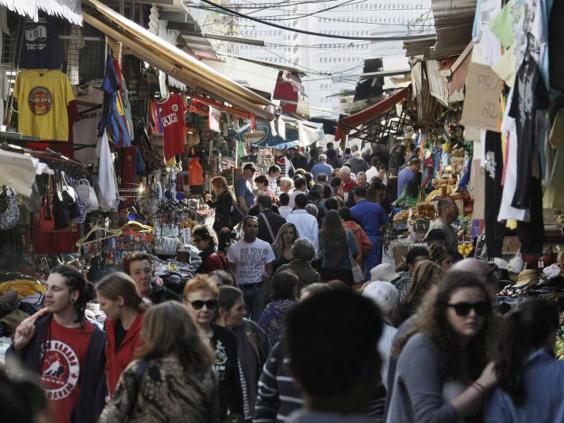 Day two
Sunday morning: go to church
It's worth a trip to see St Peter's Church (19). The Roman Catholic church is a 19th-century rebuild of a 17th-century original, marking the spot where St Peter is said to have raised Tabitha from the dead. It is open daily 8-11.45am and 3-5pm.
Out to brunch
Originating in North Africa, shakshuka is a dish made of eggs poached in a spicy tomato sauce – and there are few better places to sample it than Dr Shakshuka (20), 3 Beit Eshel Street (00 972 3682 2842). In this rabbit warren bedecked with pans and copper kettles, NIS55 (£9) buys a champions' brunch of salads, couscous, Libyan- style shakshuka and soft drinks.
Window shopping
Plunge into the Shuk Hapishpishim (21), or flea market, a tangle of lanes crowded with shops and stalls selling copper and brass items, old jewellery, second-hand clothes, Jewish religious objects such as candlesticks – and plenty of gloriously fascinating junk. The market is open Sunday to Thursday 10am to 6pm, and Friday 10am to 2pm. Standard shopping hours citywide are Sunday to Thursday 9am to 7pm, Friday 9am to 2pm, though malls may stay open on Friday evenings and Saturdays.
A walk in the park
Hayarkon Park lines both banks of the Yarkon river in the north. This was where the Rolling Stones played to 50,000 people last summer, but at quieter times it offers shady hideaways, picnic spots and walking trails that lead east into Ramat Gan. It's walking distance from the port, but you can take bus number 4 or 12, or a train to University station.
Icing on the cake
Tel Aviv enjoys photogenic sunsets night after night. Rent a bike from Tel-O-Fun (tel-o-fun.co.il), which has automated pavement rental stations around the city, and take a ride along the beachfront boulevard at sundown (from NIS49/£8 for a 2.5-hour rental).
Click here to view the latest travel offers, with Independent Holidays.