Travel essentials
Why go now?
Spain's third-largest city banishes winter with one of Europe's most explosive parties, Las Fallas. From 15 to 20 March, central streets and squares crackle with fireworks, climaxing on the night of 19 March with the burning of satirical effigies of celebrities and politicians on huge bonfires (fallasfromvalencia.com).
Fiestas are just one attraction of a city that combines wide beaches, thrilling architecture and a rich cuisine. The benign climate is also a welcome bonus.
Touch down
Valencia is connected from Gatwick by easyJet (0330 365 5000; easyjet.com) and from Stansted by Ryanair (0871 246 0000; ryanair.com). From the end of March, Ryanair will add flights from Bristol, East Midlands and Manchester.
The airport is 8km west of the city at the end of metro lines 3 and 5. Either will take you to the centre in 25 minutes for a fare of €2.10. The most convenient stations for the city centre are Xàtiva (1) and Colón (2). A taxi to the city centre costs around €20.
The tourist office in the airport arrivals hall opens 8.30am to 8.30pm, Monday to Friday and 9.30am to 5.30pm at weekends (00 34 961 530 229; visitvalencia.com). It sells the Valencia Tourist Card, which covers all public transport and admission to some museums; €20 for 48 hours.
Get your bearings
The heart of the city is its atmospheric old town, in a loop of what used to be the River Turia and is now a meandering park. In the maze of narrow streets, two major squares provide focal points: Plaza de la Reina in the north, the location of the cathedral (3), and Plaza del Ayuntamiento (4) to the south. Each has a tourist office (open 9am to 7pm, 10am to 2pm Sundays; 00 34 963 153 931; 00 34 963 524 908 respectively; turisvalencia.com).
Just south of the Plaza del Ayuntamiento are two emblematic buildings, the 19th-century brick bullring (5) and the Estación del Nord (6), a strikingly cheerful-looking Modernist station. They mark the beginning of the Eixample, the grid of streets and wide avenues that were built mainly in the 19th century.
The long stretch of town beach is due east of the old town, a 20-minute ride away on metro line 5, followed by a tram. The broad swathe of fine sand extends for 3km and has a boardwalk, all the usual beach services, and a row of seafood restaurants. At the northern end of the beach, at Isabel de Villena 157, a pleasant sea-side villa houses an intriguing little museum devoted to the life and work of Valencia's great republican novelist Blasco Ibáñez (€2; Tuesday-Saturday 10am to 2pm and 4.30pm to 8.30pm, Sunday 10am to 3pm; 00 34 96 208 25 86).
Check in
In a quiet corner of the old town at Calle Boix 4, the three-star Ad Hoc Monumental (7) is a welcoming, boutique-style hotel with 28 rooms beside the river Turia, a five-minute stroll from the cathedral (00 34 96 391 9140; adhochoteles.com). Doubles from €75, room only.
For five-star luxury with spa, try the elegant Hospes Palau de la Mar (8), which occupies a 19th-century mansion at Navarro Reverter 14 (00 34 914 363 478; hospes.com) on the town's edge. Doubles from €136, room only.
If you prefer sea views to city streets, the Hotel Neptuno (9) at Avenida de Neptuno 2 (00 34 96 356 7777; hotelneptunovalencia.com) overlooks the beach. It is a 20-minute tram-ride from the old town. Doubles, with breakfast, start at €124.
Click here to see a bigger image of the map
Day one
Take a hike
Walk north from the tourist office in the Plaza del Ayuntamiento (4) and turn left up Avenida María Cristina. After 200 metres, opposite the Central Market (10) with its colourful Modernist façade, is Old Valencia's most beautiful secular building, la Lonja de la Seda (11) – the Silk Exchange (00 34 926 084 153). Look inside the majestic Gothic trading hall with its soaring columns, a match for any cathedral. Open 9.30am to 7pm daily, admission €2; except Sundays from 3pm on, when it is free.
A right turn down Calle de los Derechos takes you to a warren of narrow streets and the Plaza Redonda (12), a curious round square redolent of a bullring. Leave down Calle de Vallanca, and head for Plaza de la Reina – dominated by the great cathedral (3) (00 34 96 391 8127; catedraldevalencia.es). Get an audio-guided tour to enjoy its pot-pourri of architectural styles, and the intriguing collection of treasures, which include a chalice with a reasonable claim to being the Holy Grail, and two original Goyas (10am to 6.30pm, Sundays 2pm to 6.30pm; €5).
Take a view
For another €2, climb the 207 steps of the octagonal tower of Micalet for an uplifting view over the city.
Lunch on the run
Just south of the Cathedral is the tiny La Tasca Angel (13) at Calle de la Purísima 1 (00 34 963 917 835). Fresh sardines are the house speciality; they cost €3.50 a portion.
Window shopping
For clothes, explore Calle Colón (14) bordering the south-east part of the Old Town. Take your pick from the popular chain stores and Spanish designer outlets by the likes of Adolfo Domínguez.
Inside the old town, Calle Poeta Querol (15) is at the centre of la milla de oro – the "golden mile" of luxury shopping, which includes Lladró (at No 9) selling the porcelain made just outside Valencia.
A more affordable district, where vintage clothes shops rub shoulders with bookshop bars and Latin American eateries, is newly cool Ruzafa, east of the Estación del Norte (6), and centred on the colourful market building (16) (9am to 2pm daily, except Sundays).
An aperitif
Among the crops that the Moors brought with them to southern Spain was the tiger nut. It is widely cultivated near Valencia and is the basis of the refreshing almond-like drink called horchata. Try a glass, with fartons – don't laugh, they're traditional dunking biscuits – for €3 in the extravagantly tiled horchatería Santa Catalina (17) at Plaza Santa Catalina 6 (00 34 96 391 23 79).
The terraced bars of the Plaza de la Virgen (13) are an ideal spot for an Agua de Valencia (€4.50). The so-called "water" is actually a blend of cava, gin, vodka and the juice of Valencian oranges.
Dining with the locals
Restaurante Navarro (18) at Arzobispo Mayoral 5 (00 34 96 352 96 23; restaurante navarro.com) provides high-quality Valencian cuisine, including paella valenciana – with rabbit and chicken – and the seafood version paella de marisco. A meal for two with wine costs around €60.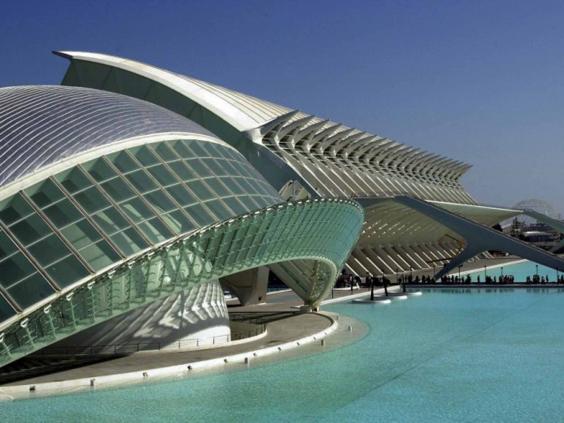 Day two
Sunday morning: go to church
The most beautiful and ornate of Valencia's churches, the Basílica de la Virgen de los Desamparados (19) is dedicated to Valencia's patron saint, Our Lady of the Forsaken. Its Baroque interior is crowned by a striking, painted dome. Visiting hours are 7am to 2pm and 4.30 to 9pm daily; Sunday masses hourly, 8.30am to 2.30pm.
Out to brunch
Tapas restaurants are to be found on every corner of the Old Town. The best located is Los Escalones de la Lonja (00 34 963 92 38 88; 8am to midnight daily), next to the imposing walls of the Silk Exchange (11). Grab an outside table and enjoy the classic tapas, which are served quickly and with good humour. Brunch for two with wine will cost around €25.
A walk in the park
Following a disastrous flood in 1957, Valencia undertook the great engineering challenge of diverting its unpredictable river, La Turia, away from the city centre. The original river bed has been given a new life as a 9km-long park and playground for the city. A walk (or bike ride) along it takes in areas shaded by bird-filled trees, fountains, formal gardens, playgrounds and an unusual view of Valencia's historic bridges. Follow it from Puente de las Flores (20) to the contemporary shapes of the City of Arts and Sciences (21).
Cultural afternoon
The City of Arts and Sciences (21) is a daring contrast to the old town's charm. It comprises six buildings, designed by Santiago Calatrava and Felix Candela. The centrepiece is the Prince Felipe Museum of Sciences (00 34 902 100 031; cac.es/museo; €8, 10am- 7pm, to 9pm in summer). The lobed structure of The Oceanographic, inspired by a water lily, houses Europe's largest aquarium, whose 45,000 residents range from penguins, dolphins and a truly huge giant spider crab (€27.90; 10am to 8pm daily, to midnight in summer; 00 34 902 100 031, cac.es/oceanografic).
Reuse content