Travel essentials
Why go now?
Winter is easing its grip on this fascinating city in south-west Poland – and Wroclaw's status as European Capital of Culture makes this the ideal year to visit, with a wide range of events (wroclaw2016.pl). Besides the current cultural surge, the capital of Lower Silesia has an architectural repertoire that fills a spectrum from Silicon Valley to Stalingrad.
As German-held Breslau, the city suffered widespread destruction in the Second World War. It was the unrestored post-war cityscapes that persuaded Steven Spielberg to choose Wroclaw as a location for his Oscar-winning Cold War thriller, Bridge of Spies, as a stand-in for East Berlin in 1960.
Touch down
Fly to Nicolas Copernicus airport, 12km west of the city centre, from one of seven UK airports. Ryanair flies from Bristol, East Midlands, Glasgow, Liverpool and Stansted, while Wizz Air flies from Doncaster/Sheffield and Luton.
The tourist desk in Arrivals opens 8am to 8pm daily. The only bureau de change offers poor rates for sterling – wait until you reach the city to change money. 
Bus 406 runs every 20 minutes and takes 40 to 60 minutes to reach the city centre, depending on traffic. Pay on board using the machine which accepts only cards – not cash. Choose between a single ticket costing 3 zlotys (zl3/50p) or a pass valid for 24 hours (zl11/£2), 48 hours (zl20/£3.60) or 72 hours (zl26/£4.80). 
For the city centre get off either at Plac Orlat Lwowskich (1) or the Renoma shopping centre (2).
A taxi from the airport to the centre will cost at least zl50 (£9).
Get your bearings
If the map of Poland were a clock face, Wroclaw would be at eight o'clock, just north of the Sudeten mountains that divide Poland from the Czech Republic. It is where the Oder river splits into several channels to create 12 islands. One of the isles contains the Old Town, with the medieval Rynek – a market square so vast that it has an entire city block's worth of buildings in the middle. The tourist office (3) is at the south-west corner (00 48 71 3443 111; wroclaw-info.pl), open 9am to 7pm, daily.
The Jewish quarter occupies the south-west quadrant of the Old Town. Wroclaw's Jewish history dates from the 12th century. To the south, is the more modern commercial centre.
As you wander through the city, look down to pavement level, for some of the 300 or so gnomes that decorate the streets; the first appeared in the 1980s as Poland's democracy movement unfolded. 
Check in
Hotel Dwor Polski (4) at Kielbasnicza 2 (00 48 71 372 34 15; dworpolski.wroclaw.pl) is a century-old four-star that is ageing elegantly. Rooms are comfortably furnished, with high-speed wi-fi the only modern dimension. I paid zl290 (£53) for a twin including breakfast. Opposite is the Czesk Film Pub (00 48 71 342 25 49), with a warren of caves, and a succession of spaces with old armchairs and cheap beer.
For a 21st-century experience, the Puro Hotel (5) at Pawla Wlodkowica 6 (00 48 71 772 51 00; purohotel.pl) in the Jewish quarter is stylish and well-appointed. Doubles from zl250 (£54) to zl500 (£90), depending on demand.
At the colourful and welcoming Bemma Hostel (6) at Kazimierska 15 (00 48 531 531 598; hostelbemma.pl), dorm beds start at zl35 (£6.50), with doubles for zl100 (£18) midweek and zl120 (£22) at weekends, excluding breakfast.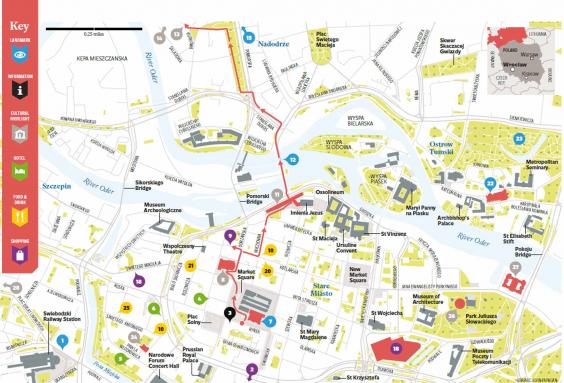 Day one
Take a hike
Start in the middle of Rynek, surveying the exuberant façades of the Town Hall (7). At the north-west corner of the square walk between the "Hansel and Gretel" townhouses into the churchyard of St Elizabeth's (8). See the austere interior; for another perspective on the city climb the 90 metres to the top of the tower (5zl/£1; erratic opening hours).
Walk north along Odrzanska, diverting west a block later to the former meat market (9), which is now a row of art galleries. Go two blocks east to the former city prison (10) where these days you can pause for a coffee. 
North along Wiezienna takes you into the University area; bear right to survey the dazzling Baroque main building, now the University Museum (11) (00 48 71 375 26 18; muzeum.uni.wroc.pl; 10am to 3.30pm, daily except Wednesday, zl12/£2).
Go through the arch and over University Bridge (12). Follow Dubois across a couple of traffic junctions, and turn sharp right into Kurkowa (13).
Devastated buildings such as No 34 (on then left as you walk north) provide a chilling reminder that Wroclaw was the last city to fall as the Second World War ended in Europe. Not everything was destroyed; along the broad, cobbled Tomasza (14) you can even see the faded signs of German-era merchants. Turn right at the end and a memorial (15) awaits – a cross slicing through a concrete wall, dedicated to those Poles deported to Siberia in Soviet times. 
Lunch on the run
The Central Café (16) at ul Sw Antoniego 10 (centralcafe.pl; 7am to 9pm) calls itself a "Nice Place & Deli" serving a formidable range of soups, bagels, eggs, juices and coffee at prices that would put any Manhattan diner out of business. Soup, a smoked salmon and cream cheese bagel and coffee come in at around zl28 (£5).
Window shopping
The value continues at Galeria Dominikanska (17), the biggest city-centre mall, with 100-plus stores including international brands at low prices.
For something more vernacular, the Polish Poster Gallery (18) at ul Sw Mikolaja 54 (00 48 71 780 4911; polishposter.com; noon to 6pm, Tuesday to Saturday) is a gallery of graphic arts – as well as a shop selling postcards and books.
The century-old market hall (19), north-east of the Old Town, provides a glimpse of daily life in Poland.
An aperitif
The Vinyl Cafe (20) at Kotlarska 35 (00 48 508 260 28) is a gem. The long, intimate interior is decorated with album art, and customers sip beer or wine while music (lots by David Bowie currently) is delivered at 33rpm.
Dine with the locals
Book in advance for jaDka (21) at ul Rzeznicza 24 (00 48 71 343 64 61; jadka.pl). Try to forget it was once an abattoir. Amid handsome redbrick surroundings, try wild boar loin in cranberry with dumplings and cabbage (zl73/£13) or pork knuckle roasted in honey and beer with potato pancakes, horseradish sauce and fried cabbage (zl58/£10.40). Room for dessert? Try the gooseberry pie (zl28/£5).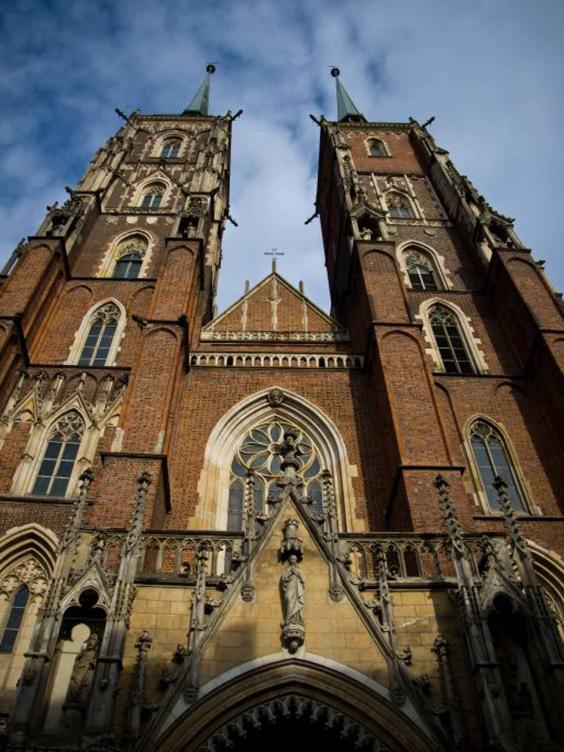 Day two
Sunday morning: go to church
Ostrow Tumski, north-east of the Old Town, is a quiet and pretty area dominated by St John's Cathedral (22), which was badly damaged in the Second World War but restored to its 13th-century glory, with the west portico a work of spiritual art.
A walk in the park
Just north, the first green shoots are visible in the Botanical Gardens (23) after a tough winter. 
Out to brunch
Since the reopening of the 19th-century White Stork Synagogue (24) in 2010, Jewish restaurants are now flourishing. The CIZ cafe (25) at Ulica Wlodkowica 9 serves up snacks such as hummus, and apple pie – and tells the story of Wroclaw's Jewish community.
Cultural afternoon
The Panorama of Raclawice (26) is a circular depiction of the battle for independence fought at Raclawice in 1794 between Polish militias and the Russian army. Your ticket, price zl30 (£5.50) for the Panorama (00 48 71 344 16 61; panorama raclawicka.pl; 9am to 4pm, daily except Monday) includes an English audio guide – and also provides admission to the National Museum (27) on Plac Powstancow (en.mnwr.art.pl; 10am to 5pm weekends, zl15/£2.75, free on Saturdays). A late 19th-century mansion has a fine collection of Polish art, Flemish works and an impressive Canaletto.
Take a ride Trams 3, 10, 20, 23, 31, 32 or 33, west from central Wroclaw, take you 2km west to Plac Strzegomska and the MWW (28) – the Wroclaw Contemporary Museum (00 48 784 973 213; muzeumwspolczesne.pl; noon to 8pm Sunday, 4 to 8pm other days, closed Tuesday; zl10/£2). Avant-garde Polish artists have created thought-provoking exhibitions in a multi-layered space. 
Icing on the cake
Outside the MWW, the Train to Heaven is an old steam locomotive raised almost vertically, as though soaring skyward.
Reuse content