Lycra shorts don't often form part of my holiday wardrobe but at the Messini Beach Club resort on the sun-drenched Peloponnese peninsula of Greece, I was almost grateful for them. This wasn't going to be a typical fly-and-flop beach getaway.
Every morning, families woke early. A few claimed sunloungers by the pool but the majority had other ideas. Parents made their way to yoga lessons while their children were let loose with a spot of pre-breakfast wakeboarding. Others, like me, started the day with a brisk 27km bike ride.
This is a beach resort that does things a little differently. The modern 180-room property (think rooms with whitewashed and bare concrete walls) is the latest and fifth addition to activity family holiday specialist Neilson's Greek portfolio.
"The key is variety, something for kids big and small," the resort's activity manager, Andres Hirschfeld explained. Catering for those who want to leave with more than just a nice tan, the options are impressive.
The morning-to-night timetable includes kayaking tutorials and sailing clinics alongside zumba workouts and stand-up paddle boarding. Want more? There are beach volleyball tournaments, expert tennis coaching on the resort's five courts and windsurfing courses with Royal Yachting Association qualifications waiting at the end, for those good enough.
Children as young as eight can experience the thrill of scuba diving with the special Padi bubble maker programme, while their younger siblings are kept entertained with pizza- and cake-making classes, all included within the cost of the holiday. (Visiting during October half-term will cost £1,099 per person.)
Value was key for the Ratcliffe family from Cambridgeshire; they normally opt for surfing holidays in Biarritz. With five offspring to consider, ranging from five to 20 years old, keeping everybody happy can be tricky.
"My only criticism is that everyone's exhausted," mum Julia disclosed from the solace of her sunlounger. "The kids are up at 8am for waterskiing, then it's straight on to windsurfing. Meanwhile, my husband is a keen cyclist, so he's been out biking most days."
Cycling forms a big part of the Messini experience, with guided rides for all abilities: short and gentle rides through the quiet Greek countryside to long and challenging ascents to viewpoints and ancient hilltop ruins.
Joining my Lycra-clad group of 20 – a mix of generations, from teenagers to grandparents – we set off bound for the pretty seaside town of Petalidi. The backroads, scented with wild jasmine, were all but silent aside from the humming cicadas hiding in the endless olive groves (Kalamata is just a short distance east along the Messenian Gulf).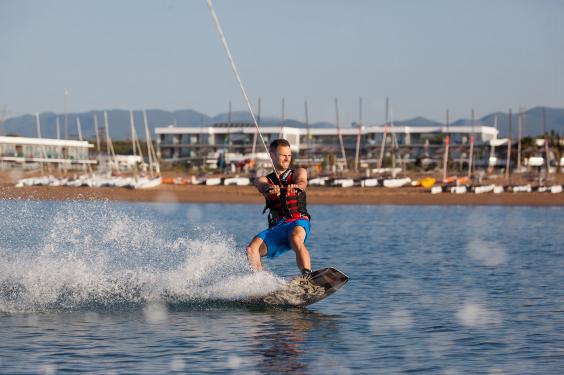 Rugged mountains rose around us, small scatterings of snow still visible on the peaks despite the 30C temperatures we were pedalling through. Farmers paused to wave as we followed the coastal road, past fields and empty beaches and crossed muddy streams, until the terracotta rooftops of Petalidi appeared in the distance.
Our route then headed inland along a road dotted with small fruit-and-vegetable shacks. Sitting beside one was 65-year-old Anasthasios. "I've lived here all my life. It's a special place, less crowded than lots of other places in Greece," he said, next to his stock of oranges and watermelons.
After a refreshing ice cream beside Petalidi's tiny harbour, it was back to the resort. At the pool, riotous swimming lessons were in full swing. Down at the other end, cheesy pop tunes blared as the day's water aerobics class got under way.
The newly opened Temple Spa provided a refuge with signature treatments such as the dubiously-named Mediterranean Marinade facial and hot-stone massage using rocks from the sea.
Keen to explore the local area in a little more detail (and give the banquet-style dinner buffets a judicious miss for the evening), I ventured to Kalamata, the second-largest city on the Peloponnese (after Patra).
Capital of the Messenia region, Kalamata grew from the ancient city of Pharai and sits in the formidable shadow of Mount Taygetos. Its bustling beachfront – an intriguing mix of grand old buildings and crumbling warehouses – was packed even on a Wednesday evening.
I watched the sun soften from Acapella, a trendy bar with makeshift walls made of suspended straw hats. From there, I strolled into the charming old town and came upon the small 12th-century, Byzantine-style Church of the Holy Apostles.
It suffered great damage in an earthquake on 14 September 1984 that injured hundreds and left 10,000 homeless. The church had an earlier defining date with history on 23 March 1821 when a secret meeting was held here to plot a revolution to end the Turkish occupation of Greece.
A queue had formed at the tiny gyros hole-in-the-wall opposite. I joined it, devouring the delicious pitta filled with succulent pork, salad and a few chips as scooters darted about in the narrow alleyways.
Huddled around a nearby table were three men playing ukuleles, their feet tapping happily to the music until three women marched over. "Oh, here you all are," remarked one of their wives (helpfully translated for me by a local). "Hurry up and come home," laughed another.
The music continued a while longer,  the perfect soundtrack to the warm summer's evening. As darkness fell, things were livening up down at the harbour.
A surge of locals and tourists swept along the promenade, lured into the numerous bars by cocktails and crowded dancefloors. It was tempting to join them until I remembered my timetable for the following day: another early bike ride, a spot of sailing and a game of tennis. Early to rise, early to bed.
Travel essentials
A week at the Messini Beachclub (0333 014 3351; neilson.co.uk/beachclubs) costs from £579 per person, departing 28 September.
The price includes return flights from Heathrow with British Airways, resort transfers, club board (daily breakfasts and lunches plus four evening meals), all key activities – waterskiing and wakeboarding, sailing and windsurfing, kayaking, tennis,  biking, stand-up paddle boarding and fitness classes – all with tuition and equipment, plus  children's clubs for   those aged two–17.
More info
Greek tourist board (visitgreece.gr).
Reuse content